Thank you for visiting the Model Cars Magazine web site. We are NOT closing, going away, or shutting down. Issue #201 is on it's way to the printer (yes, it's late late late). We have gone through major changes, but we are going forward, stronger, bigger, and bolder than ever before! And yes, I will be updating the web site very soon, if not B4…
Model Cars Magazine is the most popular model car magazine and web site in the world. Our Likes Don't Lie!
We are now accepting online subscription payments through PayPal! Click on the Subscribe link above.
Digital Version/Copy of Model Cars Magazine
We have digital copies of the magazine now available on Magzter.com Magzter.com Model Cars Magazine Link
We are working on getting more of the back issues of Model Cars available on the Magzter site. It will take a while, but it will get done. We have a lot of requests for digital copies, and we are doing are best to get caught up.
Thank you for your patience!
---
Our Latest Issue: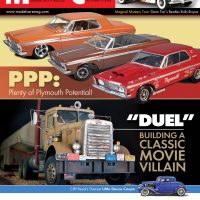 Inside Issue #200
Plenty Of Plymouth Potential
Tool Time
Scratchbuilding School, converting a crew cab to a single cab
Commercial Break: Planet Caravan
Diecast Deuce
Tamiya's New Mazda MX-5
Building the Duel! movie truck
Trucker's Corner
Download the digital version (as a high-resolution PDF) here: Digital Issue #200
...
Read More »
---
Some recent new kit reviews: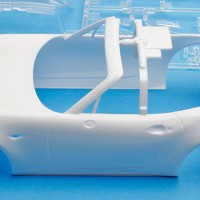 Tamiya's new Mazda MX-5 Roadster, #24342, $49US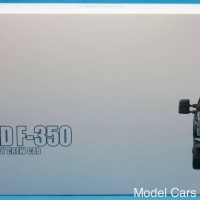 MENG Ford F350 Super Duty Crew Cab
We got a sneak peek at the new 1/24 scale MENG Ford F350 Super Duty Crew Cab kit. It is a beast! The box itself weighs over 2.2lbs, and it's a big and thick box too boot! The kit is fantastic. We...Read More »
---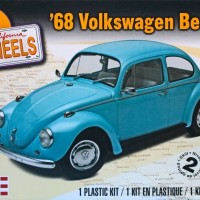 Revell '68 Volkswagen Beetle
1/24 Scale
Revell has released their latest VW kit, a "1968" VW Beetle. There are quotes around the year, 1968, for a reason. It's hard to tell exactly what year it is. For one thing, it's not a stock US '68 Bug. It may be stock...Read More »
---
Tamiya's New LaFerrari 1/24 Kit 
Tamiya sent their new, and gorgeous, 1/24 scale kit of Ferrari's newest supercar, the LaFerrari. This kit is incredible. It is on par with their earlier Enzo kit, but with a more beautiful body and shape. There is also available separately a photoetched detail...Read More »
---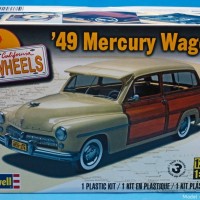 Revell '49 Mercury Wagon
Revell's new '49 Mercury Wagon was just released, and it's a great one! Check out these photos for a quick look.