Model Cars Magazine and Galaxie Limited have partnered together to bring you one of the most innovative model car building contests ever!
The idea is to build a Model Cars Magazine Racing Team, consisting of a race car model and any one of the Galaxie Limited trailer kits (21' tandem axle, 36' tri-axle, or 38' tri-axle fifth-wheel), featuring your own version of the Model Cars Magazine racing team graphics–incorporating the current red and white MCM logo–to come up with the ultimate race car/trailer/graphics combination. The car can be any type of race car (NASCAR, drag, F-1, Sprint, Indy car, Bonneville, etc.).
The winner of this year-long contest will not only receive some great prizes (and maybe some contingency prizes as well), but the winning entry may be used to create a special edition set of decals for everyone to enjoy! Also, if your race car is based on a Galaxie Limited kit ('48 Chevy or Dragster) along with your Galaxie Limited trailer, you will receive a double bonus as well!
So put on your thinking caps and see what you can come up with! You have a full year to get this done, as we will feature the winners in the August/September 2014 issue of Model Cars Magazine. Stay tuned for more updates, including official contest rules and a list of prizes, as well as some ideas sent in by some of our readers and builders. For now, get those creative ideas flowing and start planning your entry!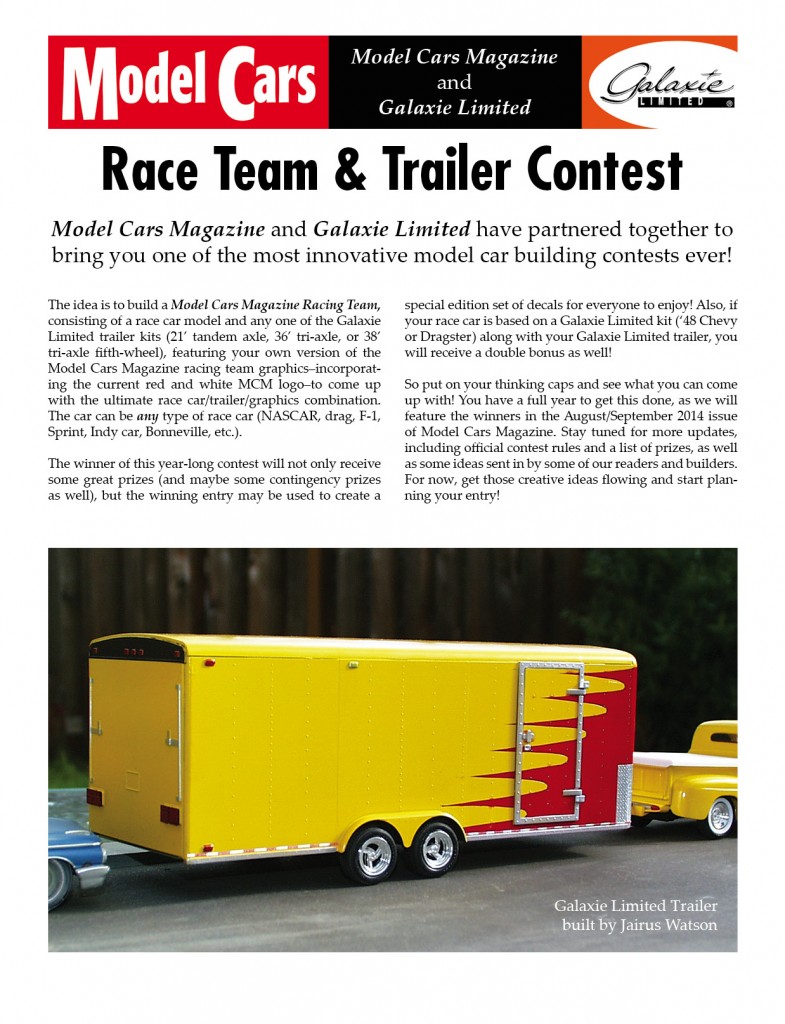 Download the Model Cars Magazine Logo Here: