The body building it's quite similar on this Italeri Euro models You have to put together the body that usually it's made out of 3 parts, main body, front half, and rear bottom half. It also will include 2 inside body panels at the sides.
Both rear and from sections were glued to form a straight solid body.The inside were sealed with a good dose of super glue. Instead of putty, I treated the seal lines with Gunze Sangyo's Mr Surfacer 500, a liquid semi-thick primer that also doubles as liquid putty. This kind of primer from Gunze it's so great, that you don't have to sand anything else after it dries...highly recomended!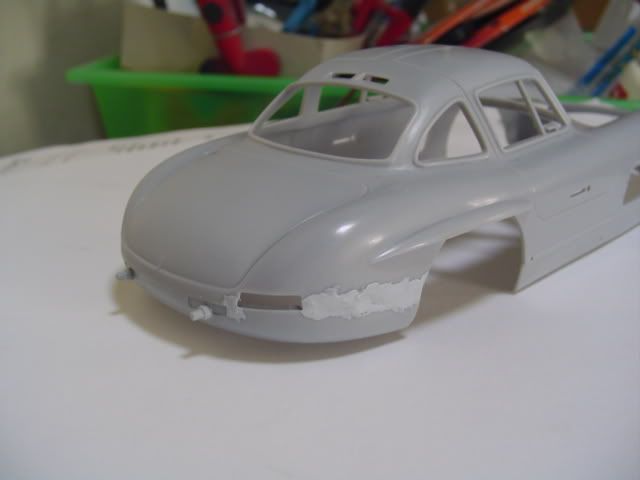 After the primer-Putty was dry, proceed to open the doors. It already started to looks like the gullwing.
Everything was sealed with my favorite primer, Gunze Sangyo Mr. Surfacer 1000. Contrary to the Surfacer 500, this one it's pretty thinn, but, like the other, no sannding after drying time. You can see the flush and even surface on the model.
Because I glued panels or like when you shave any detail on a body, chances are that you can see "Ghost images" after the paint coats are shooted, not like with the primer coats. To avoid that, I airbrushed those glued spots with Dupont Variprime to seal everything up. This one just requires a little sanding like the moon mud primer from Cobra Colors, for those that are familiar with the product like my good friend Imaelg.
Everything was again sealed with Mr. Surfacer 1000.
http://i7.photobucke.../Picture103.jpg
http://i7.photobucke.../Picture104.jpg
Simón