I did some checking... seems that you know the older Steve Davis...who sells Inshorance. The Steve Davis that I know used to be the Gas/Catch Can Man - Pit Crew on Dale Jarrett's NASCAR racers..... he was there during this Win, 1999 Pepsi 400 .....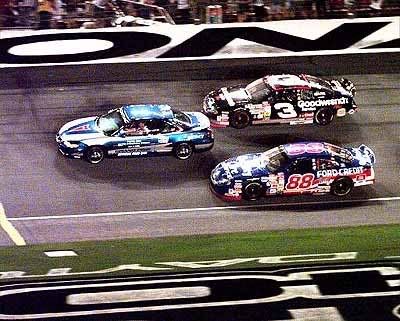 Steve had to quit, due to his Mother's failing health in 01/02. Steve's primary business is in selling and installing steel metal out buildings, but his true hearthrob is his side business - Steve's Antique Auto & Cycle Co. on Dell Wood Rd. in Waynesville, NC. My bro, Bearbutt, got the pleasure of actually shaking DJ's hand over at Steve shop a coupla weeks after DJ retired, says he hasn't washed that hand yet......

Next time your up that-a-ways, stop by and say Hi, tell Steve that Zeb, Mark's bro, sent ya.