Ok, gearjammers, the MCM Truck Stop is celebrating it's grand opening, and we need trucks in the lot!
THIS IS THE OFFICIAL BUILD THREAD!OFFICIAL DATES:
Jan 1 2011 to Dec 31 2011 (Feel free to start now if you want!)
NOTE: ENDING DATE HAS BEEN CHANGED TO JUNE 30, 2012!!!
EDIT: DUE TO LIFE ON THE ROAD CRUISING THE NATION IN MY 1:1, THIS BUILD WILL NOW HAVE AN ENDING DATE OF TO BE ANNOUNCED!!! I HAVE VERY LIMITED INTERNET ACCESS AND WILL CATCH EVERYTHING UP ONCE I COME OFF THE ROAD AND ANNOUNCE A NEW END DATE AT THAT TIME!!!!
I want this to be a fun community build for everyone, and to keep it fun, I will not have many rules. The one major rule is the truck MUST be road legal. You may build a race truck or some wild custom with aircraft engines or Space Shuttle boosters on it, but it will have to be your load on the road legal truck. I would like to keep this build geared to a tribute to the truckers around the world who make sure each and every one of us have the products we need to live life as we do.
Even though the title is "Tractor Trailer Community Build", that does not mean you have to build both a truck or trailer. All trucks will qualify, from straight trucks, to, for our Aussie friends, road trains. Also, any year truck is welcome. If you want to build a city delivery truck, wrecker, car carrier, heavy hauler, or whatever, feel free, and if you want to build and enter more than one truck, there will be no limit on entries. There is also no limit to scale, any scale is welcome as long as it's a kit. They just have to be road legal, just like the ones I hear and I could look out my window right now and see on U.S. 40. There must be a wreck on the interstate, because that's the only time they run heavy past the house this late at night!
I also want to add, even though I said no wild customs, that does not mean you can't customize your truck. Custom trucks are part of the industry, and are welcome at the MCM Truck Stop just like they are at the TA about 5 miles from my house!

Chrome, custom hoods, fenders, stacks, or stretched frames and sleepers are not only welcome, but encouraged! If you don't think you have enough chrome or "chicken" lights, don't forget to visit the MCM Truck Stop's Chrome Shop!

Now, for the few rules that I will have in the build.
1. Of course, like I've said, the entry MUST be road legal!
I will not be putting on my scale DOT badge and inspecting the truck or checking log books and quoting DOT laws (yes, I do have the Federal Motor Carrier Rulebook!), I just ask the entries be something you would see actually one the road.
2. All HAZMAT or oversized loads MUST have appropriate markings.
Simply put, if you have a tanker hauling fuel, it must have "Flammable" placards (signs) on it. I will not get picky on placement, since rules can and probably have changed over the years, but current regulations are one on the front of the vehicle, one on the rear, and one on both sides. If anyone has any questions, feel free to PM me. Also, with oversized loads, and "OVERSIZED (or WIDE) LOAD" banner on the front and rear of the truck. It will not be a requirement, but if you wish to have escort vehicles and police escorts, feel free to do so, just please have the escort vehicles marked with the appropriate banner as well, except for police cars.
3. Trucks under one ton MUST be a working vehicle.
One ton or smaller pickups or support vehicles are allowed, but they must be some type of work vehicle, such as a tow truck, a shop/roadside service truck, or a "Hot Shot" combination. A "Hot Shot" is a truck similar to this:
The only exception to this rule are vehicles that are not the build entry themselves, such as ones used for loads on a car carrier or wrecker.
These next rules are not really rules, but some basic guidelines for the starting kits themselves.
1. Please post pictures of what you will be starting with.
I would prefer we all start with unstarted kits, but rebuilds are also welcome. I will also consider partially started builds, but only if they are not far along in the build process.
Partially started builds like these that are nearly complete will NOT be eligible!EDIT: THIS RULE HAS BEEN CHANGED!!! FINISH THEM IF YOU GOT THEM!!! ONLY COMPLETELY FINISHED BUILDS ARE

NOT

ALLOWED TO ENTER, AFTER ALL THIS IS A COMMUNITY

BUILD

!!!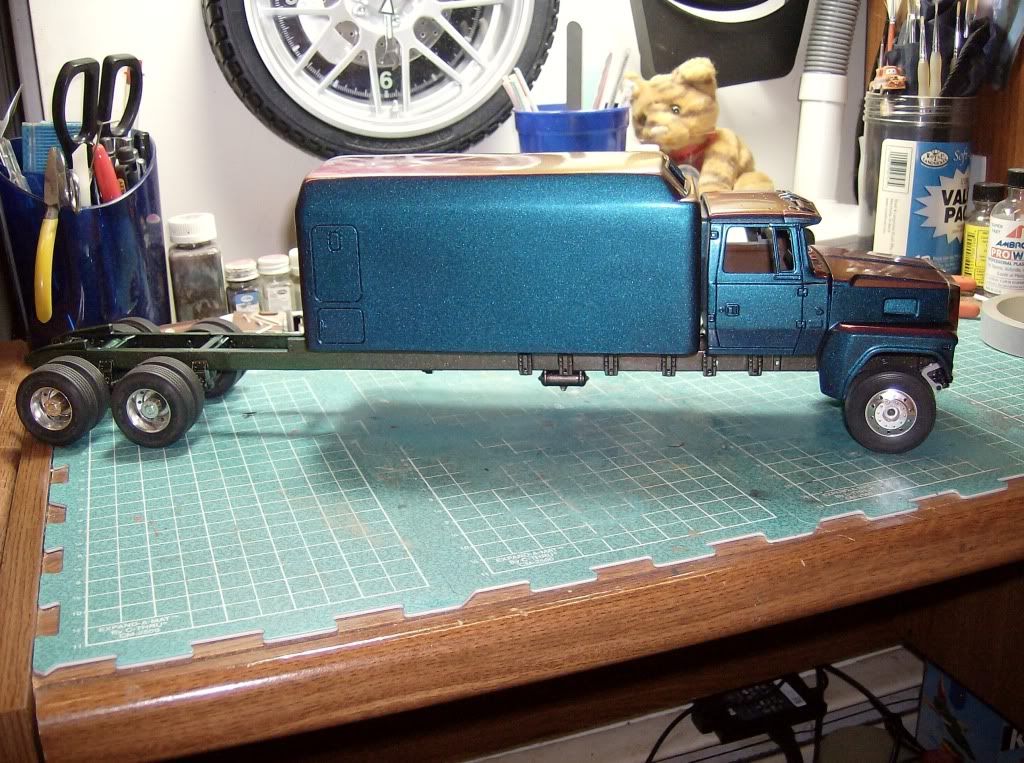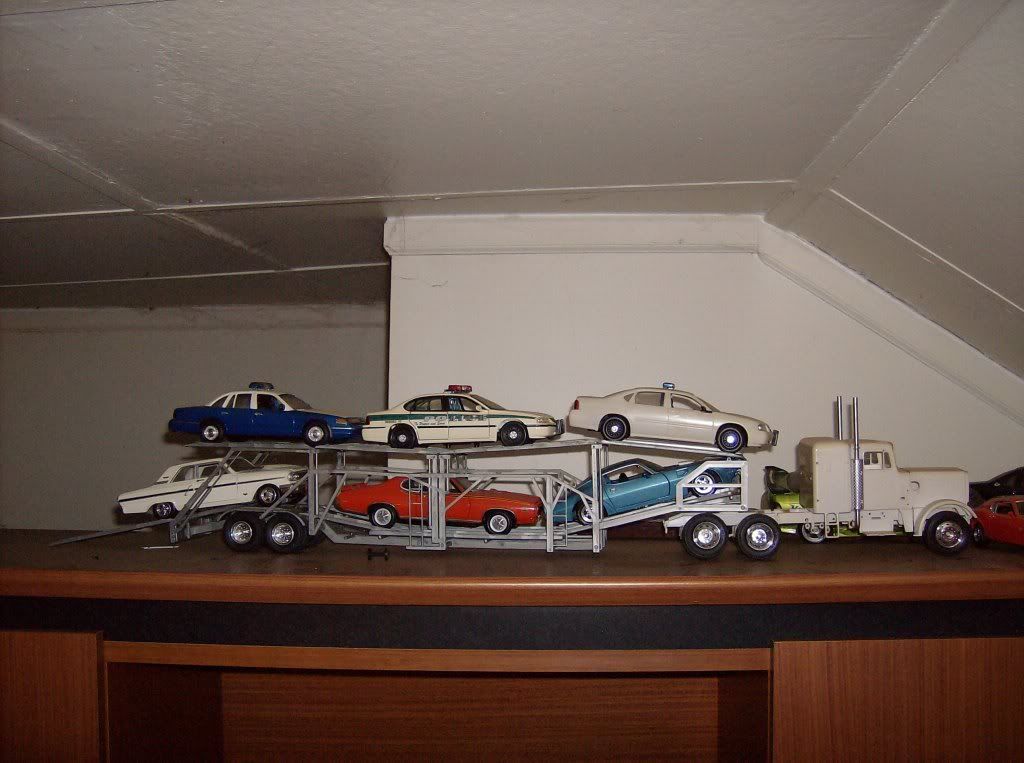 If you have a question about a partial build, please PM me.
2. When your build is complete, please try some outside photography.
This idea came from the Jairus Race Plane CBP I was in over the summer, and I found it to be quite fun. Try to get some pics in your driveway, sidewalk, or on your porch, just something to make it appear like the truck is running down the road or is parked in the truckstop, or some other natural setting.
OK, I've rambled enough, but I just wanted to close saying this thread is also for us to post our progress, post your work in progress pics here. If you wish to have your own WIP thread, too, that's fine, but make sure you post the progress here, too!! If there are any questions at all, DO NOT HESITATE TO PM ME! I will do my best to answer all your questions. I will be making another post immediately following this one with the official entry list, and I will place an asterisk (*) behind your name once you have posted a pic of your entry, this means you are OFFICIALLY in! It will be like this:
Your Name: Your Build Entry *
Also, at the end of the build, I will post a poll thread for the entire forum to vote for a "winner" from all the completed official entries. You won't get a prize, but you can brag you won first prize at the MCM Truck Stop and Chrome Shop's 1st annual truck show!

OK, let's get in gear and start building, and most importantly HAVE FUN!
Edited by highway, 05 July 2012 - 06:32 PM.