Brad... Thanks Bud. The black pieces are different size distributor boots from RB Motion. I will show you.
Tom... thanks man, I am trying to make this look as real as I can.
Dave... Thanks Bud! I have a few shots to show with it next to a coin for you.
Danno... you are right man.
Mike.... Thanks bud. it means a lot making you guys proud. You are right it has been much slower than I have wanted but I have been so picky with myself on some stuff that I have reworked things more than once to make it look right for me.
Joe... Thanks. I took a shot of the parts to show all what was done. Let me know and I could piece together the components on how I built it up.
Steve... Thanks man..  the Gas pedal I used 1/32" Brass Rod and 1/32" Brass tube. I will let you know the size of the rods and tube I used for the morse cable in the pic I will show.
Well Fellas.... I apologize that I didn't get any other pics up yesterday. Early in the afternoon I wasn't feeling so hot and was feeling I was trying to come down with a cold so I had laid down and was on the couch the rest of the day. Anyway today I am planning on sitting at the bench for as long as I can manage and get some more work done on this project today.
Here is all of the parts that I pretty much started with other than the piece of styrene rod that I am using as my hold down that ties the cable to the chassis. The Red tubing which is the main portion for the cable is teflon tubing that is basically 1/32" OD That I got from one of the guys at a local swap meet. The Items that I am using for the rubber dust boots are 1/24th and 1/16th Distributor cap boots from RB motion. I was digging thru all of my aftermarket items and was thinking how I was going to make those boots. when I ran across these distributor cap boots I decided to see if they would work for what I was doing and they were a perfect fit. And then the rest of the cable is made up of different size Nickel Silver tube (0.7 mm OD X 0.5 ID), Nickel siver rod (0.45 mm OD) and aluminum tube (1.0 mm OD x 0.25 mm ID) from a company called Precision metals that I picked up from my local hobby store (The Hobby Depot in Tempe Arizona). this tubing is not the cheapest but then again K&S doesn't make sizes this small.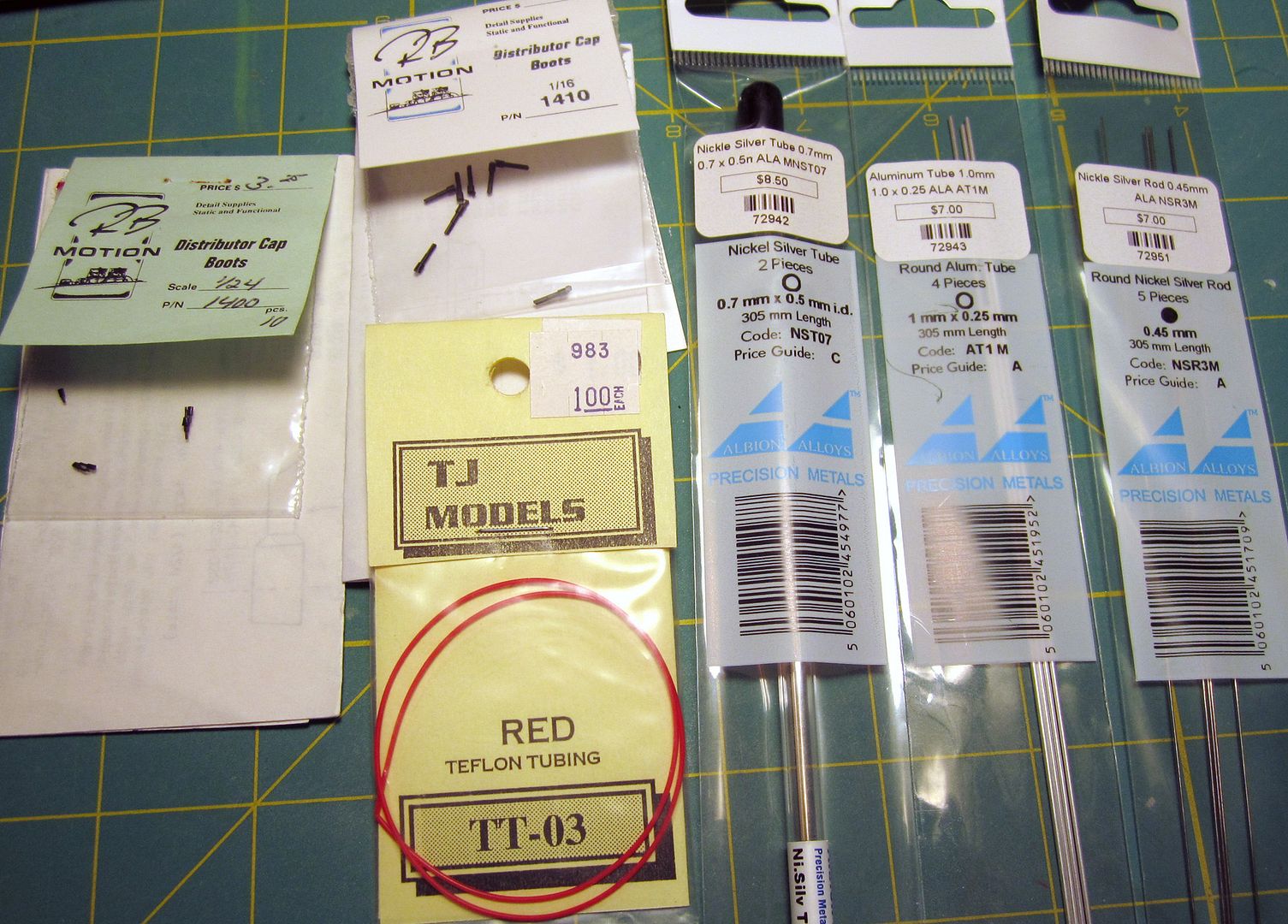 Here is all of the components that make up just one end of the cable assembly. Note that I have two different cable end quick disconnects.  If you guys want I could give you the dimensions of all of the pieces to the lengths that they were cut. just let me know and I will measure them for you.
Here is the cable assembled next to a dime so you can get the idea at how small this is: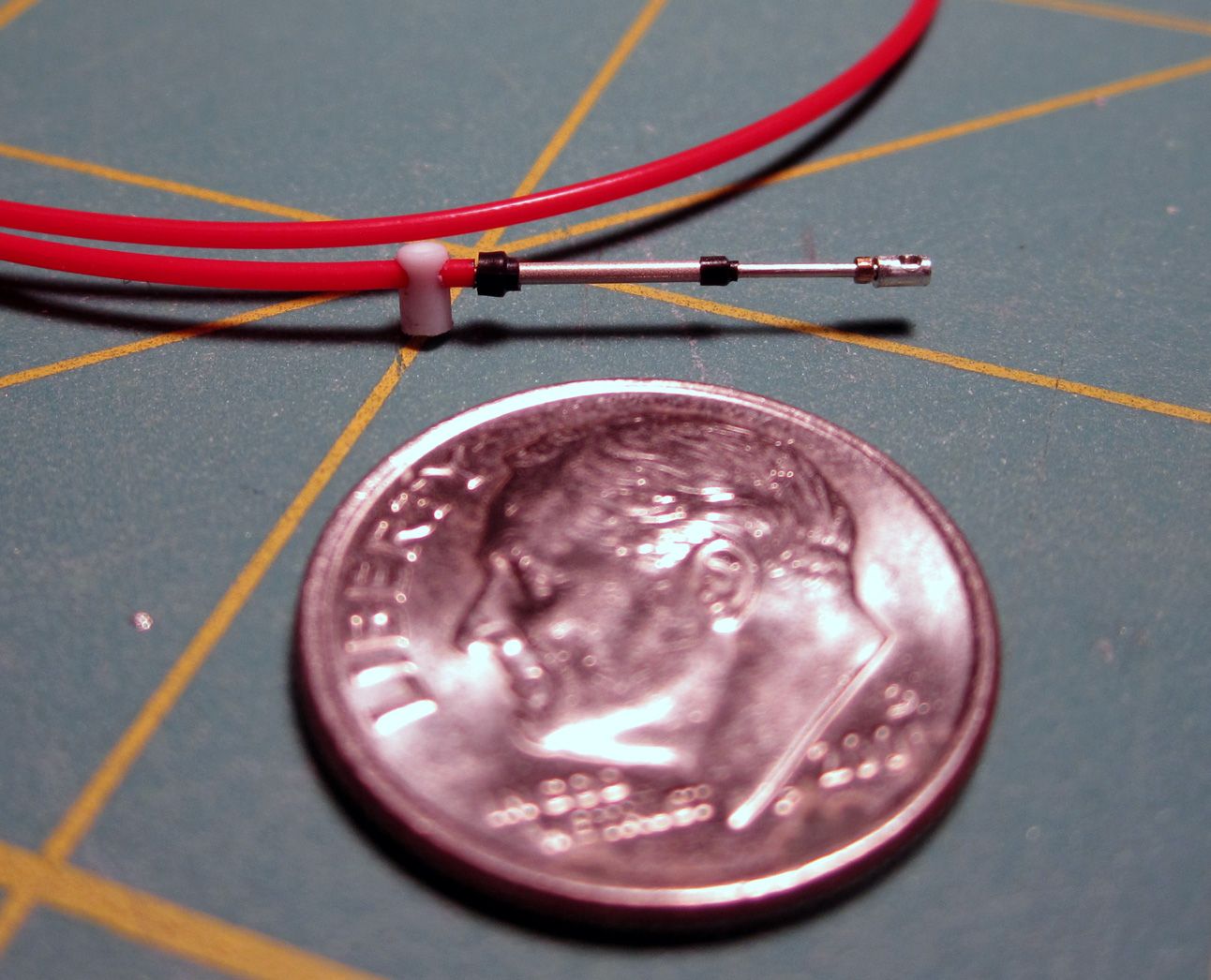 Here is a mock-up of it in the chassis. I also had to create a mounting location for it. I had used 1/32" brass rod that I bent to a U-shape and then I used a photo-etch bracket that I glued on that the cable support would mount to. I still have to trim the U-Shape rod down and glue into place: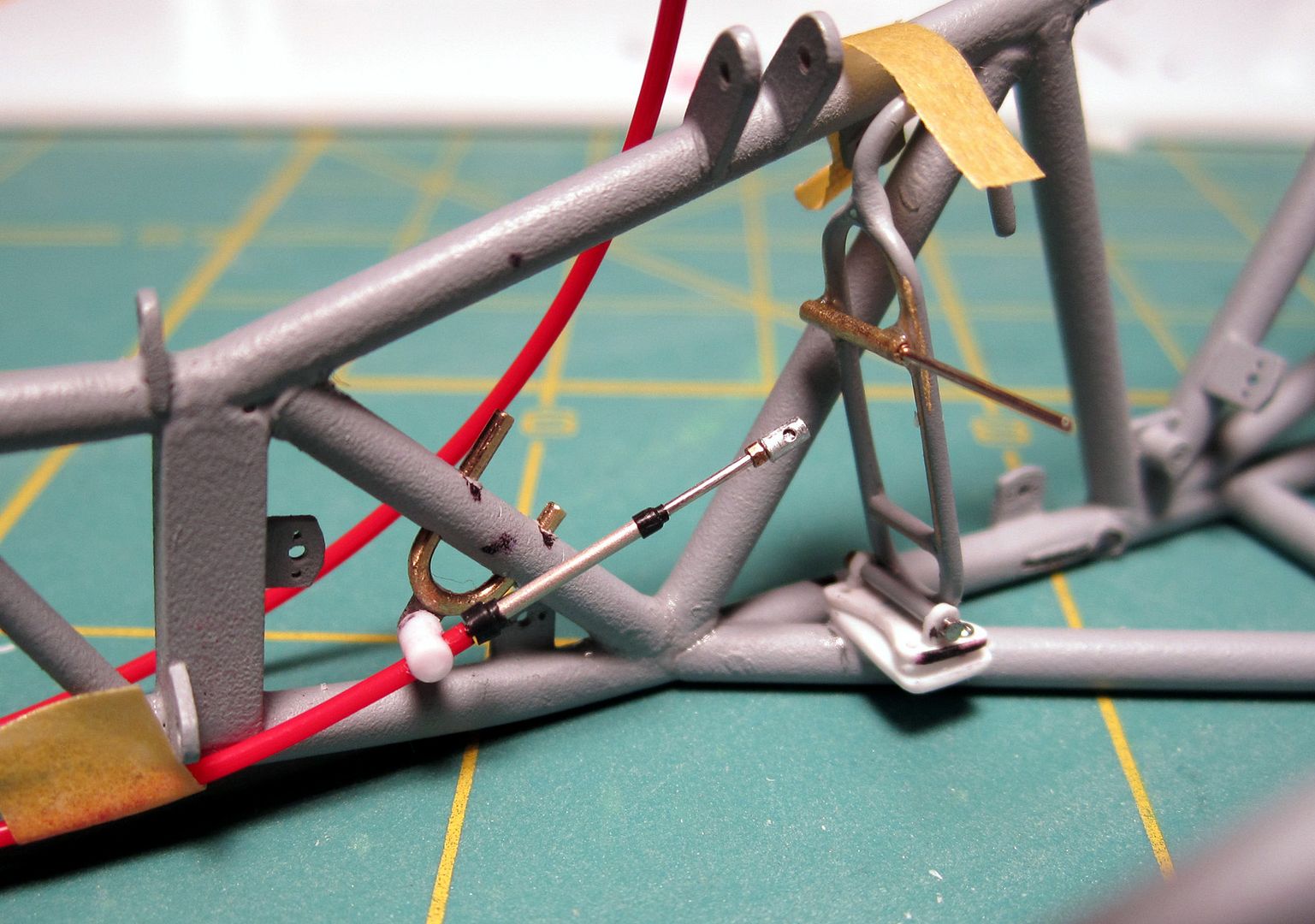 Edited by Mooneyzs, 27 January 2013 - 08:36 AM.