That was my exact thought, too.

Nick could you please post a pic of the container? Is this it?:




One other craft store item which comes in handy are googly eyes, especially the variety packs which contain multiple sizes. The clear shells can be used as headlight lenses on smaller scale (1/32 for example) builds, and the shells can be used as masks for painting. The pupils can be used for just about anything where you need a flat, near-perfect circle or disc.

Here is what the embossing powder looks like once applied. On this particular project, I was trying to match an interior on a 1:1 vehicle.
The craft store where I bought my embossing powder had only a few colors. So, what is a determined modeler to do - but buy the white and make it work

.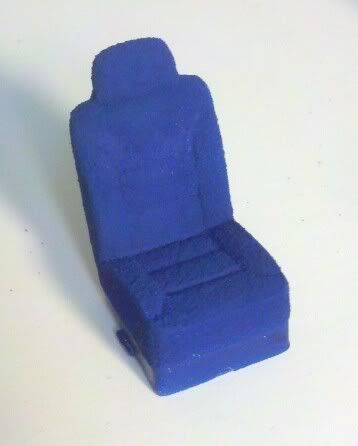 The seats had already been airbrushed with Tamiya flat blue. I applied Elmers glue with a microbrush, and allowed it to set for just a minute. I then sprinkled the embossing powder over the surface making sure to cover it from all angles. I then set it aside to dry. Once dry, lightly brush away any loose powder. Any extra was returned to the container. The next day, the seat was airbrushed with more of the Tamily flat blue. The airbrush nicely applies the paint without damaging the surface. I guess rattle can paint would work as well. Hope this helps to show the results. You could go crazy if you want, shadowing and highlighting with various shades of the base color.
David