"Get Your Kicks On Route 66"
Just the words "Route 66" brings up visions of Automobiles and Americana at it's best.
The open road!!!!!!!!!!!!!!!!!!!!!!
Well you've seen the House Of Kolor Jada Oil Tanker, it went to the Execs at HOK.
Recently I posted the AutoFest 2009 Jada Oil Tanker, it's going out to the AutoFest ACCWC Charity.
Now for a dramatic change in colors.
My Route 66 Jada Oil Tanker in HOK Candy Emerald Green, Candy Pagan Gold and Black.
When the Jada Oil Tanker is disassembled and the roof apparatus is removed, a very prominent depression is left down the length of the roof.
Designing this Tanker as a Custom Van instead of a work truck I chose to fill in this hole in the roof using JB Weld.
A perpendicular line running across the roof is also filled in for a smooth overall appearance.
Factory Headlamps are removed and their mounting holes are also filled with JB Weld.
Holes are drilled in front fenders to insert my RhineStone Headlights.
Tape is used inside the body behind the roof hole and the Headlight holes to keep the JB Weld from dripping through.
I bake the casting in one of my Fact-O-Bake Ovens for a few hours and then begin the sanding .
Sanding for something like this must be done with blocks.
You want a smooth even surface when finished.
I use 2" x 4" pieces of 1/4" thick Plexiglass and start with 220 grit.
When I'm pleased with the sanding job and have finished it with some fine red putty it goes on to Priming.
After Priming,
Fenders are shot with LimeTime Pearl, Intercoat Cleared and then taped.
Sides are shot Zenith Gold, Intercoat Cleared and taped.
Hood and front of Cab roof is shot the same LimeTime Pearl, InterCoat Cleared and then taped.
Shell is shot Black, InterCoat cleared and then taped.
Tape is removed everywhere except the Shell, Windshield trim is applied in Chrome, and the body is shot Candy Pagan Gold with Aztec Gold Pearl Powder.
Windshield Trim turns to Gold with the use of the Candy Pagan Gold.
Shell tape is removed,
Decals, Rhinestone Headlights and Taillights, and 1/64" Gold Trim Tape (separating Cab from Shell) are applied and the whole body is shot with House Of Kolor Urethane Clear with Brilliant Gold Pearl Powder.
All Products Used Are Exclusively House Of Kolor, Of Course!!!!!!!!!!!!!!!!!!!!!!!!!!!!!!!!!!!!!!!!!!!!!
The original casting as it comes from the factory,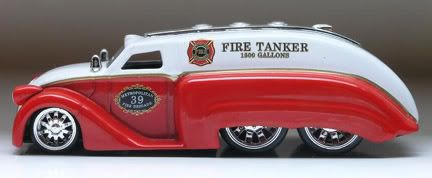 Now my Route 66 version,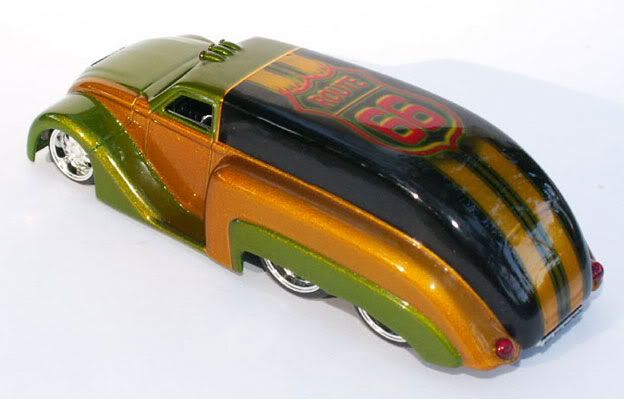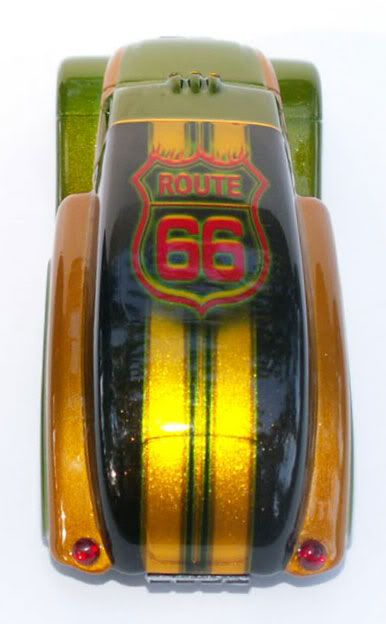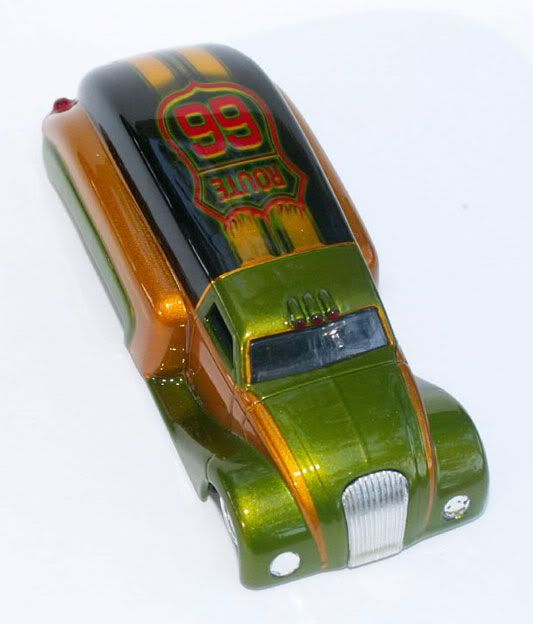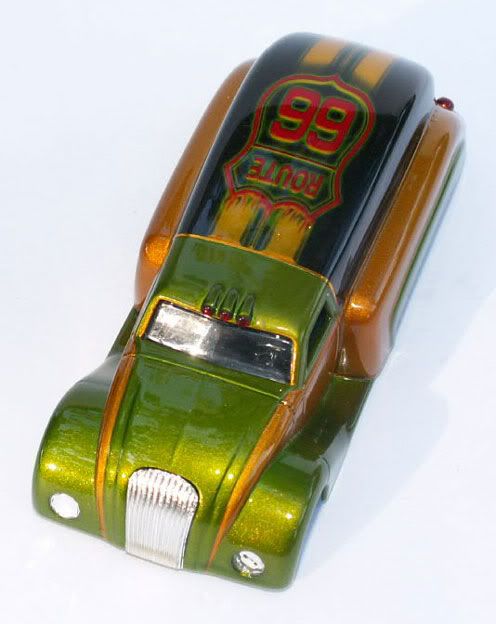 Stay Tuned for my Route 66 Jada Divco Cruizer and Route66 Jada Silverado Dualley PickUp!!!!!!