last week i was trying to explain to another member of this forum how i do my bending of plastic for the Art Morrison frame i built.
im not always the best at just explaining things without pics so here is a quick tut with pics i did for him and anyone else who will get use out of it.
List of tools and supplies you will need.
- sheet of paper - this will be used to draw your template.
- plastic strip of your needed size.
- .02 thickness plastic sheet stock. - this is to hold your shape
- flat file or rotary tool with your desired cutter. - as you can see in the pics i used a rotary too in a shaping table. highly recommended if you do a lot of scratch building.
- sharp hobby knife or serrated blade
- pair of small pliers
- your favorite glue. -
- Filler
- High Build Primer (Dupli Color High-Build Primer is my favorite)
- sand paper 320 & 400 grit.
STEP 1) Pattern Making - i omitted the pics in this step as its pretty much self explanatory. draw you desired shape on paper to use as your template.
Step 2) Shaving. - in this step you are going to shave .02 thickness from where your bend will be.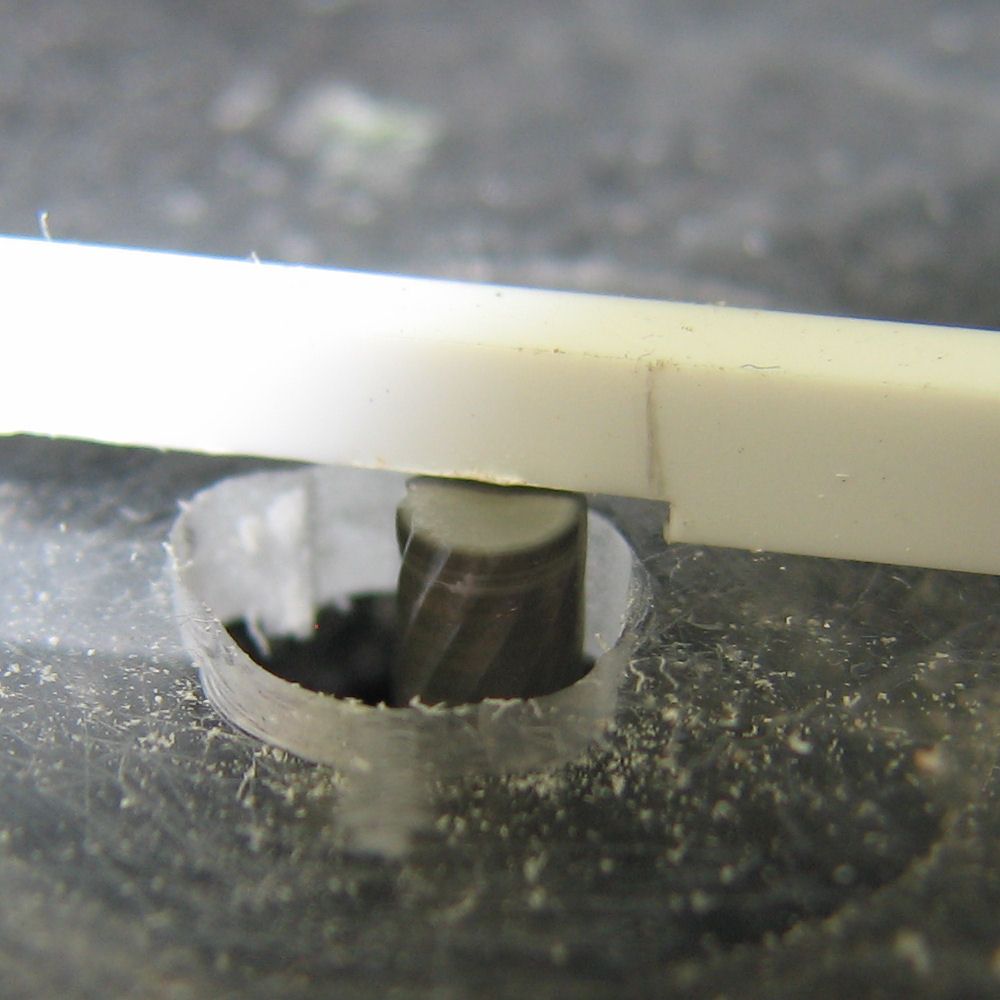 Step 3) Scoring - what you are going to do in this step is score some breaking lines. when scoring lines you only need to go a 1/4 depth into the plastic. you can go more if you want but no more than 3/4
keep your score lines evenly spaced at about 1/16 or 1/8 apart and as square with the plastic as you can.
Step 4) Breaking - this step can be tricky for some. you will want to break the plastic on your score lines but not to the point where you break it in half.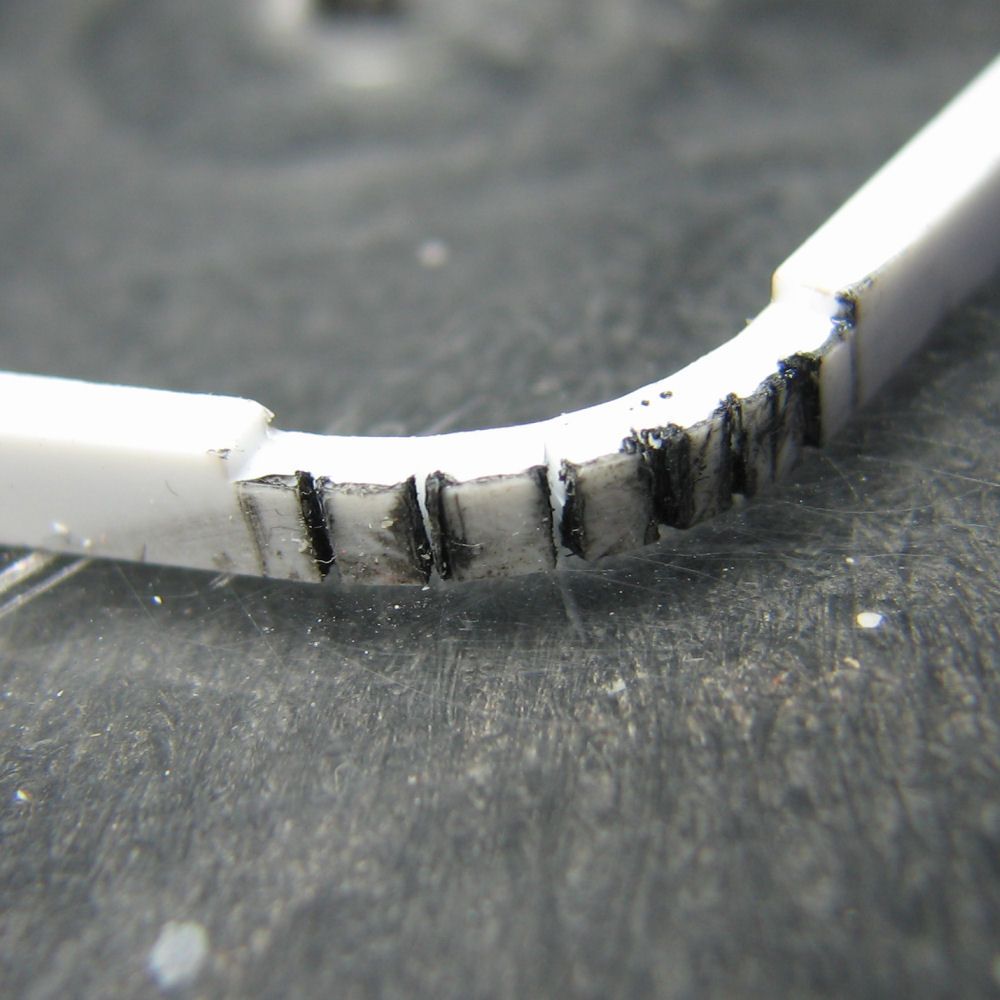 at this point it becomes a delicate process. as you can see in the pic below there is not a lot holding the plastic together and can easily break in half so handle with care.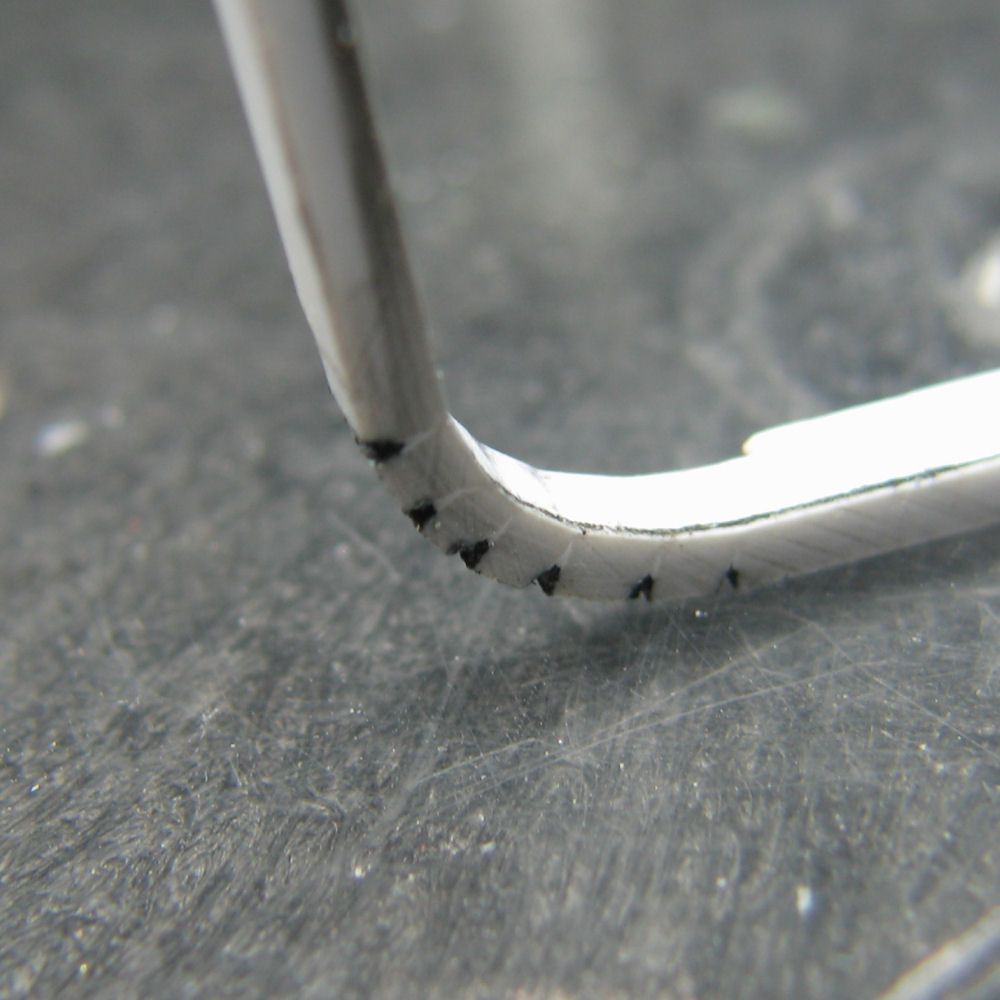 what i found when breaking score lines is to have two pairs of small pliers. one will hold the plastic while the other does the breaking. there are other tools that can be used from tweezers to jack knife or your fingers but with less control.
this step is not a hard step but it can be delicate one so practice before starting your build.
Step 5) Gluing - this is where step 1 and 2 come in. i highly recommend using plastic cement over fast drying glue.
lay your plastic strip down following your templates pattern and secure it to its shape with whatever you use. (small bottles, pins, cinder blocks etc). you will now need to cut a piece of plastic and glue it into the cavity from step 2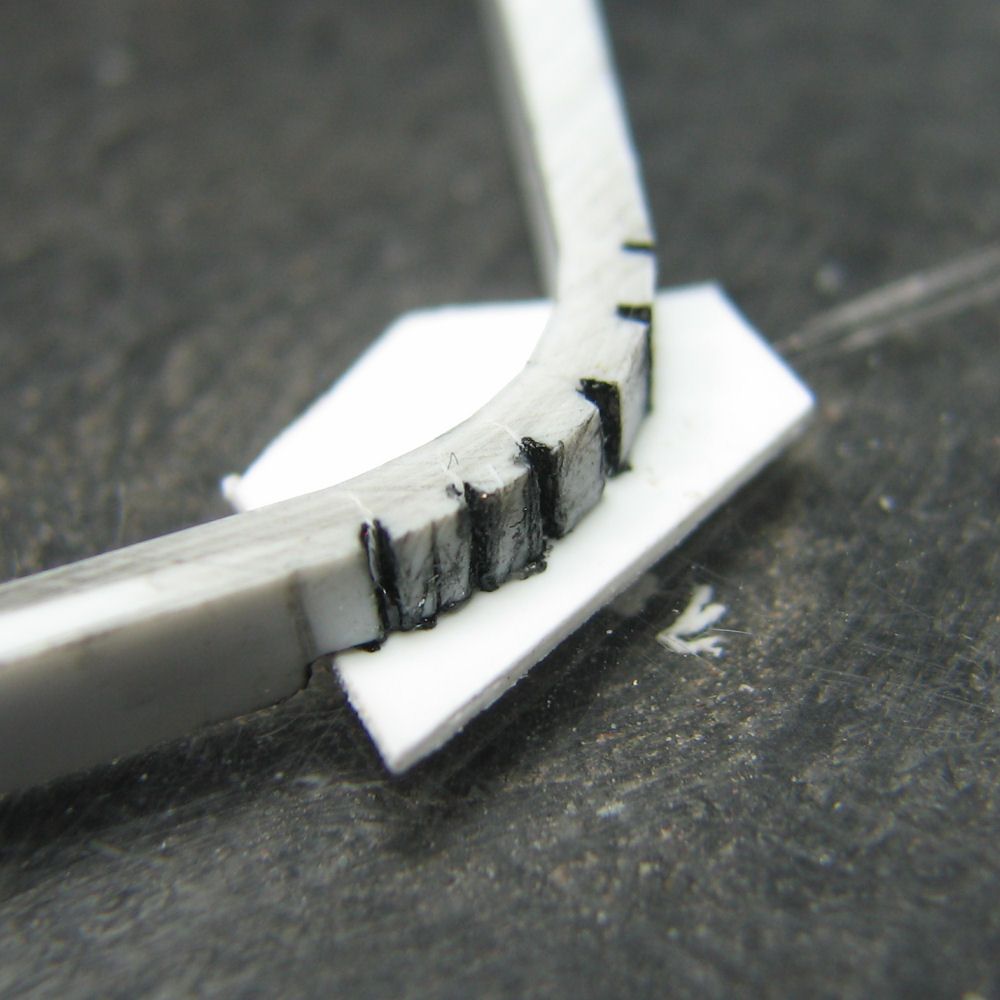 the piece of plastic you just glued in will give it strength and hold the shape.
when the glue is dry do your trimming and sanding.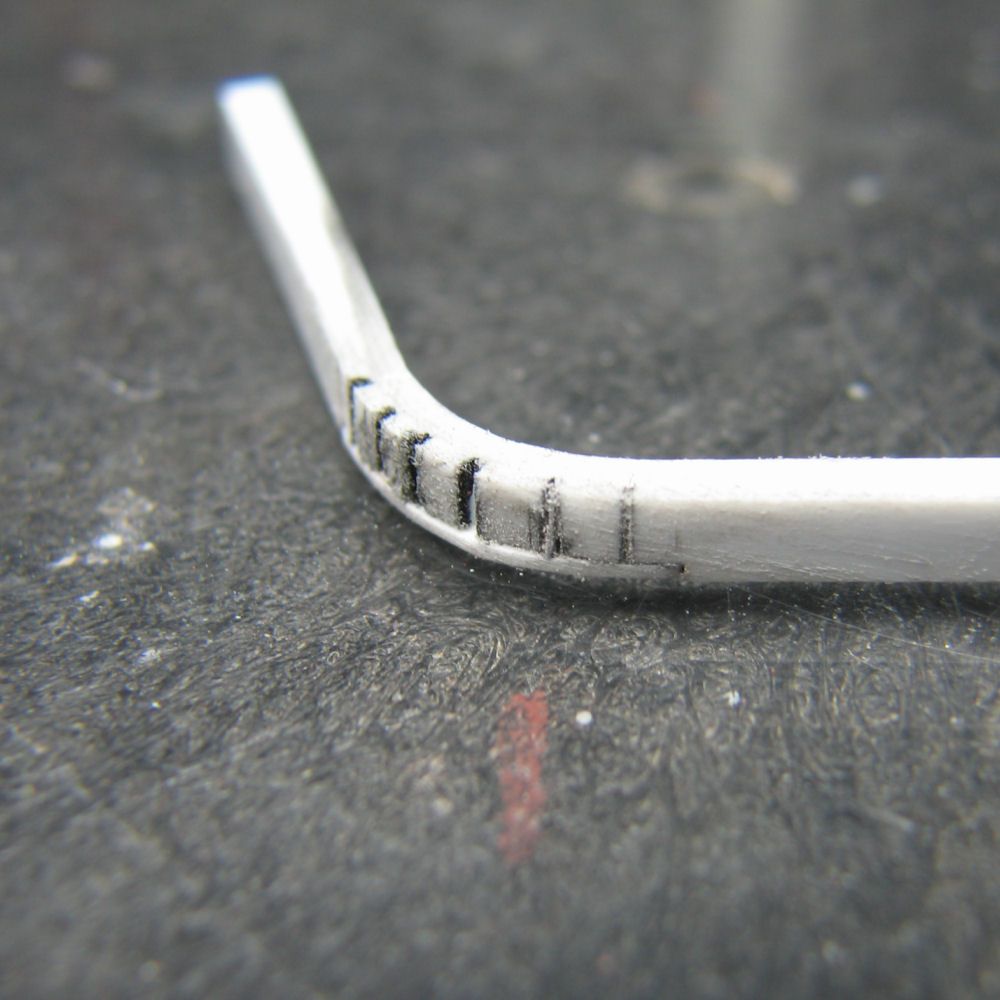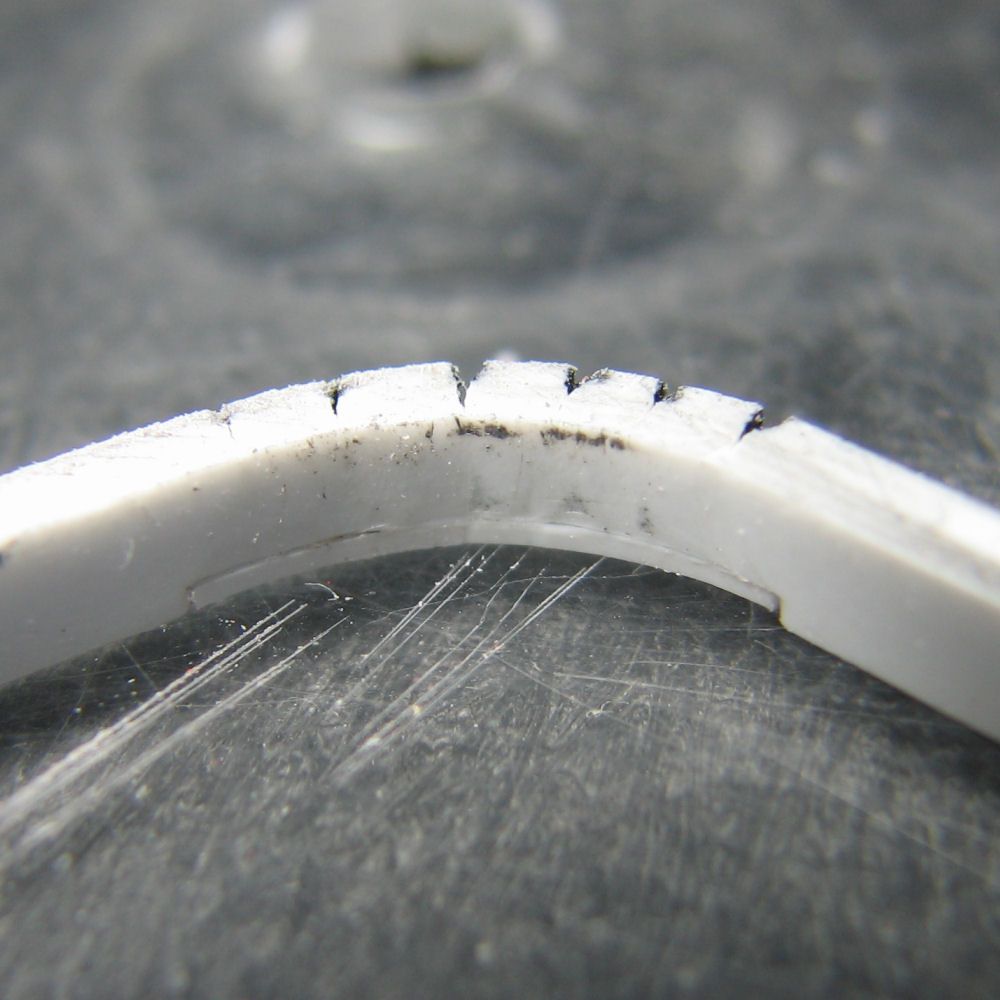 the frame below was built using the same techniques i just mentioned above. you can see the breaks and filler pieces i used in building this frame.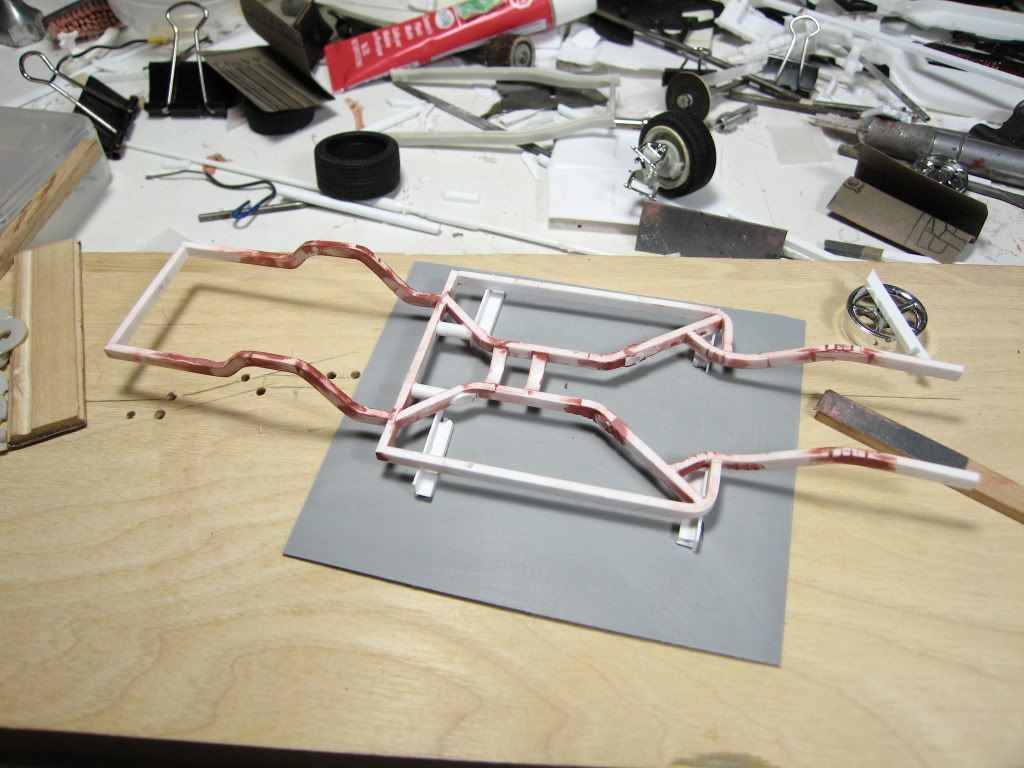 the remaining steps left are your filling sanding priming and painting. with primer i prefer Dupli Color High Build Primer its a very easy sand-able primer that works great as a filler of minor imperfections.
in the future when time allows me to do it i will make a much better tutorial with more pics and info.
Thanks for looking and im always interested in your feedback.
Edited by Marcus M. Jones, 25 May 2012 - 05:41 PM.