Here is an interesting little kit I just received in the mail from Tokyo Hobby.
It is a 1980s Suzuki ST30 "Carry" - this being a Post Car version.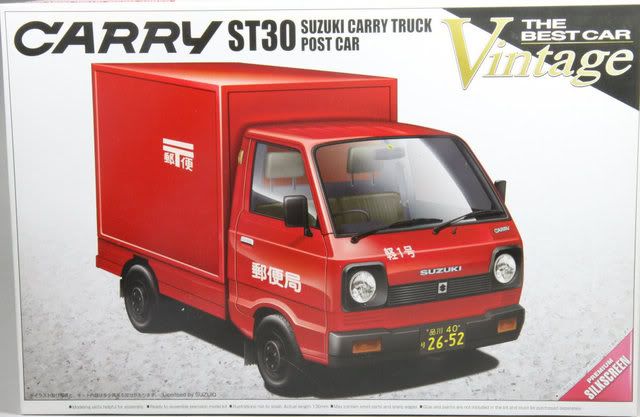 I admit, I don't know a lot about this little truck, but I like to find and build odd cars and trucks and this one fills the bill. It is typical of many Aoshima kits in that it is curbside with very little detail on the chassis - all of the detail being molded as one piece. Also, there is no chrome tree - and research shows no need as these were work trucks and with little or no chrome.
The body: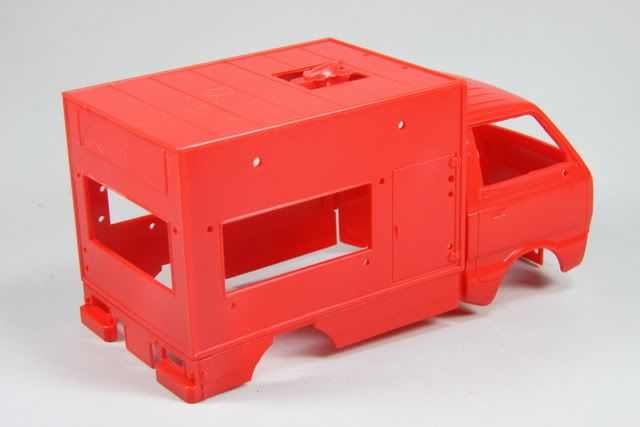 Notice the large window openings on the cargo box? The truck represented in the box art is a closed cargo box, so this kit has seen life as another variation (there are two Aoshima kits currently available, both closed cargo box) - more on the "other" variation below.
First Sprue, clear parts:
Notice here - there are windows for the openings in the cargo box. Also, there are two lanterns (left side of sprue) in addition to some other "extras".
Next:
Here we have the interior tub for the cargo box. More clues as to the previous variation of the kit - it appears to be a food truck, or "Roach Coach", of some sort. There is a small seat, grill, and some misc. cooking items. One of the two sets of wheels are here too - they appear to be a Watanabe style.
Chassis and interior tub sprue: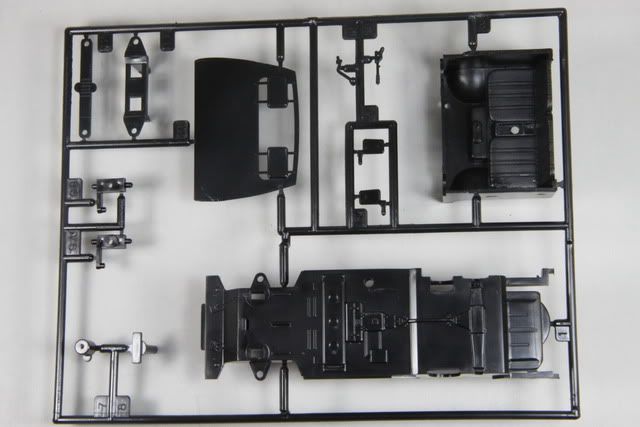 Note the lack of detail on the chassis - pretty simple - leaving lots of time to detail the cargo box!
The other wheels and the tires:
Nice steel wheels with open holes and decent looking, and very cute, tires.
More parts:
Here are the "fillers" for the cargo box sides. They are made out of very thin styrene and it is necessary to sand off the window moldings on cargo box in order to get these panels to sits flush. Luckily, Aoshima includes a sheet of sand paper (I assume is for this task). The nice little decal sheet includes marking for the "Post Car", and I have no idea what else they say. Well, I can read the Suzuki decals - the rest requires Japanese translation.
This looks like a cool little truck. I bought two so I could build a stock one and one either weathered old workhorse or a custom of some sort.
I am intrigued about the original variations of this kit, one, I assume, is represented by this truck:
I'll be keeping an eye peeled for that thing!
Or any of these!
Edited by Erik Smith, 28 July 2012 - 10:25 AM.