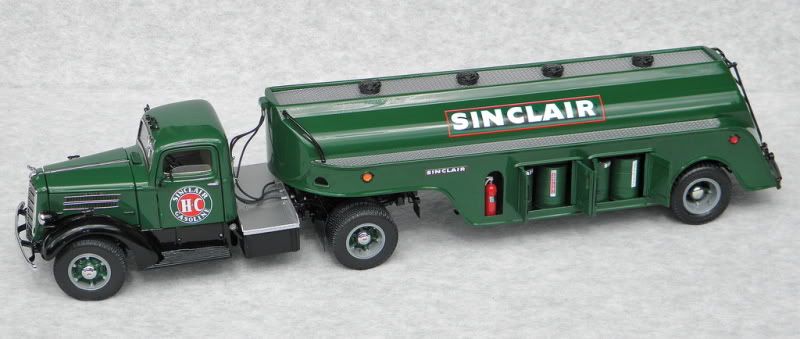 My twin brother, Larry, shares my passion for building models as some of you may know.
He has been working on a 1/24 1941 Mack EHT with a tanker trailer since late winter but, after putting it aside for summer outdoor priorities, got back to the model six weeks ago when the extreme summer temperatures made outdoor activities difficult. He has kept me informed of the project with regular photo updates but dropped by a week ago with everything ready for paint...which we promptly applied in my paint booth. The resulting tractor/trailer assembly is now complete. The basic cab structure is derived from a Yatming fire truck but required some proportion and detail modification to be accurate..... including the running boards, chassis, springs, tanks, fifth wheel, steering front beam axle, wiring, complete engine, dashboard, and headliner.
The entire tanker trailer and all its details are scratch-built using styrene sheet and soldered brass construction, including side doors/latches, landing gear, lights, ladder, fuel plumbing and valves, tire rack etc.
Paint is automotive basecoat/clearcoat with Humbrol, Testors and Tamiya paints used for details.
Larry doesn't build many models but he really does a precise, well detailed, well planned and different vehicle when the situation arises. I'm really proud of his effort.