I thought I had already posted a topic of this build before.But I guess not.
I know ive put pics up in other thread topics.
Anyways seeing as there is a few chopper threads,thought some of you fella's might enjoy this one.(Has been posted on other forums,so I apologize if you have seen it before)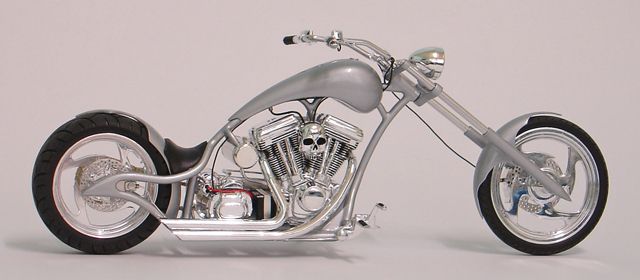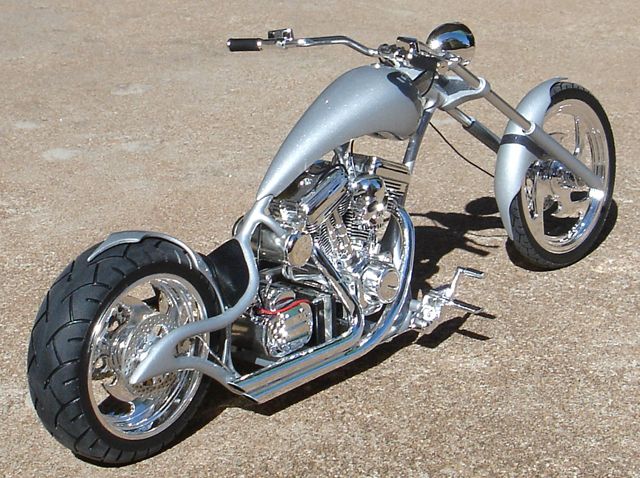 A list of things done to build the bike.
Below is scratch made parts/components;
Frame.
Bottom triple clamp and forks (made from aluminum tube with Knead-it epoxy putty on the ends shaped to a point).
Handle bars (2.4 aluminum rod).
Rear brake caliper (covered with bmf).
Gear shift linkage (craft wire, aluminum tube and .9 aluminum sheet).
Number plate mount and brake light.
Primary cover plate, covered with bmf with skull from RM chopper kit primary cover.
Seat (made from Knead-it epoxy putty).
Below is Modified Parts
Fuel tank (from cheapo diecast sectioned and shaped).
Oil tank (from RM kit sectioned to make width smaller).
Re-shaped fenders (from Rm wicked chopper Kit) made new mounts.
Slash cut exhaust (Rm aces wild kit).
Stretched primary drive(from Rm kit).
Below is other detail's
Fuel line, throttle cable,front brake cable, clutch cable, rear brake hard line, battery cables, oil lines ,spark plug leads.
drilled out rear sprocket and disc brakes (RM kit).
Fuel cap from spare parts (covered with bmf).
Rims from RM aces wild kit.
Paint;
Tamiya Ts-76 mica silver base top coated with Ts-65 pearl clear and Ts-13 clear.