I'm attempting to build a model of my Dad's first and favorite care he ever owned. It was, of course, a 1960 Pontiac Bonneville Convertible. Since this is going to be a surprise, I can't ask him too many detailed questions about it or he will get suspicious. To further complicate this project, there are absolutely no pics to use as a reference.
So I got the Trumpeter kit and opened it up: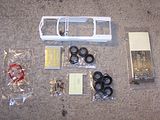 ***Bottom pic - you can see the Photo-Etch kit I purchased from Model Car Garage on the right***
Upon further inspection, I noticed that one of the wheels is missing.
If anyone has any idea where I can get an extra one of these, I would greatly appreciate the help.
actual progress coming soon......