In January 1962 Carroll Shelby first drove the car that would become the first Cobra and the prototype for all the leaf-spring Cobras to follow. This car was essentially the latest version of the AC Ace in which a recently released Ford 221 cubic inch V-8 was installed. After some requested changes were made, the first Cobra was shipped minus engine to Dean Moon's shop in California where a Hi-Po 260 V-8 was installed. Next Dean Jeffries sprayed the car Pearl Yellow the first Cobra's introduction to the public at the New York Auto Show and on the cover of the September 1962 issue of Road & Track magazine. Dean Jeffries subsequently re-painted the car in as many as five different colors to make it seem like more Cobras existed before an inventory of cars were available. For painting the first Cobra, Dean Jeffries received a full race Cobra 289 that he used in his Mantaray. The final paint job was blue which the car still wears today because the fist Cobra was never sold always being one of Carroll Shelby's personal Cobras.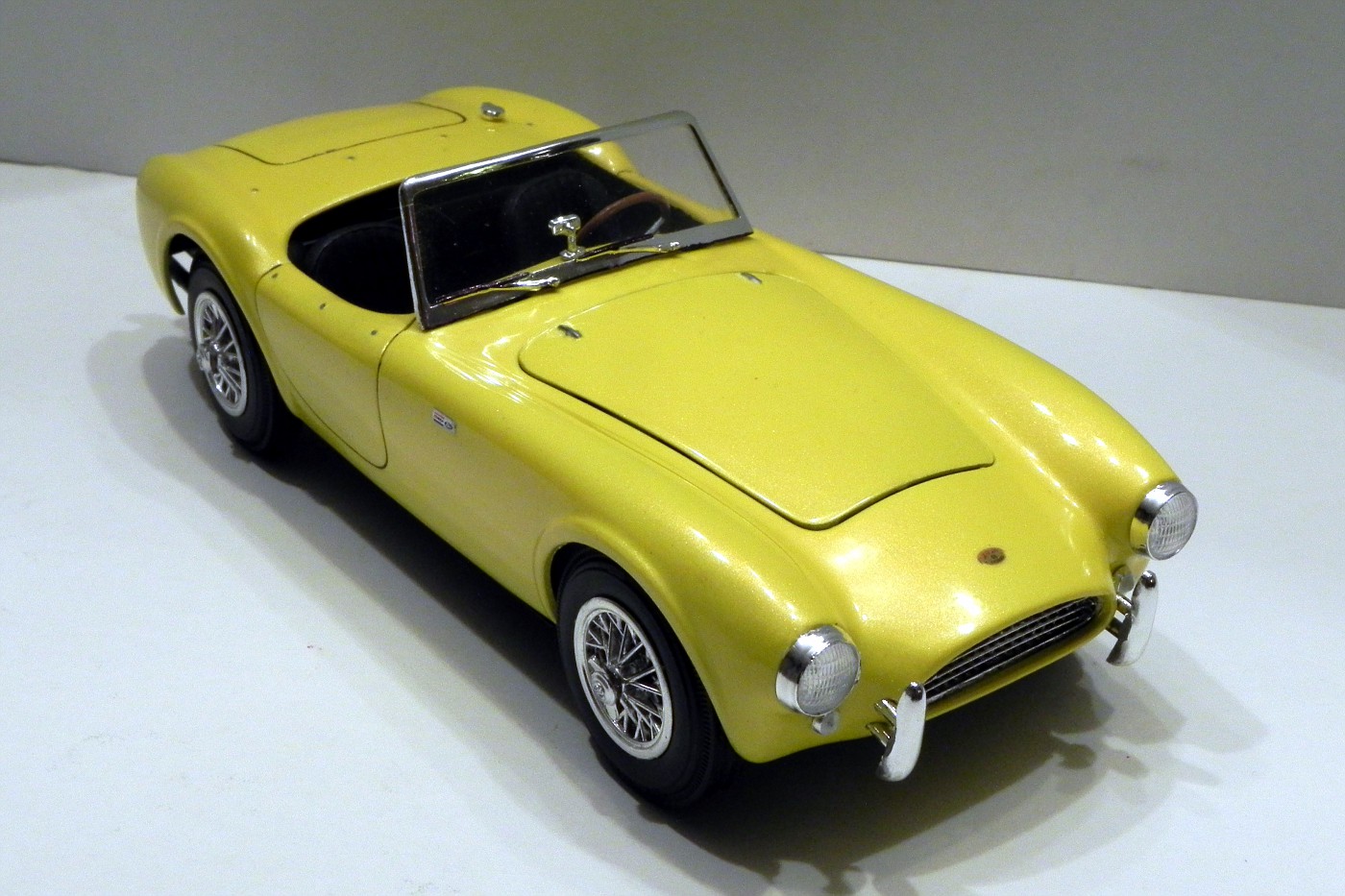 Changes made to the AMT model, which is a tribute rather than an exact replica
- Lengthened trunk [trunks were shortened on subsequent Cobras so extra re-enforcing could be added]
- Removed bumper tubing
- Repositioned fuel filler
- Reconfigured dash gauges to stock AC locations
- Moved rear disc brakes inboard [brakes on later Cobras were outboard which allowed a stronger chassis]
- Smooth valve covers, air cleaner, exhaust manifolds adapted from the AMT 66 Mustang and fan installed on engine
- Knocks off from the Monogram 427 Cobra SC. Wheel hubs shortened to get correct track. Parts box tires
- Made decals of original Cobra emblems.
- Remover front inner fender liners from chassis to paint separately [Further to the discussion of relative merits of 427 Cobra kits -Inner front fender liners are something missing from Revell 427 Cobra which Fujimi kit had.]
Paint – The only Yellow Pearl I had was Testor's Boyd's Alumina Yellow
More photos at
http://public.fotki....obra-1-csx2000/
Edited by Phildaupho, 16 October 2012 - 07:08 PM.