" Black Oak HotWheel Passion "
Presenting a Sneak Peek of the Black Oak Passion in my ongoing "CadillacPat's Midnight Passion Parade".
Solid Black cars with InkJet Decal Graphics, not something you will ordinarily see anywhere.
Last Thanksgiving at the Annual Houston AutoRama I had the pleasure of viewing a '51 Ford Convertible which had it's body laid over with solid Oak boards.
While the car might be a bit impractical for daily use it was definitely an example of detailed Artistry and fine Craftsmanship.
I decided to create my own version of layered wood trim for my Custom Passions.
If you go to Custom Car Shows or follow AirBrushing techniques you know that AirBrushed Chrome trim and AirBrushed wood are two very high end trends in AirBrushing which look as real or even better than the actual metal or wood items.
This is what I have attempted to recreate with my high resolution Graphics in the form of Clear InkJet Decals.
First I drew a woodgrain design in PhotoShop.
Then I created scallop shaped Gold trim pieces and fit the woodgrain within them using the Layer>Group With Previous option.
Next a Gold Rivet had to be drawn and then installed over and over and over again so the wooden panels and their trim would appear to be riveted onto the body.
Lots of Bevel, Inner and Outer Shadow, Drop Shadow, etc., etc., went into creating the images to create a 3D appearance.
Even more time was used fitting and arranging the panels to the body.
PhotoShop is just another AirBrush that is operated by your keyboard and your imagination.
Here are the images of the body alone, yet to be ClearCoated and Detailed.
Watch soon for how different things will appear once the House Of Kolor Urethane Enamel ClearCoat and Pearl Powder go on.
Decals are created on Clear InkJet Decal Paper from Papilio.com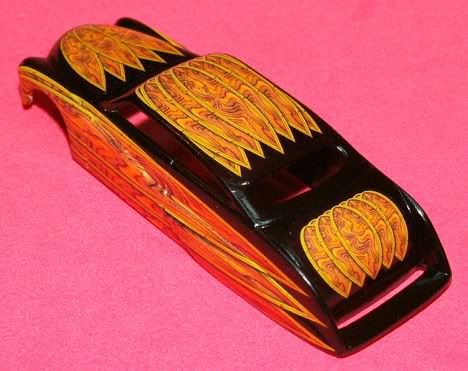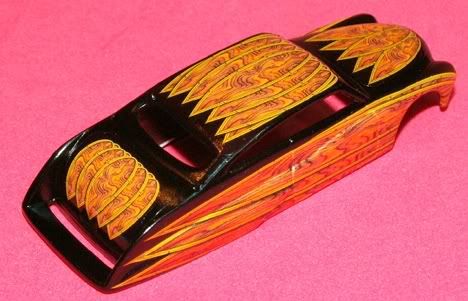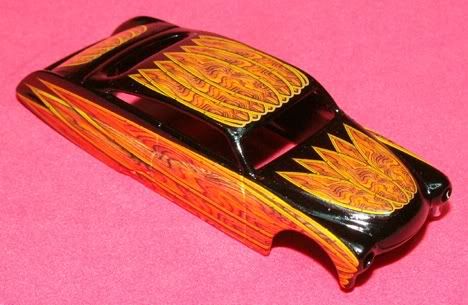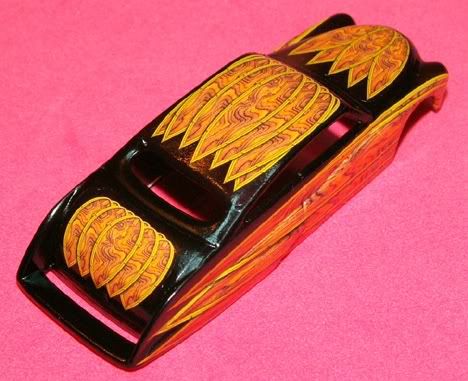 Stay Tuned, More Midnight Passions to come!!!!!!!!!!!!!!!!!!