A while back I went to Aruba and brought home this little bus as a souvenir. I wanted to do an island style pickup so I adapted the color scheme onto this 1965 Chevy pickup. This photo is probably 10 years old, so this one has been coming for a long time!
and here she is finished! Being a truck from the islands I didn't want to rust it too bad. The hood is kinda bent up, the fender was rewelded over the tire, The rack on the back was scratch built from Evergreen plastic.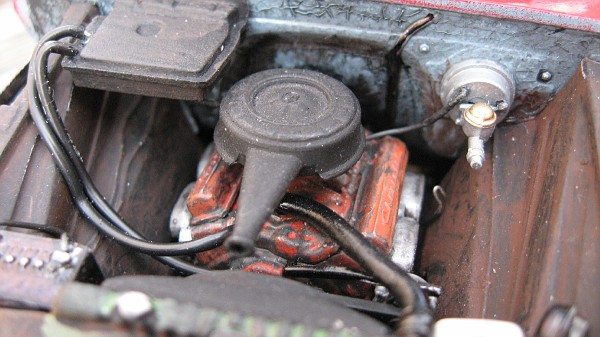 Engine bay is stock from the kit with wiring and hoses added. You can see here that it was originally a light blue truck before the interesting paint job.
Top view - ladder by Evergreen, large rusty tool box in bed was scratch built.
Spilled tool box just to add some personality. Tools from my parts box, I believe mostly from the '53 Ford pickup kit.
Hood is a bit bent, and that is a genuine Aruba license plate.
Rear view - I don't know where I got the rear bumper, and the missing tail light was from the parts box.
Upon reviewing the post I saw I forgot an interior shot. Bench seat was from the 70 Impala kit Floor shifter was added as the old column shifter just sits there limp. I had a car like that once, so I went with it.
I had a lot of fun with this one. I like creating unique old work trucks, and vehicles from places I remember fondly.