Anyone who's ever seen a western has seen one of these. They originated in the Conestoga Valley near Lancaster, PA (Amish country) in the mid 1700s. They were the "moving vans" of their day. They were shaped with angled front and rear ends and a curved floor to keep cargo from shifting when traveling over steep or rocky trails through the Appalachians on the way westward. Families piled everything they owned into one of these wagons and took off for parts unknown in the west, to lay claim to some land and start a new life. Here is a (restored) real one:
These wagons varied in detail from one maker to the other, but they all looked basically the same. Some were painted, some were bare wood... it was up to the owner. My model is a 1/12 scale version, again made up of laser-cut wooden parts, cast white metal details, photoetched brass, and hundreds of tiny pins, nuts and "bolts" (not threaded, for looks only). The parts breakdown pretty much copies the real thing... individual wooden planks, ironwork, all held together with hundreds of pins, nuts and bolts. It's a pretty big model, as you can see by the can of paint...
Again, paint is acrylic craft paints, thinned down to give a weathered and worn appearance. The "canvas" top is cotton fabric, dyed to look like canvas, and painted with a watered-down white glue to give a realistic "sag" between the support hoops.
Out back hung a trough that was filled with food for the "engines"... these were big, heavy wagons that when fully loaded needed a team of anywhere from 4 to 12 horses to pull!
In the photo above you can see the iron strap "tires." They are strips of cardboard painted with a dark metallic gray craft paint. I think they look exactly like real iron straps. The rest of the "ironwork" (both cast white metal and photoetched brass) was painted black...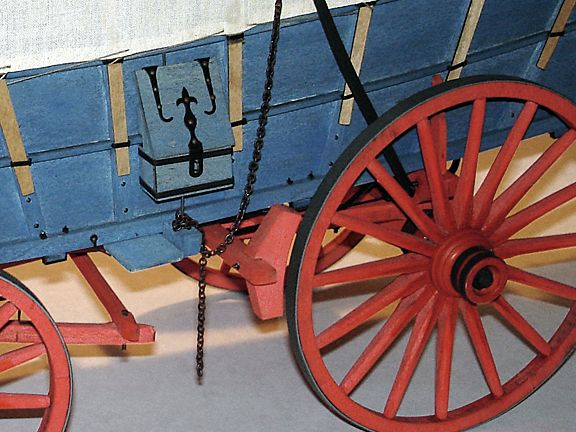 Also note the axe that was held by brackets up front. The settlers needed firewood every day for cooking (and for heat at night in the winter), so an axe was an essential part of the wagon: