Dieselpunk:
Dieselpunk is based on the aesthetics of the interwar period between the end of the World War I and the beginning of World War II. This sub-genre is sometimes named Decopunk, referring to the Art Deco art style (including its Streamline Moderne variant). The genre combines the artistic and genre influences of the period (including pulp magazines, serial films, film noir, art deco, and wartime pin-ups) with postmodern technology and sensibilities
--------------------------------------------------------------------------------------------
Well then, I've kind of got the Deco bug and have been tinkering with designs to capture the esthetic sense for a while. Reading an article about the demise of the Jag CX-75 hybrid-supercar project got me thinking in the Dieselpunk vein. Why not combine the radical micro-turbines, batteries and wheel-motors of the Jag prototype with a Deco-inspired body design. The Jag powertrain was described as being capable of 3 second zero-to-60 times, with a top end of 200mph, while producing very low emissions. This model would be running on bio-diesel and having processor-controlled 4-wheel drive (the independent wheel-motors and processor control make 4WD with different size front and rear tires entirely possible).
I've had the Flintstone '34 Ford needlenose lakester for a while and couldn't think of anything to do with it because of its seriously wonky rear wheel arches. Also had this bodged, fubarred and mangled junk lying around.
Tinkering all weekend with stance and proportions got me to this point...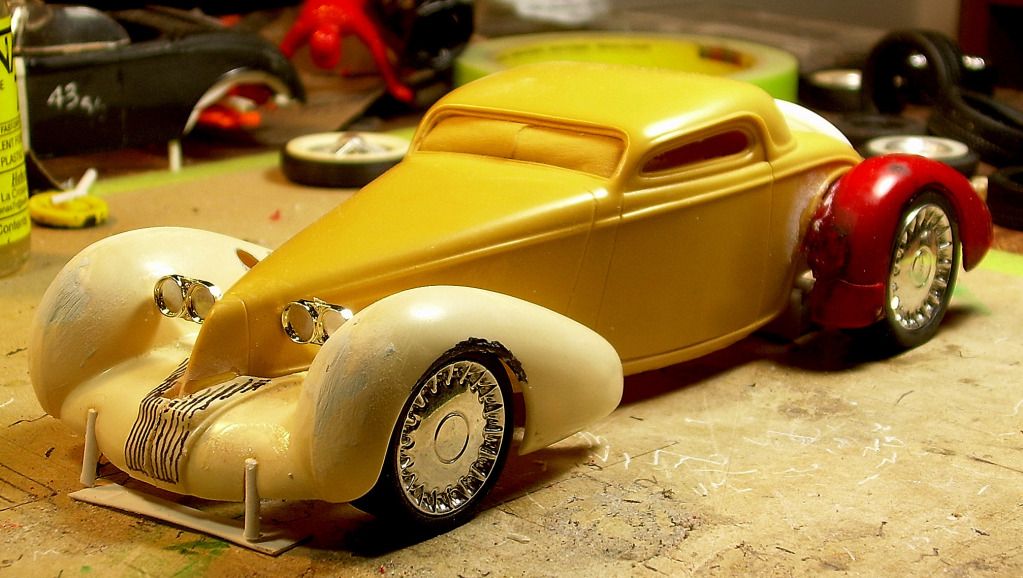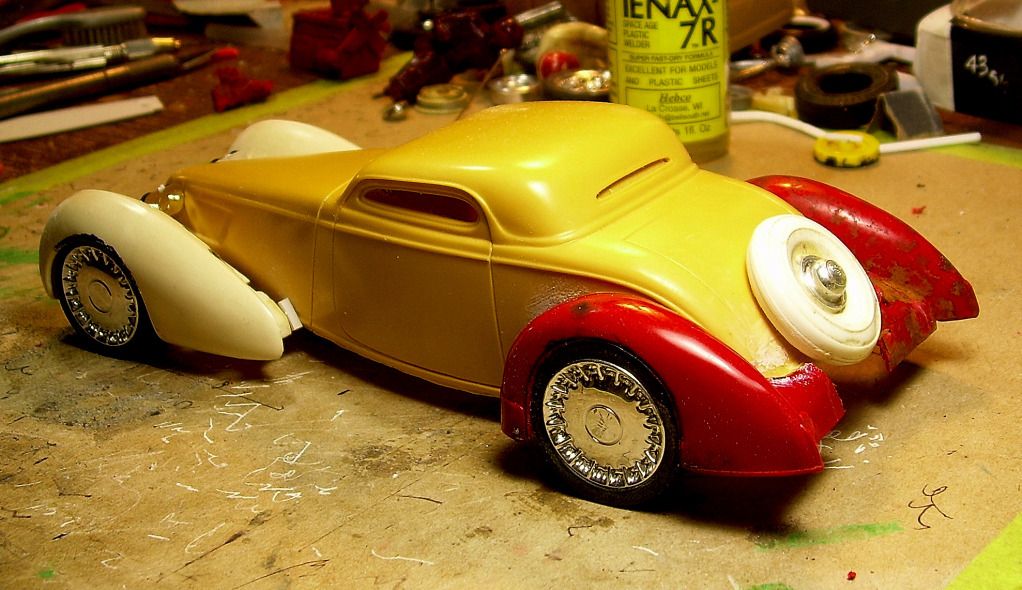 Edited by Ace-Garageguy, 24 January 2013 - 06:25 PM.