"Jenna Jameson Movie Premier and SuperBowl Customs "

Back in 2005 I had only been online for a few months when I got a call from Jenna Jameson wanting me to make Custom DieCast for a Movie Premier and also for her upcoming 2006 SuperBowl Party in Detroit.
We talked a couple of times and I first sent her sample cars for her appearance at the AVN Awards Show in Las Vegas.
We decided on HotWheels 1959 Cadillacs for the Movie Premier,



And Jada 1932 Delivery Sedans and Chevy Silverado Dualley PickUps for her SuperBowl Party in Detroit.
Here's the Sedans without the PickUps,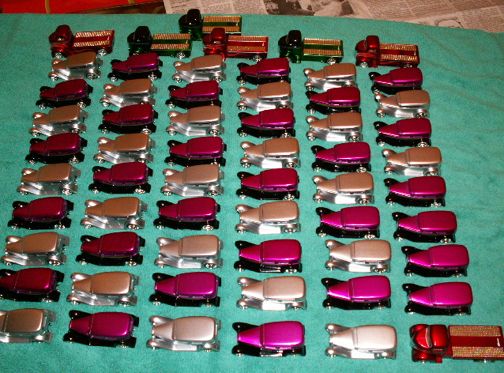 PhotoBucket won't allow pics of the Customs I sent to the AVN Awards as they were rather explicit.
Heck, they were VERY explicit.
The Caddys, like all my stuff, undergo lots of filing to remove flash and slag, and are then sanded with 220 and rubbed down with #3 Steel Wool.
Then they are Primered and shot HOK Shimrin White and then SnowWhite Pearl which shines through the Decals as if they are backlit.
Here's where things get a little tricky.
The long main image on top of the Caddys is laid down over the open rear window of the body shell. When the Decal dries it tightens up flat.
Then I come in and shoot in reverse order, the inside of that rear window with the same SnowWhite Pearl then Shimrin White to give the image opacity that matches the roof and trunk portions.
It is an innovative way to actually use Decals over open spaces.
Upon insertion of the plastic window piece into the painted and decaled body, the Decal is protected from harm.

Now for the '32 Delivery Sedans, Matching pairs done as mirror images of each other.
They too get well cleaned up, primered and then shot the same Shimrin White and then SnowWhite Pearl.
They are then taped and shot their respective HOK Candy Apple Red or Black.

Look closely and notice a thin 1/16" border around an even thinner Red outline.
I take one of these printed Decals and apply it to a piece of clear Frisket.
When dry I use an Xacto knife to scribe down the middle of that thin black border, just barely inside it's outer edge. The result is a decaled piece of Frisket just ever so slightly smaller in diameter than the original Decal.
I use the negative portion of the Frisket, with the hole in it, center it on the roof, and crank my gun way down to spray a positive Shimrin White and then SnowWhite Pearl oval.
The Decal is laid down over the white oval very precisely. There is no room for error.

The Dualley Silverado PickUps are all done similarly with the addition of specially created flames and checks.

All cars are ClearCoated with HOK Urethane Clear and a healthy dose of Brilliant Gold Pearl Powder.


Here's some of the Caddys stripped and ready to paint,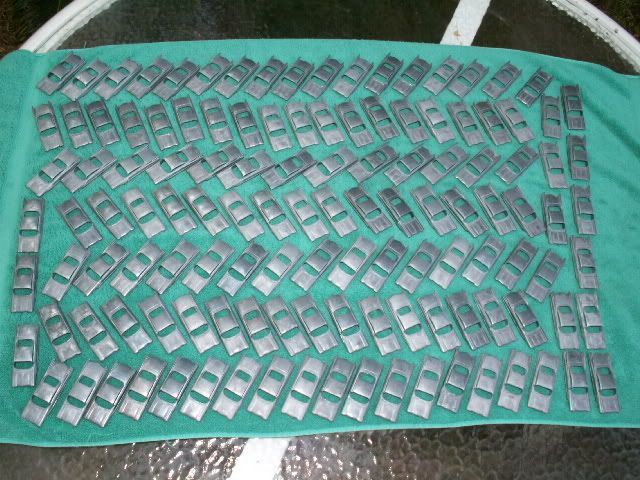 Drying in one of my large Ovens,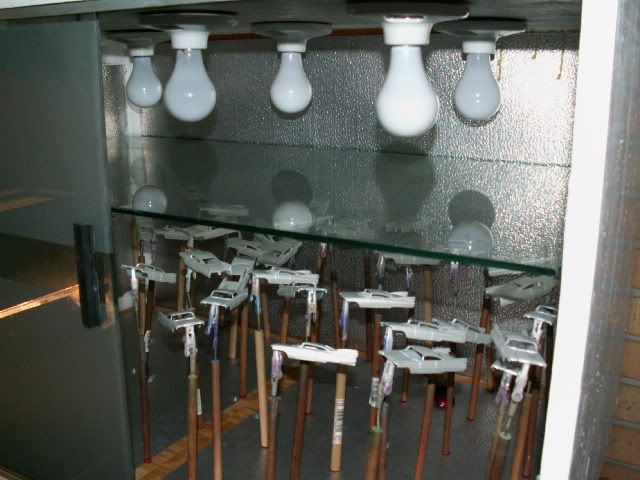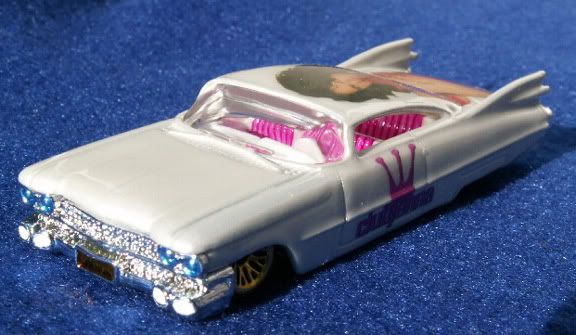 Mounted in Crystal Cases and ready to ship,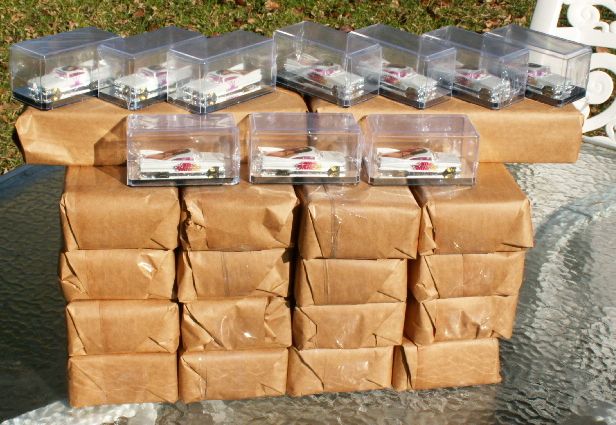 And the more involved SuperBowl 2006 Party Customs,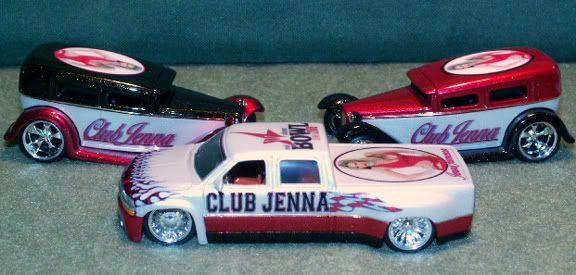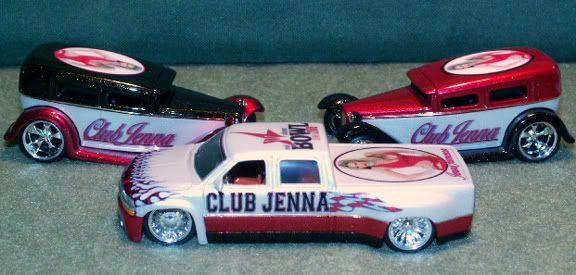 (Scroll down for remainder of post)
Edited by Harry P., 14 January 2013 - 04:13 PM.