OK kids...  I finally got this little beauty finished up.   My goal was to customize this car as if someone back in '59 would have thrown a J.C. Whitney catalog at the car to see what would stick..... all Bolt-On Customizing.
Are you ready for the big reveal......??????
          V
          V
          V
          V
          V
          V
          V
          V
    WAIT   FOR   IT
          V
          V
          V
          V
          V
          V
          V
BUS  DRIVER . . . . . . . . . .  MOVE . . . . . .
THAT
BUS
OK......  Sorry about that sick little try at humor here......  Here are pictures of this finished little Blue Angel.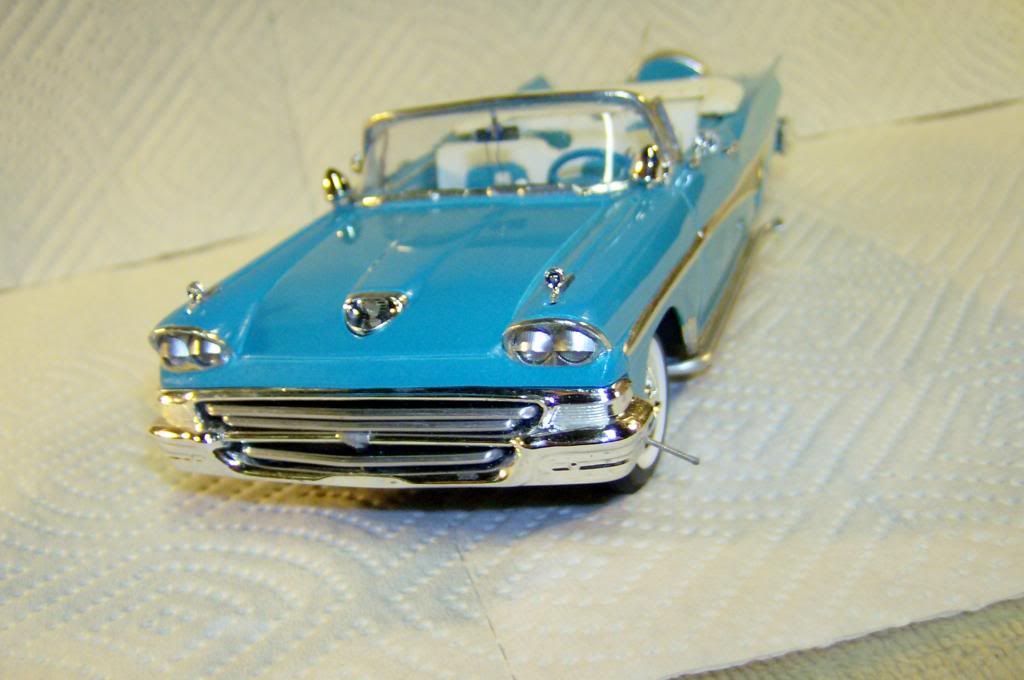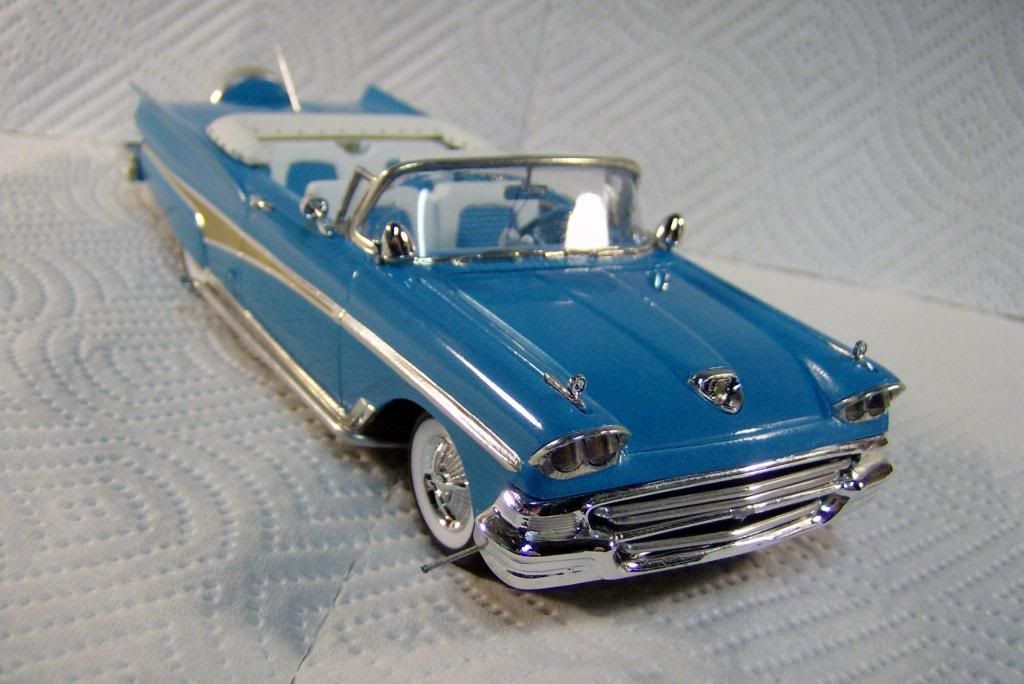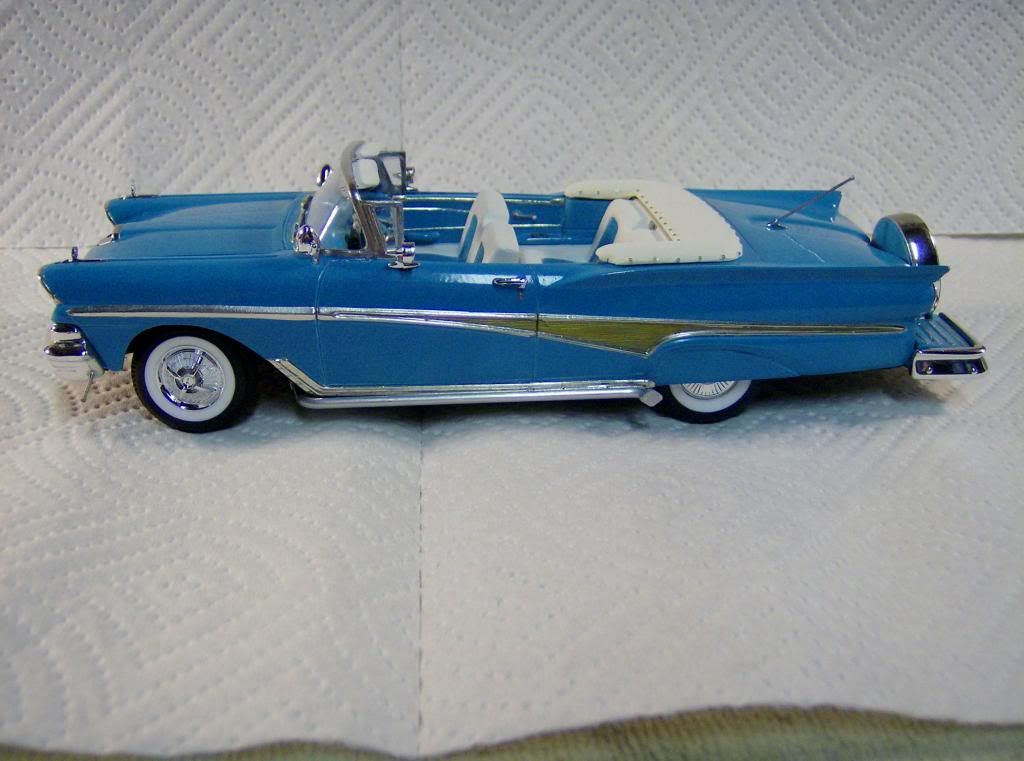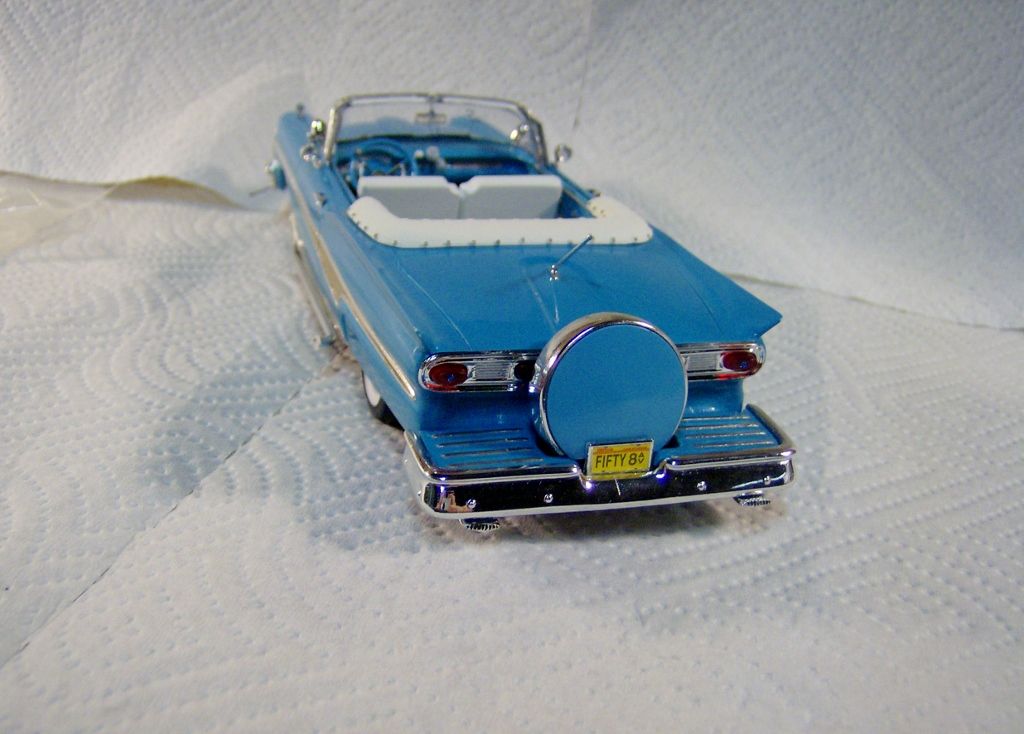 I am really happy with the way this model turned out.  It's not perfect as I doubt if I'll EVER make a perfect model, but I just love it.  Getting the interior assembly to fit at final assembly gave me some troubles after I installed the vacuuformed glass.  A hint to anyone building a resin kit with this type of glass......  make sure that you trim the glass as close to the window frame on the cowl as possible.  Cut and fit, cut and fit as often as you have to, to prevent the dashboard from not seating properly against the cowl and vent windows.  When you have the glass trimmed as perfectly as possible, first tack glue it in place in a couple of spots with tiny drops of some non-fogging CA glue.  When you have it in, recheck the fit of the interior assembly.  If all is good, then continue with gluing in the glass with the non-fogging CA glue, let that dry and then install the interior assembly.  The Elmer's glue I originally used to glue in the glass dried too thick for the dashboard to seat properly against the cowl.  
Aside from the issues with the interior, my model also now has a rear window defogger knob on the dashboard (thanks to Jairus...!!!)  Since when does a convertible need a rear window defogger...?!?!?!?
Oh well.  Thanks for looking in on this everyone.  It was a blast building this.  Bring on those 50's chrome-laden land yachts...!!!
Edited by Ramfins59, 04 February 2013 - 07:44 PM.