Well as part of my "goal" to build models of all of the gorgeous 1958 cars that I can, I started working on a '58 Plymouth Belvedere kit.  So far I've built a '58 Chevy Impala, a '58 Buick Roadmaster and a '58 Ford Fairlane.  
Without looking to start a new discourse on the merits and/or discrepancies of the Belvedere,kit, let me just say that it looks enough like a nice '58 Plymouth to make ME happy......enough about that...!!!
This is where things stand on this build at the moment.  Since most people have tried to build a model of Christine with this kit (and Christine is probably one of my very favorite car movies and " star cars", I decided that I would be a little different (nothing new for me..!!).  I'm going to paint this car Duplicolor Arctic White with a mostly gray interior.  It will be built stock and I'll be using some of the pieces from the MCG PE set for this car. So far I've painted the chassis / floor pan and the chassis parts, but it is not completely assembled yet.
The engine has been completed but not installed yet.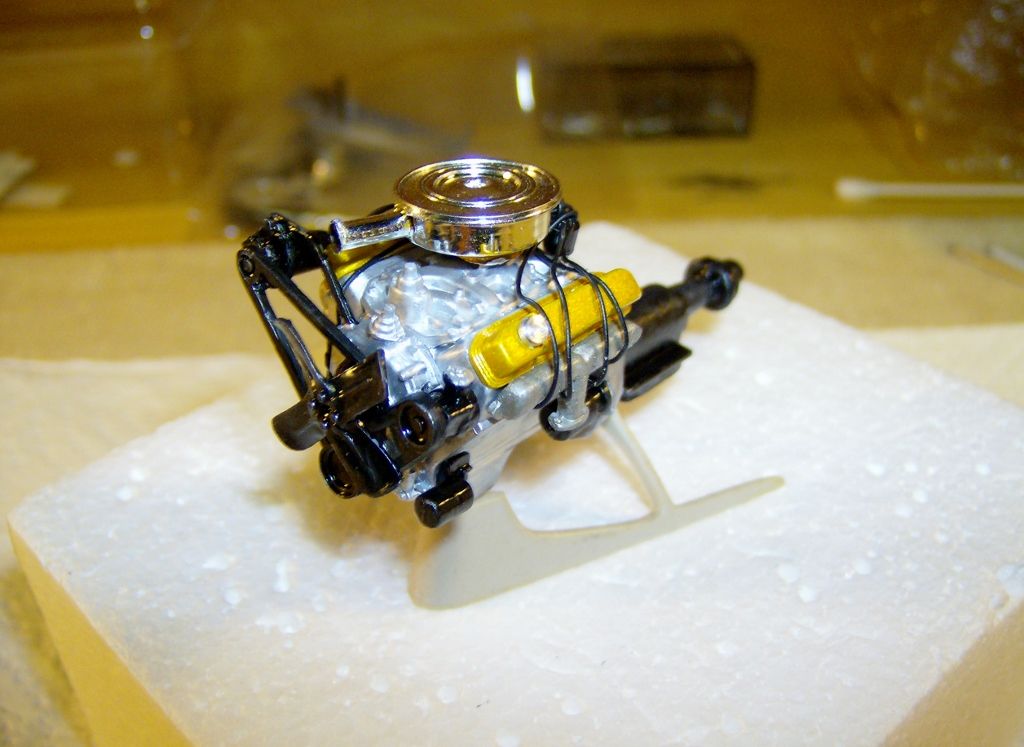 Work on the interior has been started.  All the pieces have been preliminarily sprayed gray and the side panels and back of the front seat have BMF trim applied.  The handles and cranks still have to be detailed along with the upper door sills, and then I can apply some gray flocking.  The interior floor has been sprayed flat black and I will flock the floor in black.  The only part of the interior that is "almost" finished is the dashboard.  I'm just waiting on a dashboard gauge panel decal courtesy of member Magnum4342 (Thanks a bunch Kevin..!!), and that will be the crowning touch after which I can attach the steering wheel.
I prepped the body, attached the skirts, sanded all the mold lines and primed it with Duplicolor white primer.
Further progress pics will come as it happens.  Thanks to all for looking in on this.
Edited by Ramfins59, 12 February 2013 - 06:33 PM.