" Powdered Pearl Paint Additives "
There's been a little dialogue here recently concerning the use of Pearl Powders in AirBrushing.
I use two sources for my Powdered Pearls,
My first and original source is Pearl-Ex Powders by Jacquard and my other source is PaintWithPearl.com
Here's the Jacquard Pearl-Ex site,
http://www.jacquardp...x-pigments.html
With a list of places around the country to buy the Pearl-Ex Powders,
http://www.jacquardp....php?PrId=pgPXP
And PaintWithPearl.com,
http://www.paintwith.../candystore.htm
Back around 2000 I began showing other scale DieCast Customizers the benefits of House Of Kolor paints.
At that time DieCast Customizing consisted largely of people dipping their HotWheels into Easter Egg Dye.
Nobody else was using Decals or Graphics back then. 
HOK has their own line of Powdered Pearls but my needs for painting 1/64 DieCast did not quite require the large size amounts that they offered.
I looked around for other sources and found Pearl-Ex Powders by Jacquard in my local Texas Art Supply Stores could be purchased in small jars for less than $4, about 3/4 dry ounce quantity.
For $4 apiece I have every color they make and some they no longer issue.
Needing only a BB sized portion of Pearl-Ex Powder for my 1/64 scale paintjobs it was evident that these jars would last me years and years.
Pearl-Ex Powders by Jacquard also offer a kit of several colors in small amounts that still would last anyone a very long time.
http://www.jacquardp...rl-ex-sets.html
I prefer to buy individual colors as I need them.
Good Art Supply Stores will carry Pearl-Ex.
I started taking the Pearl-Ex Powders to DieCast Shows and Conventions to introduce them to other Customizers and today, like many of the products I use, they have caught on to enhance the paint on these tiny 3" cars.
Pearl-Ex Powders are colorfast and weather resistant but not UV resistant.
PaintWithPearl Powders however are of automotive quality and are UV resistant.
This slight difference in craft quality and automotive quality Pearl Powders is not much consequence to us airbrushing scale DieCast or Models since our builds do not see extended stays in direct sunlight.
However,
Anything you paint with Pearl Powders, regardless of the brand, needs to be seen in full direct sunlight to appreciate what Pearl Powders do.  You will never see the full effect of Pearl Powders unless you view them in bright direct sunlight.
The same Model that looks great displayed indoors becomes an entirely different and sparkling piece when taken outside.  The intensity of difference is phenomenal.  It actually explodes in bright color.
PaintWithPearl Powders are a bit smaller in size (microns) than Pearl-Ex and come in many different colors.
Either can be shot through a .3 AirBrush needle.
Quantity of powder doubles with PaintWithPearl and so does the price per unit, about $10, but shipping is very cheap, about $3 combined shipping.
The benefits and ways to use Pearl Powders, either of the two brands, are numerous.
Needle sizes as small as .3 will adequately disperse either brand.  These are very fine Powders and not Flakes.
I'll list a few random uses and results,
You can mix Pearl Powders into your ColorCoat but they will most often sink below the surface unless used in large ratios to the amount of paint.
The full effects of Pearl Powders are best achieved with the Pearl floating in the Clear or Candy and not just laying on the surface of a ColorCoat.
Pearl Powders, as minute as they are, are actually individual platelets with two sides.
Just like tiny broken pieces of a mirror, but in powdered form.
You always want to use a lighter color of Powdered Pearl than the underlying ColorCoat.
Using a Pearl Powder that contrasts with the underlying color allows the Pearl to peek in and out of the color.
Pink Pearl on top of a Black ColorCoat, Blue ColorCoat or underlying Blue Candy, shifts to Purples and Lavenders.
If you want to use a dark Pearl on top of White or even Yellow you need to test because the Powder might show up as very tiny specs and you don't want that.
But, you can use a Brilliant Gold Pearl Powder over White as I do often, to make your job explode in direct sunlight.
The uses and combination of colors is endless.
Interference Pearls are available from both links listed that give a White background the chameleon effect of shifting from White to Iridescent Pink, Blue, Lavender, Gold, etc.
Using any Pearl Powder on top of a Gloss Black Colorcoat will always give you fantastic color changing effects.
Also check out the Duo Pearls in both Pearl-Ex and PaintWithPearl,
Duo-Green/Yellow,  Duo Green/Blue,  Duo Red/Blue
These Powdered Pearls are different colors on oppostie sides of the platelet.
They have color shifting qualities built right into them and are just one more way to get out of this world effects for a penny's worth of Pearl.
The amount of Pearl you use can slightly enhance or completely change underlying colors.
You can very nearly create the same color shifting effects of expensive chameleon paints by using contrasting Pearls on top of Candies or in your ClearCoat.
You can simply mix a little Pearl Powder with Reducer alone and dust a Satin effect directly onto a colorcoat.
This method is applied directly on top of a ColorCoat and changes the color dramatically.
But,
You need the thickness, as minimal as it is, of a ClearCoat to allow the Pearl Powder platelets to disperse at different levels within the thin layer of Clear.
This allows the platelets to place themselves at different angles to each other forcing light to bounce around from platelet to  platelet.
Picture this, the game Plinko where a ball is dropped down through multiple pegs and bounces all around, up and down, till it hits the bottom, like on The Price Is Right Show.
The ball represents particles of Light and the Pegs are the Powdered Pearl Platelets within the ClearCoat.  You get omni-directional reflection of Light, trapped within the Clear, resulting in a burst of electric color.
Again, the amount of Pearl used can slightly enhance or completely change the underlying color.
Here's a Black car with some of my Flame Decals that is ClearCoated using a little Emerald Green Pearl.
The Decals are hardly affected but the Black background suddenly changes completely to an Electric Emerald Green.
Here with the Purple version using Lavender Pearl Powder over a Black background,

And another Emerald Green Convention car I created,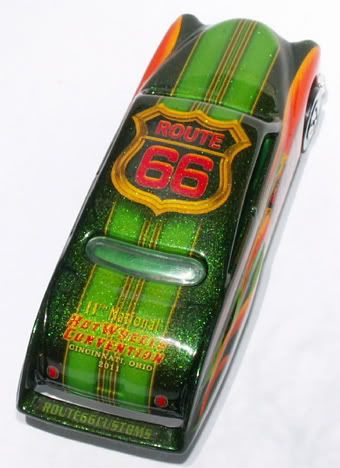 A little Pink Flamingo Pearl in the Clear over Purple,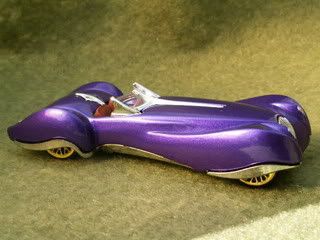 Shimrin Gold Pearl in Clear over HOK Tangelo Pearl,
You can see how the Pearl show more intense at different light angles,

The same Gold Pearl in Clear over Tangelo Pearl combination showing how the colors shift,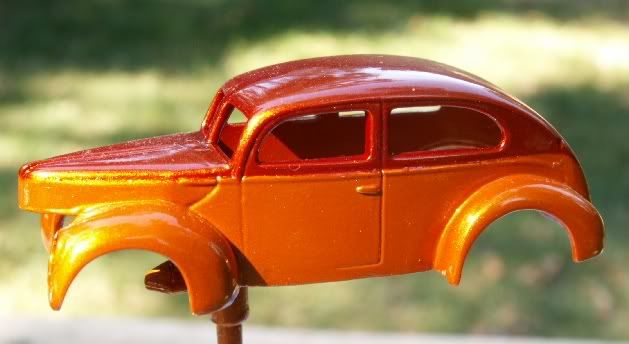 HOK Zenith Gold and Limetime Pearl ClearCoated with a drop or two of Pagan Gold Intensifier and Aztec Gold Pearl Powder,
[IMG]http://img.photobuck.../GoldGrn1.jpg[/IMG]
Silver Competition Stripes and HOK Strato Blue, Cleared with a couple of drops of Oriental Blue Intensifier and Electric Blue Pearl Powder.
[IMG]http://img.photobuck...lueVelvet.jpg[/IMG]
So you see, you can use these Pearl Powder Additives in countless ways obtaining an infinite number of color results.
Spray a little Pearl Powder directly onto a colorcoat and change the underlying color dramatically.
Or,
Mix it into your layers of Candy and/or Clear and get beautiful subtle or color shifting effects.
Always begin your mix with tiny amounts of Pearl Powder because you can always add more, but to reduce an amount of Pearl in a mixed ClearCoat you will have to dilute it with more Clear.
When the subject of using Pearl Powders in an InterCoat Clear comes up, just remember,
InterCoat Clears are not durable ClearCoats.
They are not meant for build up and should only be applied in very light 2 or 3 layers.
As I mentioned above, if you just want to spray some Pearl directly onto a ColorCoat, you can mix some Pearl in some Reducer and maybe a few drops of InterCoat Clear for Binder and Stick.
And,
InterCoat Clears must be ClearCoated over.
For me, AirBrushing and mixing paint is a very important part of the job.  Very enjoyable.
There are so many possible combinations of ColorCoats, Candies and Pearls that an infinite number of totally unique paintjobs can be laid down.
The indoor pics I have shown let you see subtle color shifting effects of this technique, but, taking your finished jobs out into direct sunlight will blow your mind.
You can see more examples of my color shifting Pearl Powders at my sites below,
CadillacPat
Edited by CadillacPat, 18 February 2013 - 10:17 PM.