Hello all.  In continuing my desire to build models of 1958 cars, I started work a few days ago on an AMT '58 Edsel kit, the "Ultimate" kit with skirts and a full continental kit.  This is going to be another mild, bolt-on style late 50's Custom.  I like that style which is why I keep doing them.
I've almost completed the engine.  In addition to paint detailing, I added a fuel line to the carb, installed an MAD prewired distributor, and put on a chrome air cleaner from my parts bin for a little bling.  When I was fitting the pulley assembly I of course noticed that both the generator and the power steering pump would be just "hanging there", which I knew would NOT make Harry P. very happy.  So I grumbled a bit and dug out my PE brackets and picked 2 which were the right size for each location.  I painted them black and CA glued them in place, adding a couple of PE bolt heads to complete the chore.  It was a bit of a time consuming task to get them lined up properly, so Harry, if you have trouble sleeping tonight, it's because of all the pins stuck in the Harry doll...!!!  

   An engine pic follows...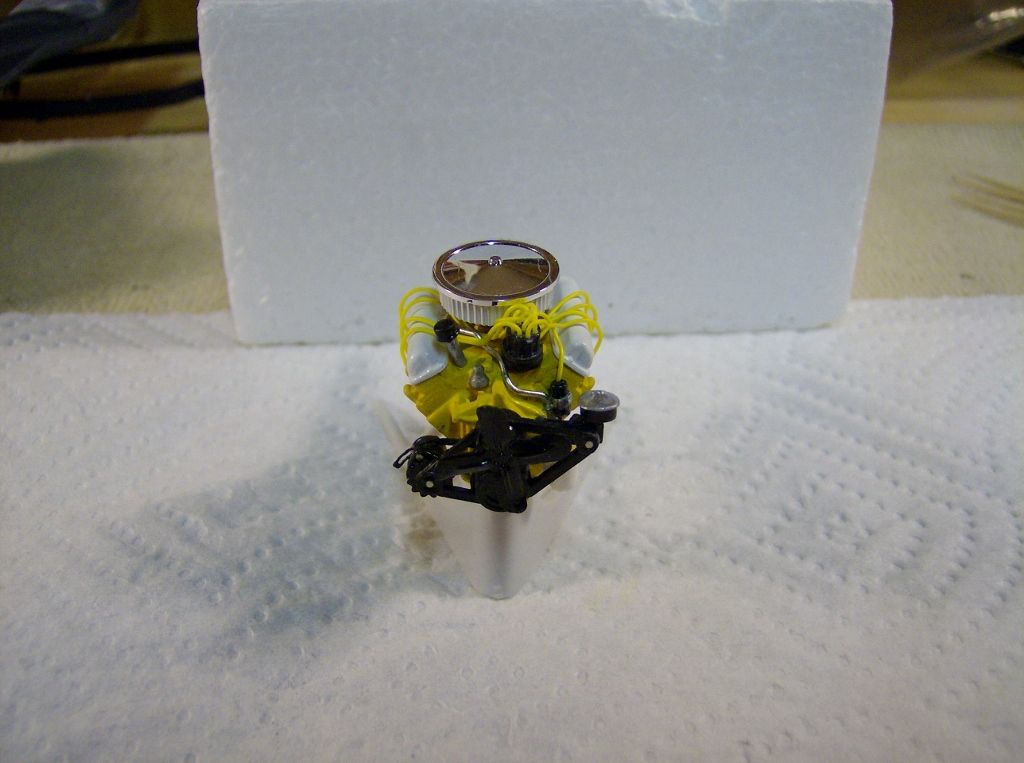 I also painted both the chassis rails (flat black) and the chassis floor pan (dark gray).  I still have to paint and assemble all of the chassis components.  Chassis pic follows...
I attached the skirts and sanded off the Edsel and Pacer lettering for a mild dechroming.  I also removed the molded in center backing for the horse collar grille on the front of the body.  I then cut and trimmed a piece of PE honeycomb grille material to fit in its place.  I'm going to mount the kit's chrome horse collar to that on final assembly and add some small chrome bullets to the center of the honeycomb also on final assembly.  Body pics follow...
The color is going to be Testors One Coat Lime Ice and Duplicolor White.  The interior will most likely be shades of Green flocking and White.
Thanks for peeking in on this.  More pics will come as work progresses.