Hey everyone, I'm (finally) back for some more. I haven't started any new builds recently, I've been doing alot of shelf damage repair instead. First up, my old LNT-8000 plow truck. This thing is at least 10 years old now, and it was showing. I was just going to glue it back together (i've discovered the virtues of 5 minute epoxy since then) and I got a little carried away. So far, I've foiled the grille surround to update it a little, and flattened and repainted the grille. I fixed some glue damage from a previously installed air conditioner, and since I have no idea what paint I used I repainted the roof white. I also repainted the engine Ford blue. It was all Caterpillar yellow, and I mean ALL of it, in its previous life. Trans, air compressor, and alternator are Testors steel, manifolds are rust, belts and pulleys are flat and gloss black. Plans call for the plow and spreader to get some fresh paint, as well as some reworking of the cab overhang on the dump bed, and some new paint on it as well. I'm also stripping the chrome off the fuel tanks, and they'll get painted black. I'm leaving the chassis and interior alone, I figure I need to leave at least some of it original.
The only digital photo I have of the thing, less plow. I know I have more around, but I have to scan and load them the old fashioned way.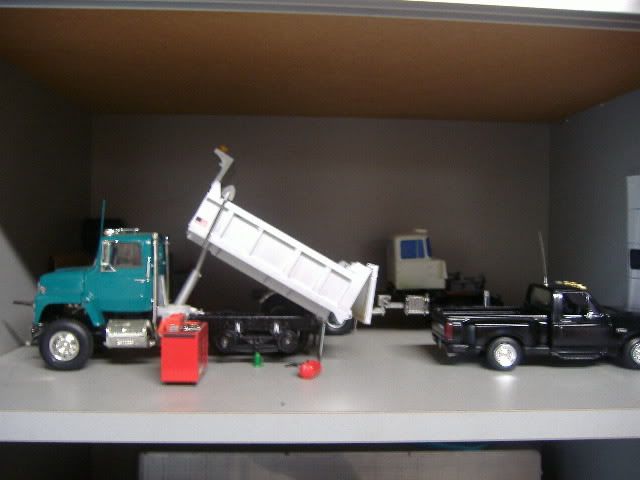 And here's where we are as of now:
Thanks for looking, and there's more to come!
Edited by Casey429, 26 March 2013 - 10:34 AM.