This is a 1/24 scale cable car. The model is mostly wood, with cast metal chassis, wheel and suspension parts along with various small details like the wrought iron brackets above the entrances. The kit contains brass rod that you have to bend to shape to create all the grab handles and handrails. All paint is acrylic craft paint, the wooden bench seats are real wood, stained and varnished to look like oak. All markings come printed on a sheet of plain paper and have to be cut out and applied using an adhesive... I painted the area to receive the marking with Future and then placed the marking onto the Future. It works great!
The base came courtesy of Terry Sumner, and I added the scratchbuilt  "asphalt" and "concrete" surfaces, along with the rails. The "asphalt" is model railroad ballast that I glued down to the base and painted gray, the "concrete" area where the rails are is plaster of paris that I poured into molds, then painted and glued to the wooden base, and the rails are strips of cardboard.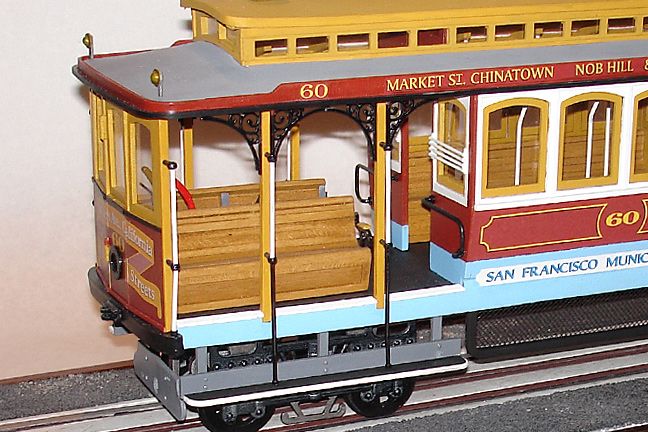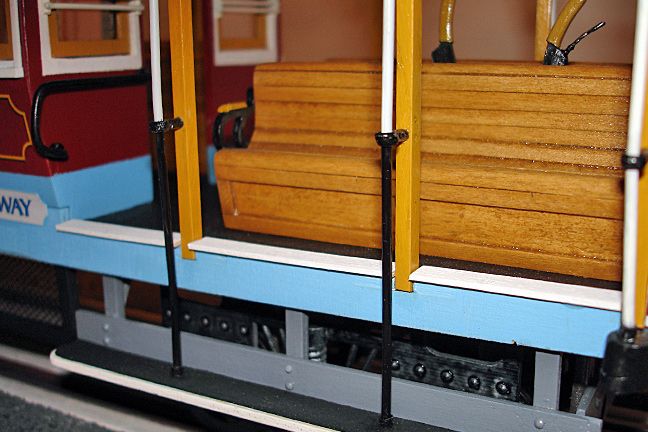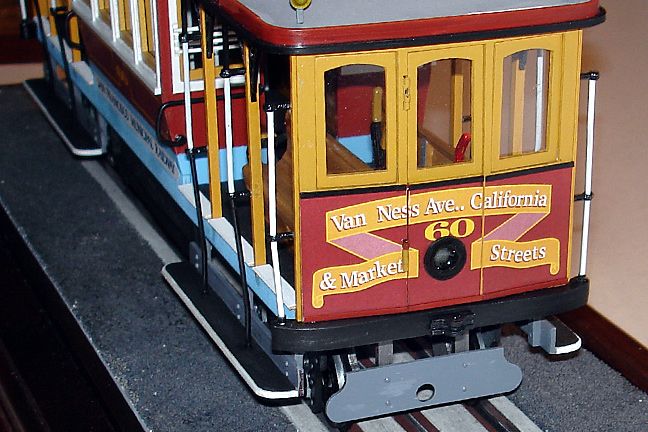 These cars don't have a front and a back... they have two fronts! Both ends are a "front" and are identical, with the same operator controls, headlight, etc. The operator stands in between the wooden benches. When the car gets to the end of the run, it doesn't turn around... the operator just goes to the opposite end, and what had been the "back" becomes the "front," and the car makes the return run.