I don't like that my build posts get lost in the huge Cannonball Community Build thread so I'm doing what others have done and start a separate thread for the build ... more for my own ability to find it!

  These will be duplicates of posts made in the Cannonball thread.
This follows the rules set for this Sleeperball Cannonball Run:
1. Take a car that is not normally considered fast. Make it fast without altering its appearance that might let on that it's fast.
2. If the car IS normally thought of as fast, it should be in such poor condition/appearance, that no one would give it a second glance.
There is no limit on, year/make or model, as long as it meets the above criteria.
The subject must appear to NOT be capable of running such a race. Sky is the limit on imagination. HOWEVER this time we won't be limited the parts used on the racer to this year, so feel free to use those modern drivetrains and rolling stock.
Monogram Ferrari 250 GTO
OK .. I'm committing to a group build .. I have trouble finishing any of these I start, but I have trouble finishing any build I start!

  I'm going to really try to get this one in the race.
(please note that this story is pure conjecture and imagination based loosely on fact)
This is the one out of 39 Ferrari 250 GTO's that has disappeared since it was rumored to have been sold in 2014 for $39 million. It was owned by the Violati family since 1965 and , again per rumors, to have resided in an old wine brewery in northern Italy. Found by Ricardo Violati who used the barn to house his wrecked Lamborgini's and newer Ferraris from his father after his drunken rides through the Itialian alps. Ricardo had no respect for the value of money.  He was  handed anything he desired by his wealthy family and cast all aside as he was given new toys. He also had no respect for the great engineering that created the automobiles that he so carlessly abused and cast aside. Yes, Ricardo was a spoiled rich kid.
Despite his disrespect for the automobile, his favorite movie was " Cannonball Run", not for the excitement of the various vehicles but for the way they were abused. On reading of a new Cannonball Run for 2015 he decided he HAD to participate in this American tradition and "show those amatures how to drive!". Reading rule two ...If the car IS normally thought of as fast, it should be in such poor condition/appearance, that no one would give it a second glance .. he decided he had many cars to chose from.
He ricochetedoff the the Alps to his winery cache and chose the missing 250 GTO he spent a night polishing the seat with the acidic heaving of his stomach. The winery rats had had their way with the seats and the leaking winery roof took it's toll on the body. The smashed right front fender he crushed on that last night could be replaced easily with a replica. Mysteriously one of the wire wheels was missing ... he wondered if it might have been that bothersome guy trying to buy this derelict. It would be cool to see a set of American mags on the GTO anyway ... nice fat ones in back! The rest could be fixed with duct tape and paint from the local ValMart.

This model is a glue bomb from an ebay jumk pile of sports cars I got for a Porsche 944 build. It had virtually no paint, other than the oddly used black in body panels. The builder had troubles applying the tube glue effectivly as it was sparce in some places and way over glued in others. The glue could be plainly seen everywhere. Looking at the car cloesly I could see why the Monogram Ferrari 250 GTO was released by many companies .. it is a very nice kit for it's age and nicely detailed.

So, I threw it in the freezer to see if it could be taken apart. It all reverted to it's "natural" stay pretty well .. many broken locator pins, but they are easily replaced. The only piece that remains stubborn is the glass ... it refuses to budge loose. I started to just grind it out  but it still won't come loose. I may just leave it and mask off for painting.
No box art but here's the starting condition and what I've done to date ..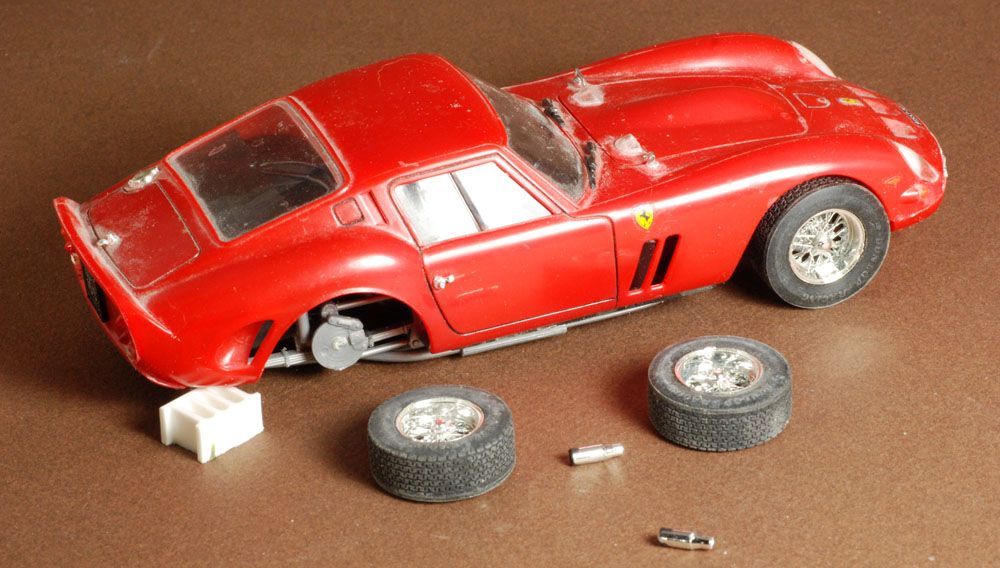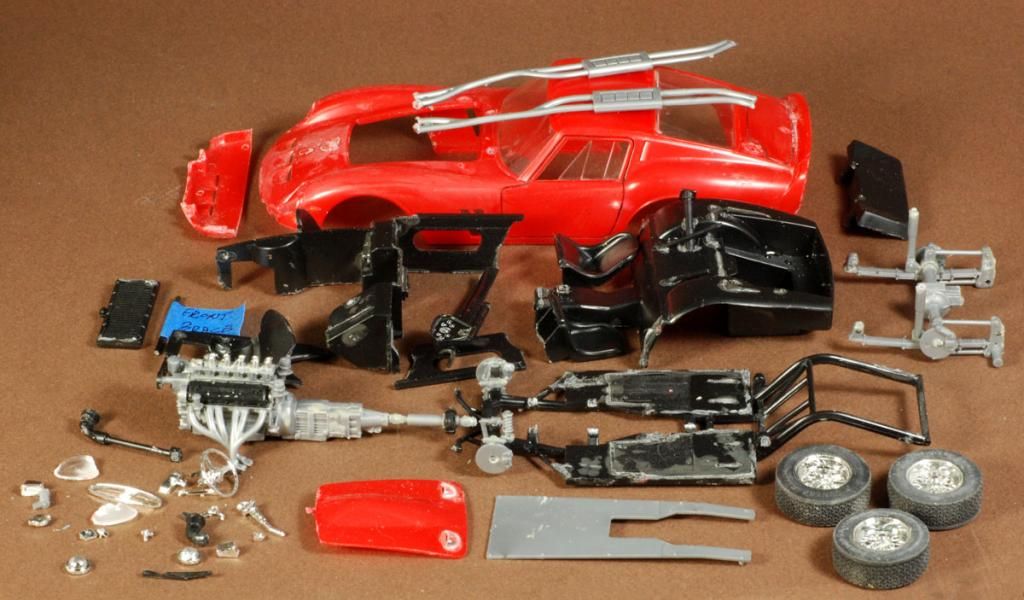 and now ..