Of course I shouldn't start a new build, but I'm actually near completion (!) on a Sambar and HAVE to get something else going!!!
I'm getting old I think cause I keep looking at jacked-up trucks running around here ... I'm a sports car nut thru and thru. I thought it would be cool to do one that's all beat up and muddy from running around the trails here in the Berkshires. One thing led to another and this is what I ended up with .. something different for the Revell Merc Woody wagon AND .. let the photos show ...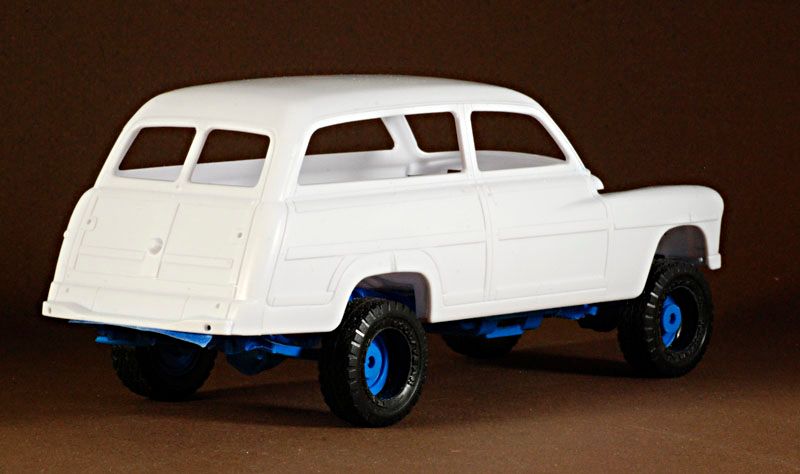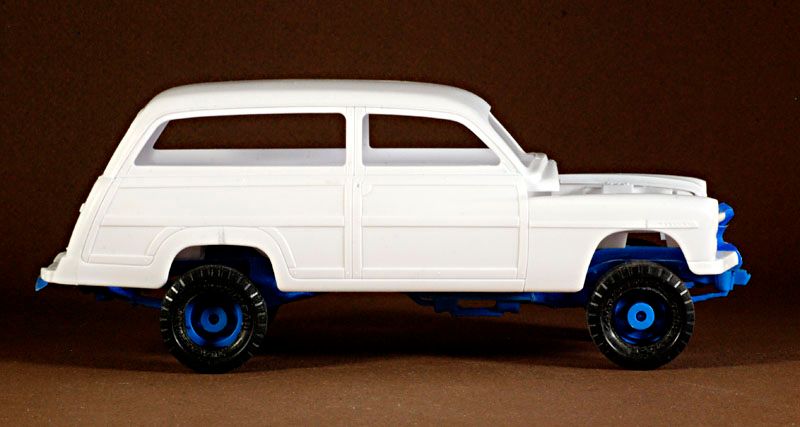 Yes .. that's a a 1/25 Wagon sitting on a 1/24 TRUCK chassis!  The wheelbase is almost exact and only had to remove some side pods and rear of tailpipe to fit it. The truck frame straddles the Merc gas tanks nicely and only needed a couple little notches for the truck frame to drop right in level!
Now the research begins. The Monogram truck tires don't look bad, but I'm looking into something a bit larger. These scale out to 30" od with the rims scaling to 17" in 1/25 scale. Any suggestions would be appreciated.
The engine .. looking at just dropping the Monogram truck engine in with some hop up goodies. Will be easiest since it will fi tto frame but might be tight in the Merc fender insides. I'll see when glue on engine halves dries.
The body I'll do a little customizing on but nothing too radical .... not chopping top.  Thinking one tone wood and something cheap for paint .. like flat black primer.  Some rust and dirt with worn wood too.
Bumpers probably left off or some homemade wood ones. The ribbed bumpers from the Revell Merc custom may be too much, as nice as they are. Maybe some other custom parts from it I can borrow,
So .. that's it at this stage. I'd love to hear any thoughts you might have on this!