Currently I'm without a dedicated work area. My wife & I live in a 1 bedroom Co-Op (apartment...) while I'm selling a 3 bedroom house, that included my hobby room. Hopefully I'll have "my room" back in a year or so when we buy another house. But for now I must pick small projects to fit my cramped enviroment.

This is a simple project where I tried to replicate my actual `68 Barracuda. A Johnny Lightning was stripped and painted with Model Car World LL1 turquoise. I bare metaled the trim & bumpers, and swapped in a 6 pack engine from a Challenger T/A. I'm still looking for a set of dog dish hub caps.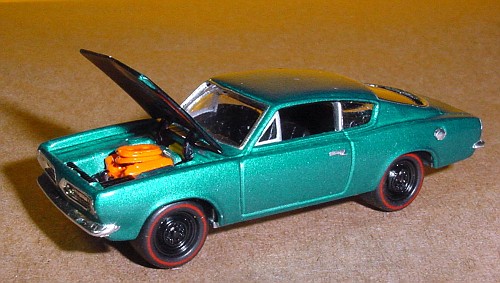 My car has more blue in it, but it's close enuff!


My car is a 360 with a 6 pack & 4 spd. I should have scratch-built a bench seat like my car, but again, I can only do small projects. I have to pack everything up when I finish a session, and you all know how much THAT sucks....

Thanks for looking!