Being a musician make me think that everything has to be "fine tuned" all the time. This time with the interior tub, I won't make the exception. You guys remember that in the last post I told that I will add some details later, well, here are them.
These are the detailing bolt heads from Model Car Garage that I will add to match the ones from the real car speakers picture. Now it looks a little bit like the real one.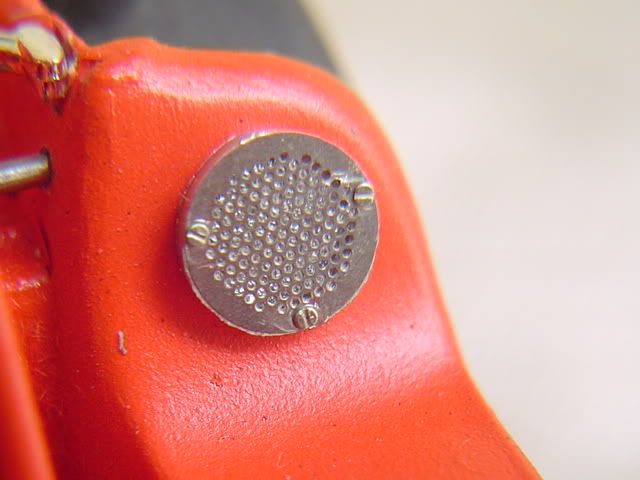 If you guys look carefully to the second picture I posted in part one of the interior tub, you guys will notice that at the sides of the dash there are some handles. These handles are included in the kit but, are hold in place in the parts tree by the middle of the part, so, when you cut them they will be badly noticed. To fix that, I rechromed the part with Alclad II and made from plastruct the plate that holdsthem in place. This is another error from the kit, the part is supposed to be just glued with out any hole or anything, you just have to imagine where it will be placed. I made the base plate and also added the bolts that holds that plate in place.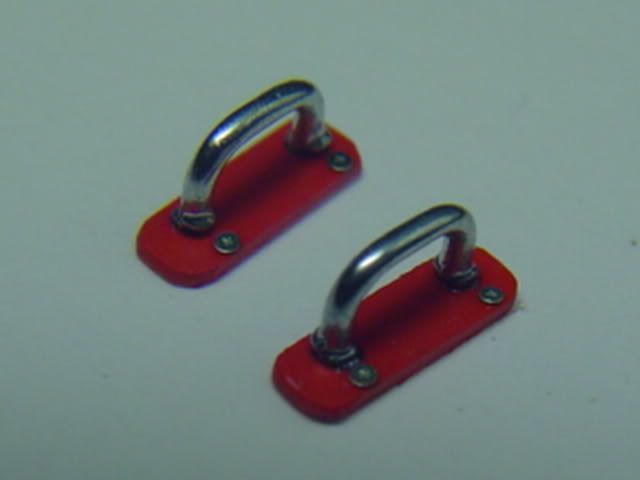 How it looks already mouted in at the side of the dash.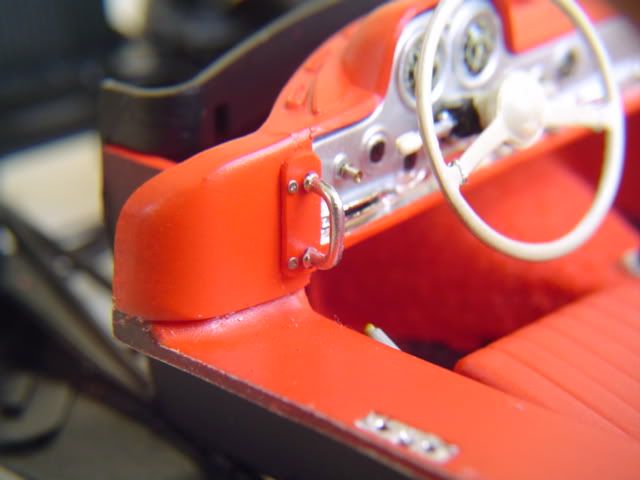 To improve the look of the dash, I shaved the plastic knobs and added real metal knock off swithches from Sakatsu. Also. I made a computer generated "300SL" script using the Testars decal maker kit. Another detail was, the clock decal that I took from the Heller original kit I messed up.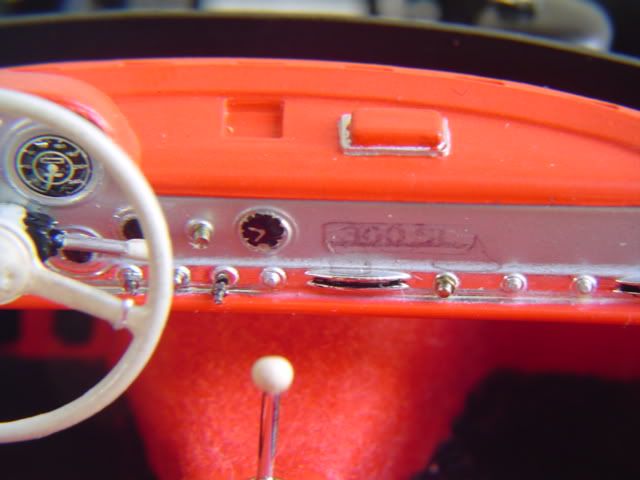 Another detail that makes the difference it's the floor carpet edge. This was made from a simple black ignition wire, painted white first to lighten it up, then red.
My favorite part of the interior details. A modeler have always to have his or her eyes wide open in any place that one goes. This was my case in my most recent visit to the Orlando parks. When I went to Sea World, I saw a pirates vault that has some old decals from hotel in different part of the world. What I did, I took close up pictures of them and scale it down to be glued at the top of the luggage. I know that this fine car has a luxury luggage set that it was not supposed with something like this, but, I think makes the interior look differet. I would likt to hear your opinion!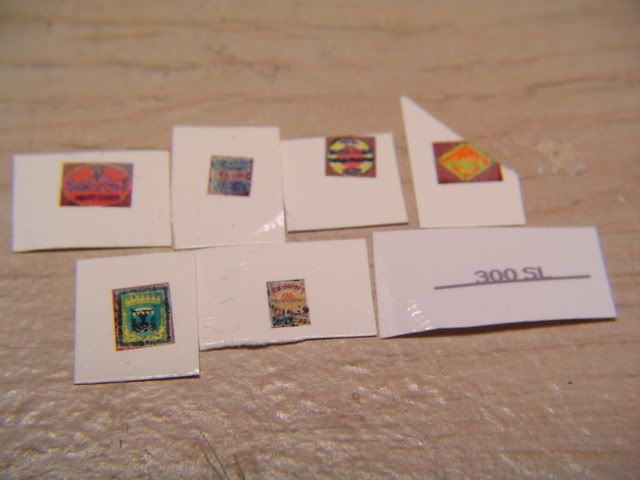 I made belts from masking tape and added claspses from the Sakatsu Bonnet fooks.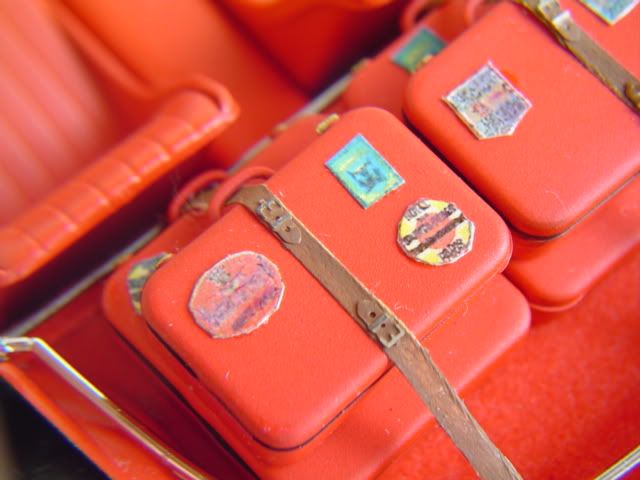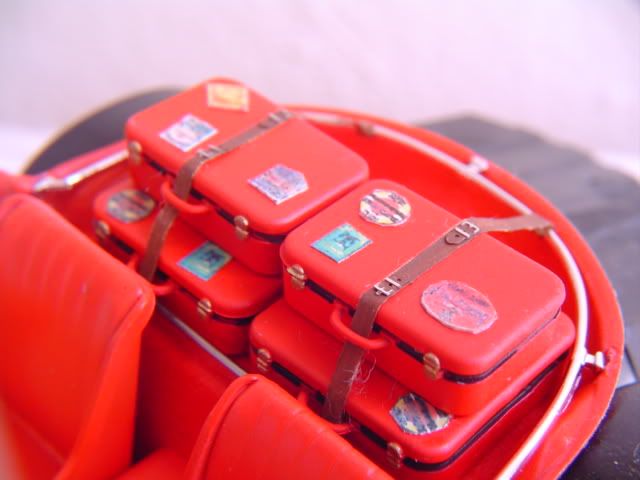 Here it's a general view of how everything looks until now.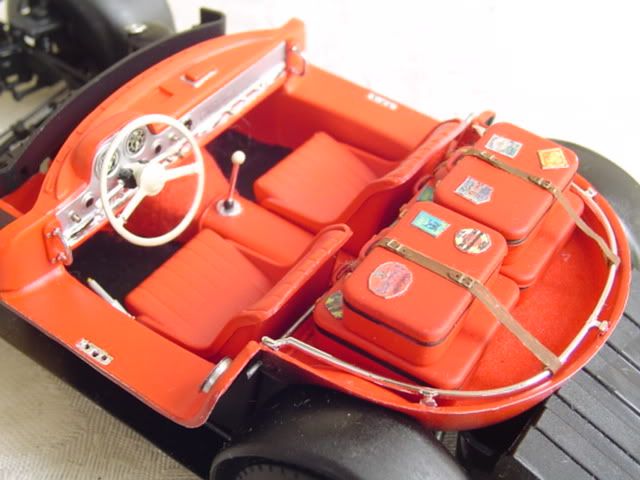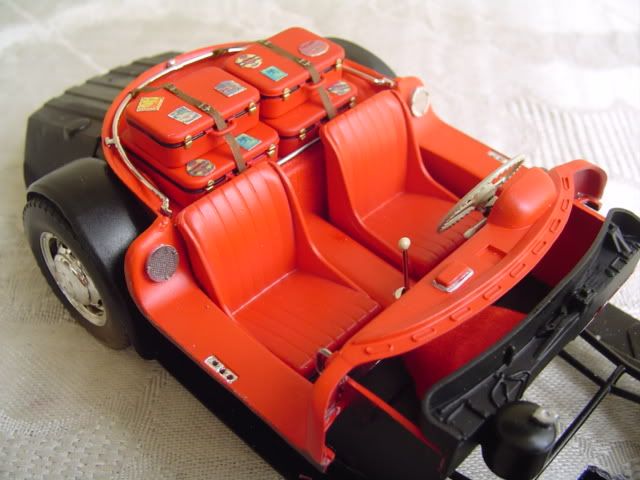 http://i7.photobucke.../Picture536.jpg
Simón