11
1/12 Tamiya Datsun 240ZG
Started by
stump
, Feb 18 2009 09:08 PM
You cannot reply to this topic
210 replies to this topic
Posted 17 May 2013 - 04:12 AM
omg pure art !!

---
Posted 23 February 2014 - 05:05 PM
Any more work on this build Stump ??
---
Posted 24 February 2014 - 05:22 PM
You could box all this stuff up And send it to me if you are not going to complet it Stump. 😀😀😀😀😀😊
Though you could def see where your work ended and mine started

---
Posted 20 June 2014 - 04:10 PM
Dave, Santiago, Bryan, Darren, Richard and Gary, thank you ALL ever so much for hanging in there guys. Your comments and enthusiasm is overwhelming and truly appreciated.

Well, after what seems like an eternity, work has begun again......slow, but it is work. 
I picked up this handy little tool a few years ago and finally got to using it the other day. A tiny tap and die kit, from very small up to 2mm it caters for.
I wanted to make the front suspension a lot more solid than it was, the lower control arm had too much movement forward/backward as it was, so I turned a thread onto some 1/16 aluminium tube.
This enabled me to add a nut, front and back of the rubber grommet that attaches to the chassis.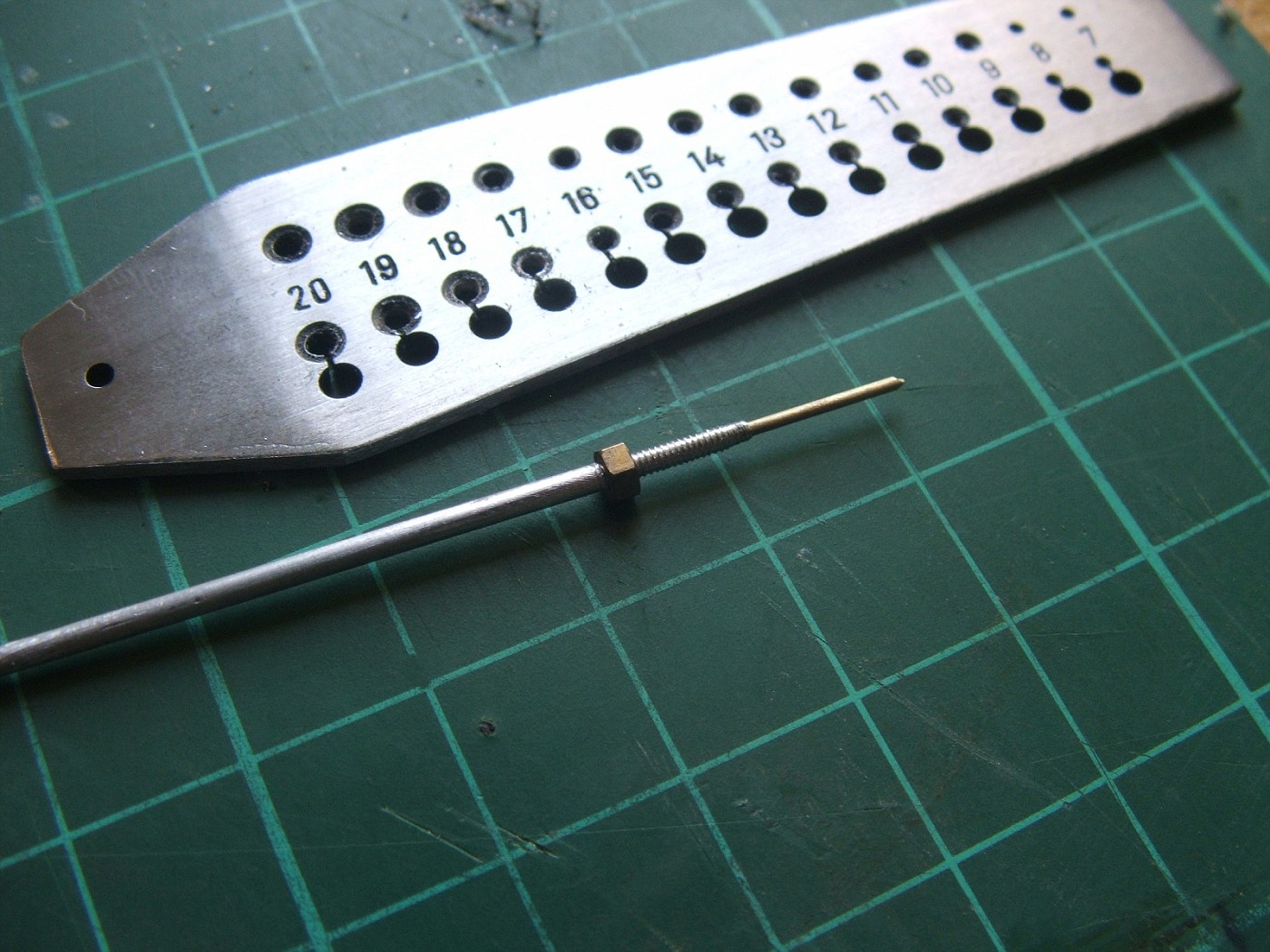 It all holds together much firmer now.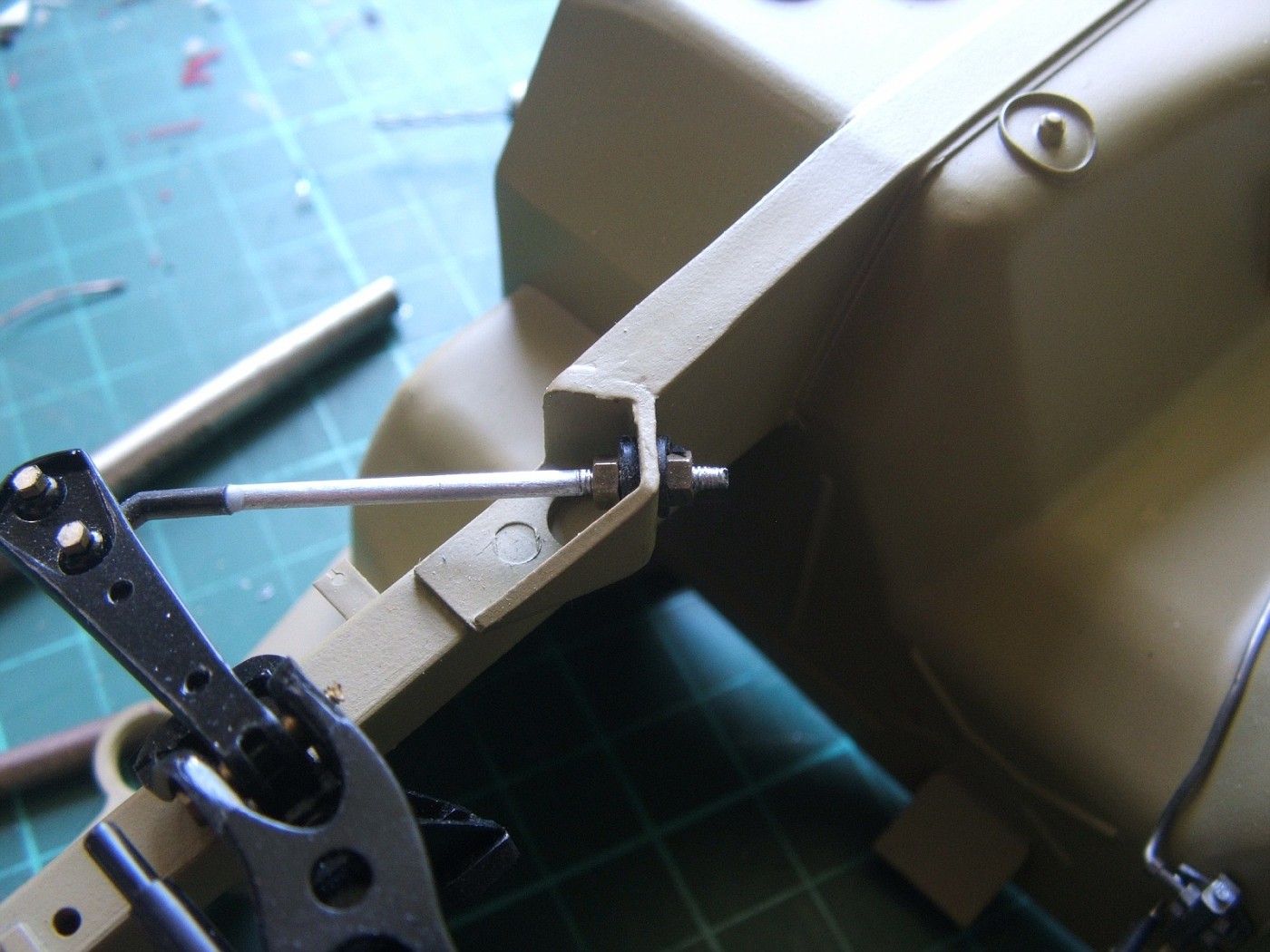 Assembled the rear sections of the suspension and added some brake lines.
The tops of the struts have been modified (lowered the ride height by approx. 4mm) and done away with the Tamiya rubber grommets that locate them in the chassis.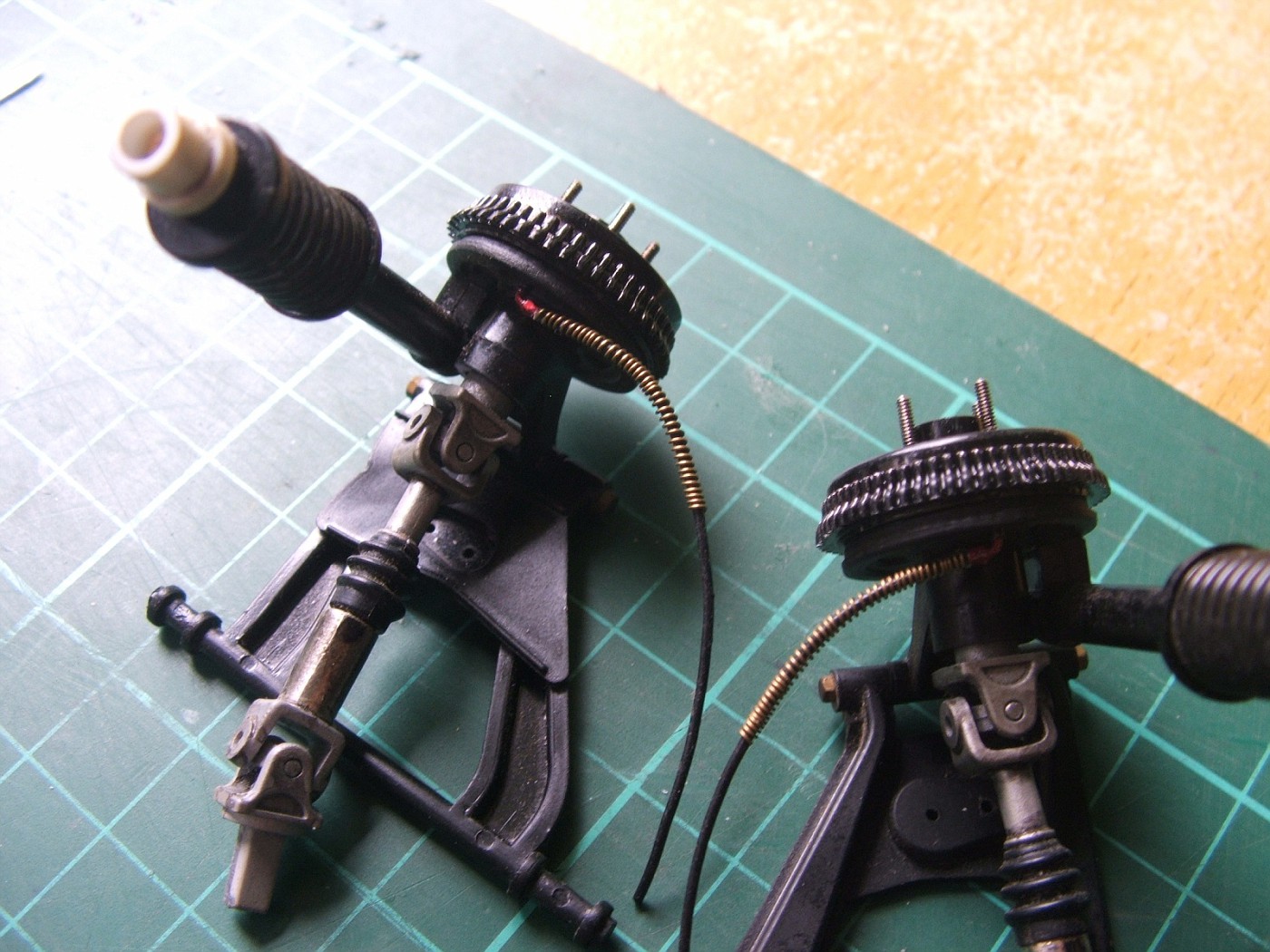 And all in it's proper location.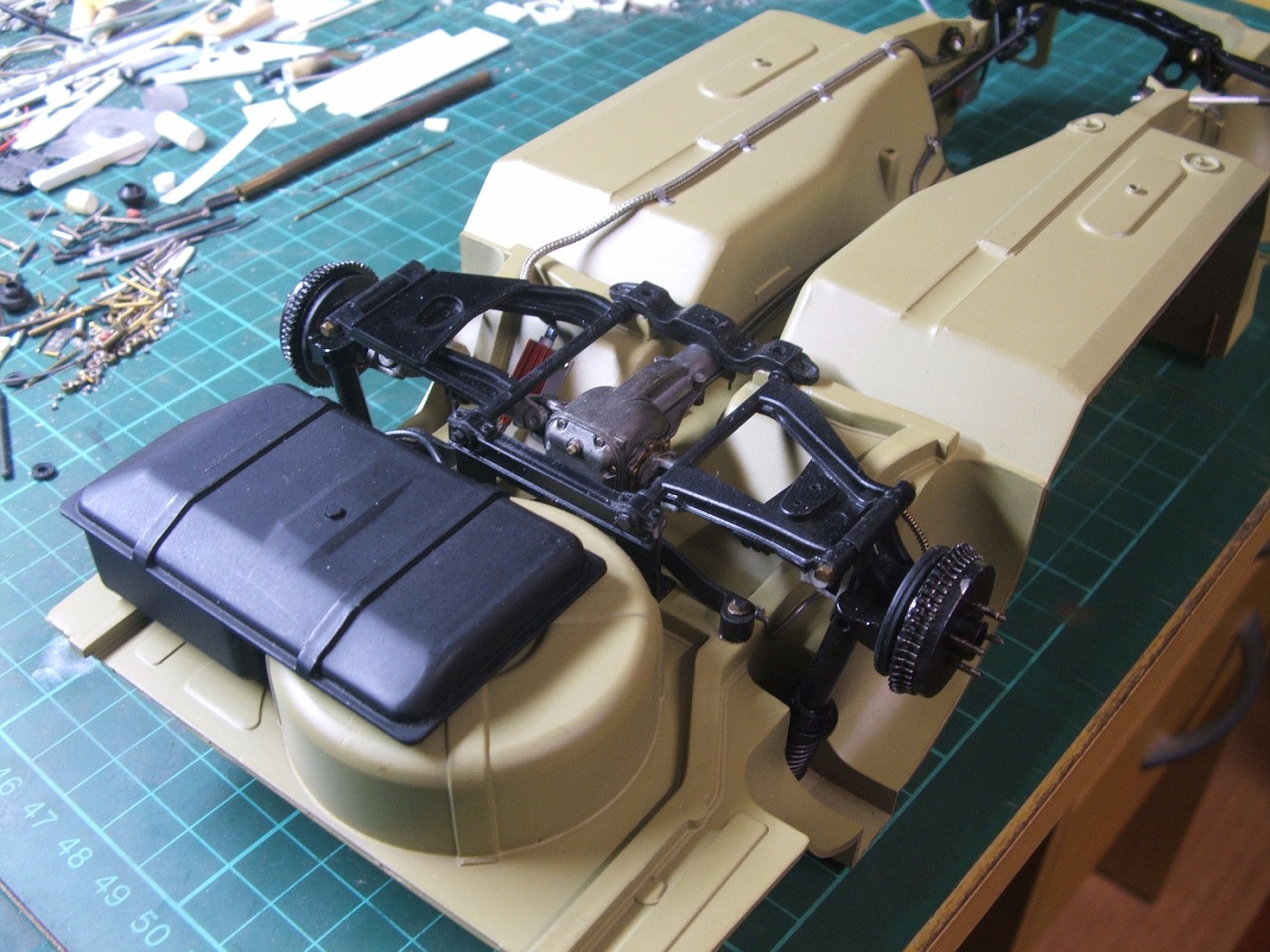 The front struts also got the lowering treatment, plus a new set of strut "tops", complete with mounting bolts.
The disc brake calipers were glued together (halves) as I didn't want a visible seam showing, this lead to dramas when it come to mounting the calipers.....as the instructions call for them to be added in parts.
I overcome this by sanding off the original mounting points and adding some .5mm bolts, literally bolting them on, as a real caliper would be.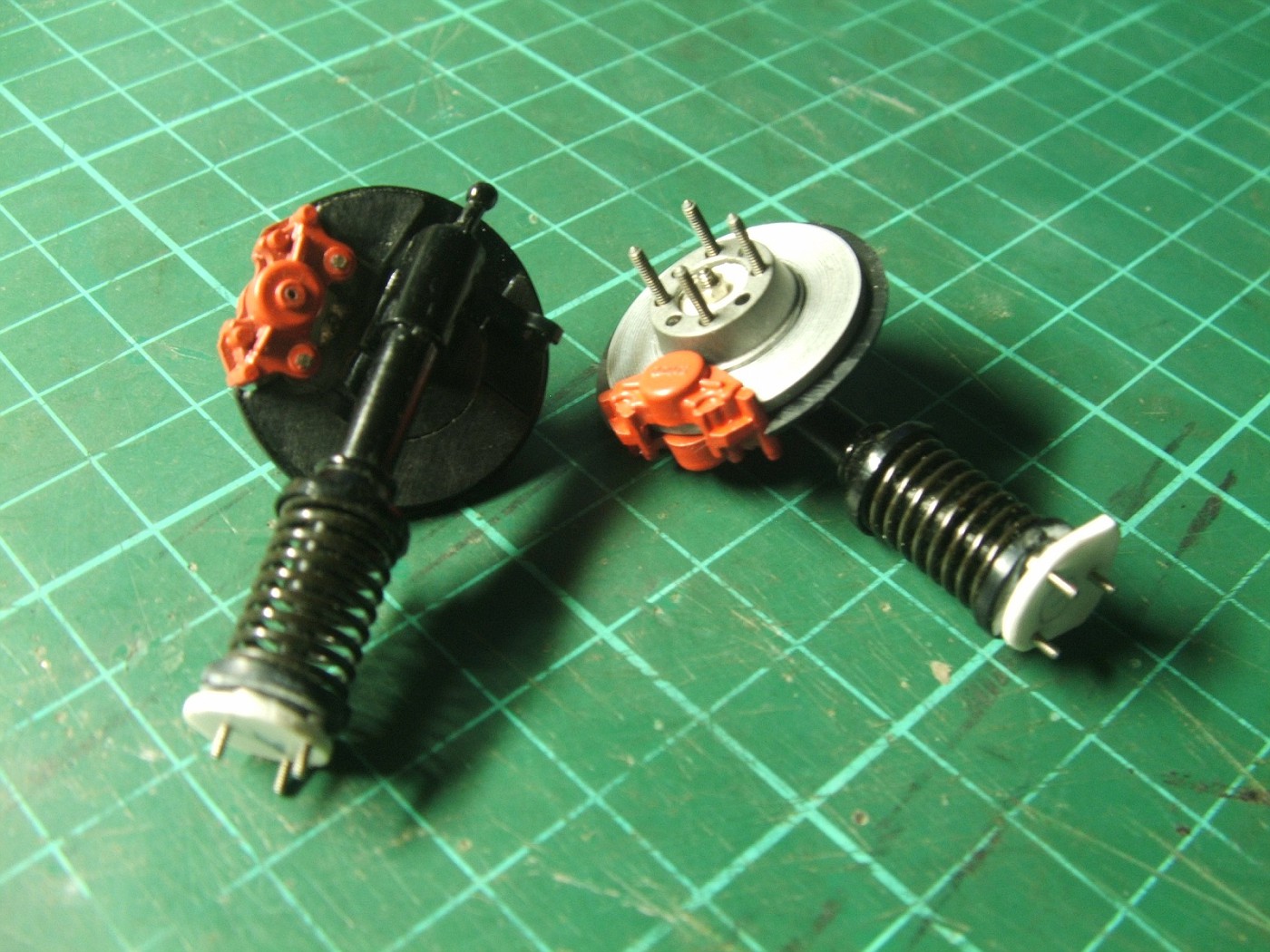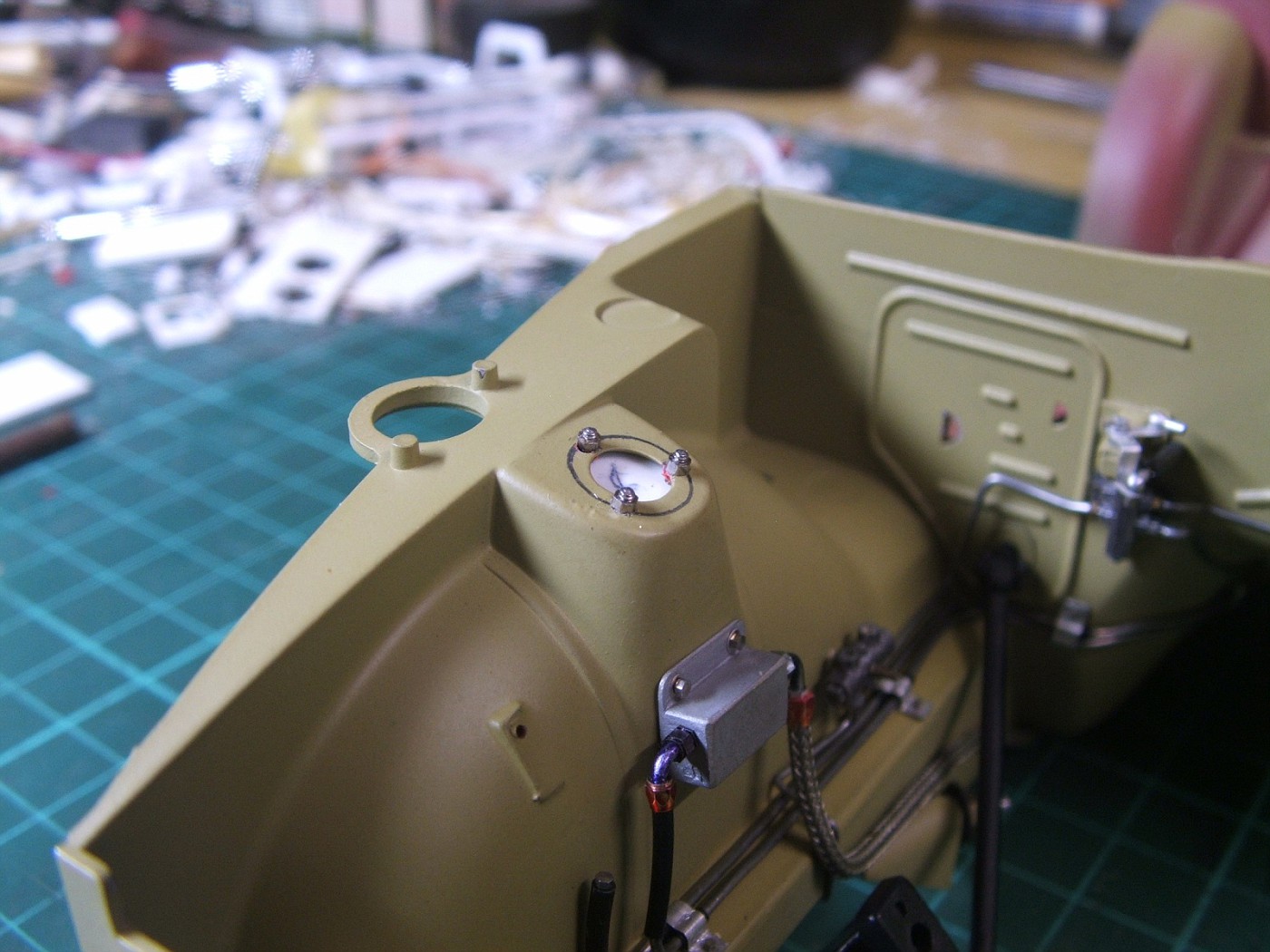 Also got the wheels going......at last.
Only have 2 painted so far, though all 4 are now glued together. Gave them a coat of Tamiya Gunmetal and topcoated with a flat to yield a finish I'm happy with.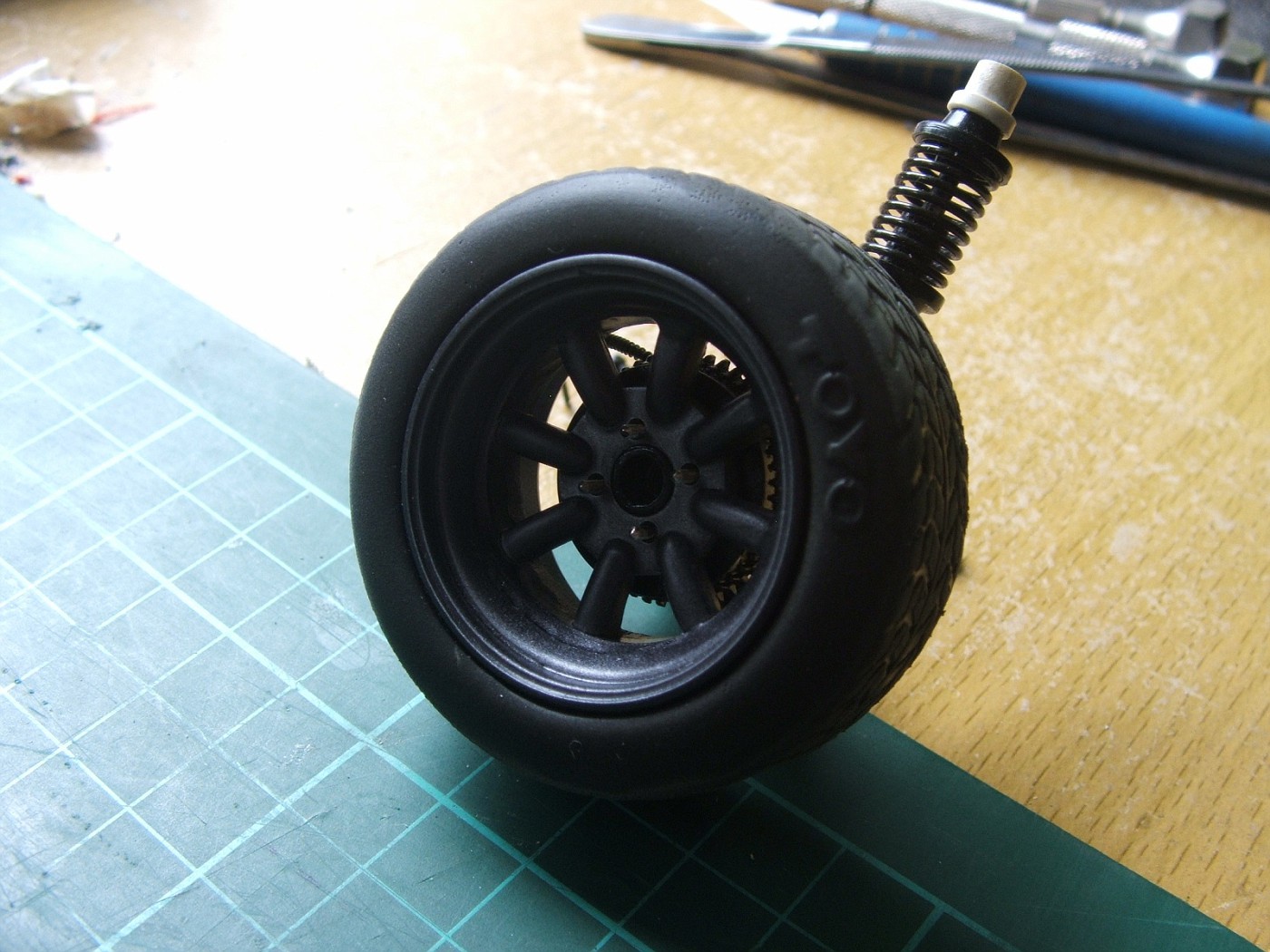 And a test fit, blurry sorry.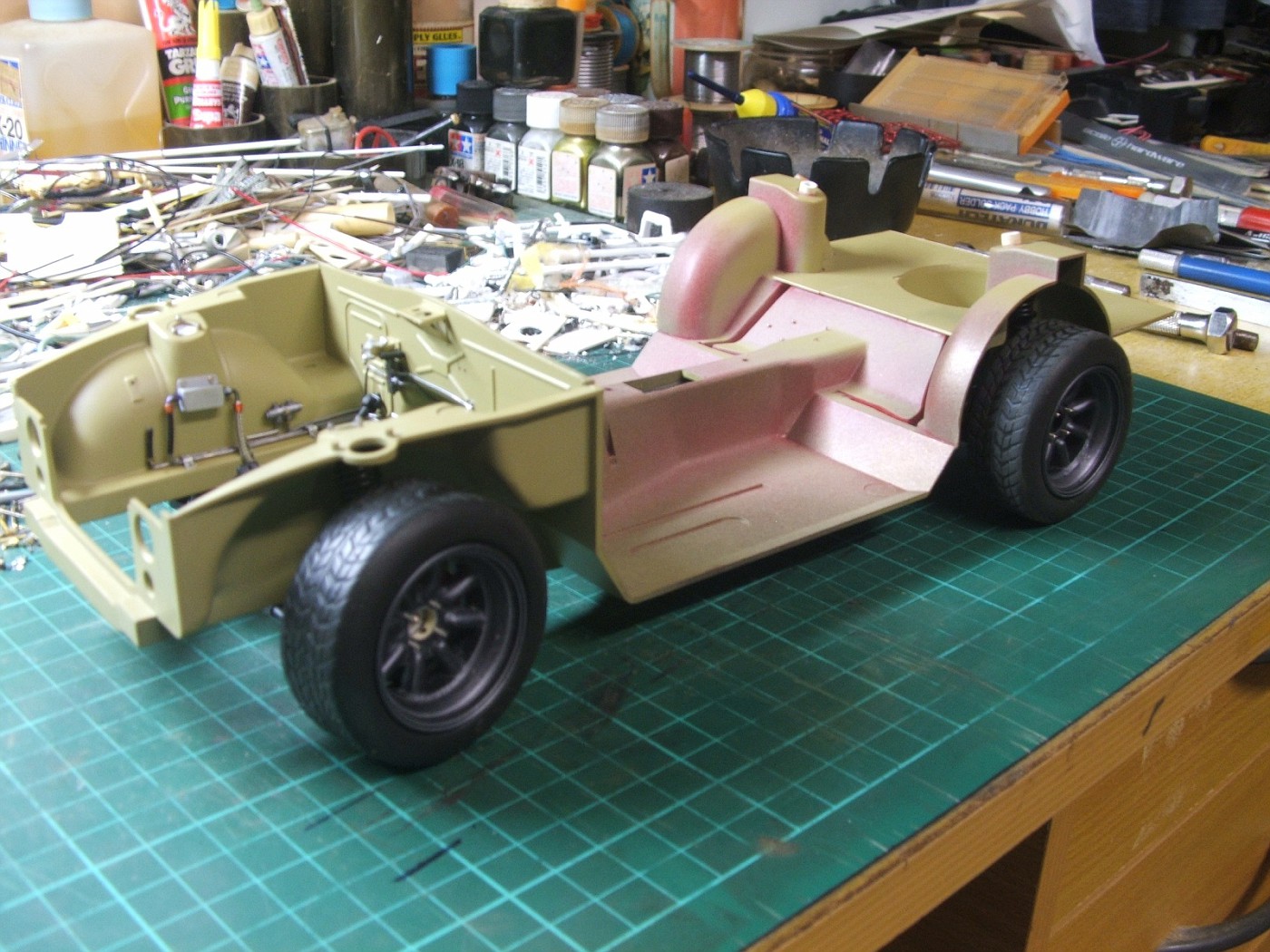 Thanks again guys, and I hope to have some more for you soon.
We have a Model Club meeting tomorrow where I hope to show the guys that I really do work sometimes.

Next weekend my Club is holding our second East Coast Hobby Show, an event we kicked off this time last year. Last year we successfully raised approx $1000 and donated a load of toys and games to a local Hospital's Children's Ward. Not a huge amount, but they (kids and Staff) really appreciated the gesture.
This year we hope to better our efforts as we have doubled the floor space and all allotments have been filled.
I'll be sure to take some pics at that too so you can all see how we go down here.

Cheers
Greg
---
Posted 20 June 2014 - 04:51 PM
Glad to see you are back on this Greg!!
Love this build!
---
Posted 21 June 2014 - 09:20 AM
Greg, this is a lot of outstanding and inspiring work.
I only mention this because like a few other builds on this site, you build could eventually be used as a "real or model" subject based on your current progress.... the edge bead on the wheels seems a bit thick as compared to what I've seen on full size wheels.
Have you considered making any adjustments/improvements to the wheels?
Oh yeah,...who makes that nifty tap & die tool ?
I WANT ONE!!!!!
---
Posted 21 June 2014 - 02:55 PM
Wow Greg just wow!! My friend you are trully talented...!!

---
Posted 21 June 2014 - 02:57 PM
Greg were did you get that little handy tool ( tap and Die)...?

---
Posted 25 June 2014 - 01:48 PM
Master Stump, thank you for the great update. It looks ssooooooooooo good.
---
Posted 25 June 2014 - 04:42 PM
---
Posted 28 June 2014 - 03:15 AM
Good goggley goo....this is some mighty fine craftsmanship!!!
I am in awe.
Mike
---
---
---