Well now. This is a one race, Richmond II, Rock & Roll scheme Brian Vickers ran. Tried some new details on this build. The base of both roof flaps are made from .020" plastic rod with a .016" hole drilled thru the middle of the small piece of rod, then painted silver. Added three vertical support struts to the rear window that rest against the package tray as in this pic. I painted them silver and should have been black though;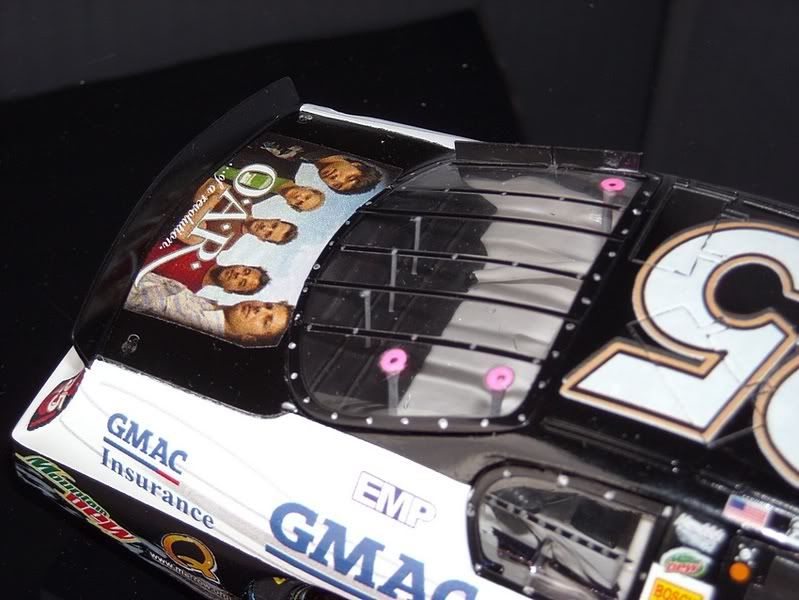 Used a front valance Slixx dayglo yellow decal from a 2002 #25 UAW sheet to get the front valance to match the 1:1 car.
That's a kit helmet painted black with decals from the #17 Kenseth Revell kit decal sheet. I cut the DeWalt parts of the helmet decal off though. Taller rear window blade, aluminum 2 piece tube fuel filler with plastic rod center, aluminum tube fuel overflow, added gray paint to the bottom of the rear fenders and rear bumper to match the 1:1 car. Used flat white WalMart Color Place for primer, Tamiya TS-26 Pure White and Krylon Indoor/OUtdoor Gloss Black paints. Added .040" thick x .100" plastic strip for the left rear skirt, kit exhaust tip cut from exhaust and added to RH skirt, roof camera made from kit sprue, TV panel camera from Modern Motorsport.