Hello,
I know I know, what the heck is this?
First a little history:
As a child and a teenager in the '80s, this was the quintessential exotic dream car. Everybody I knew that was a car buff had a poster or a magazine article or anything about it. On top of my bed were many posters, including Corvettes, Vectors and Countach Lambos. An urban legend in my town said that this car would not work below 60 MPH (How stupid was that!) You could only dream of seeing one.
Around 1988, for Christmas, my parents gave me a Testor's 1/48 scale Hercules C-130. "Would you mind if I change it?" - "not at all" So I went to the toy store and exchanged it for one of this: Testor's Fujimi Lamborghini Countach LP5000S. I built it 100% box stock which is not bad at all, since it has 240 parts! It was painted hardware store paint bomb black with dark red interiors.
About 10-12 years ago, I traded it in to a co-worker for an unbuilt Corvette Pace Car

Fast forward to the present, I just got this from the bay. I wouldn't call this a super holy grail, but I have fond memories of that model. This time I think I can do a bit better.

This time, I plan on white with dark red interiors.
Yes, I know this is cheesy at best, but hey, you can't be objective about car passion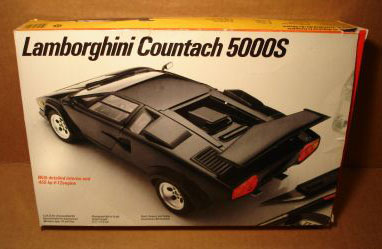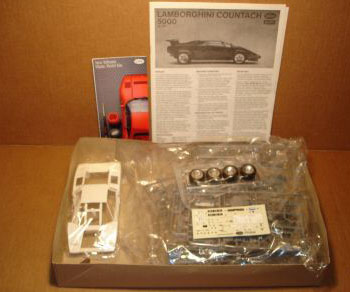 Thanks,