I'm just starting my new Pocher Mercedes 500K (K stands for "kompressor," the German word for supercharger). Here's a shot of the real car...




I'm going to do this in real time, so new posts will be few and far between, but I intend to document the whole process, warts and all, from start to finish.

A little background on Pocher kits for those who don't know: They are 1/8 scale, made in Italy from the early '70s to 2000, but out of production since then (the company went bankrupt)... so the only source for "new" Pocher kits is as a re-sale (ebay, basically). Since these kits are no longer made, the prices for unbuilt, original kits continues to climb. Many of the rarer Pocher kits routinely sell for a couple thousand dollars in "new," unbuilt condition.

Pocher kits are complex; this particular kit has almost 3,000 parts. Most kits include a whole slew of operating features, including steering, suspension, doors, roll-up windows, working lights, etc. This particular model also includes seats with springs, padding and upholstery, and a working convertible top. Parts come in many materials... traditional injection-molded plastic, brass, plated metal, rubber, canvas, leather, etc. Assembly is mainly via screws, nuts and bolts, much like the real car. Very little gluing is required. But despite their complexity (or maybe because of it), parts fit is iffy. A lot of reworking, finagling, massaging and re-engineering is required in order to build a Pocher. These kits are not for beginners. In fact, I read somewhere that most people who start building a Pocher eventually give up out of frustration. But not me!
I've built 3 so far, and have 2 (this one and a Rolls-Royce) currently in the works.

There are aftermarket detail parts currently being made for these kits, and in this case I'm going to use quite a few...$480 worth, to be exact! I intend to build my Mercedes as a semi-custom, "built to order" car, as many of these cars originally were done. These cars were available with quite a few factory bodywork and trim variations, along with custom bodies from outside coachwork companies. They were comparable to contemporary Duesenbergs or Bugattis... they were only for the very wealthy. Only a couple hundred of these cars were built during their production run (1934-36). Owning one of these cars told the world that you were somebody. In fact, during WWII, many of these cars were stored and protected by the Germans along with other valuable works of art.

OK... enough background. Let's get started.

I always like to start with the engine. Here's a shot of a few engine components. Curiously, Pocher molded some of the crankshaft parts in silver, and some in black... and the pistons are also black. You'd think they would all have been molded in silver. But it doesn't matter, as none of these pieces will ever be seen again once the engine is finished. That being the case, I didn't bother painting any of these internal pieces.

Here's a shot of the basic block, the cylinder head and the assembled crankshaft/piston assembly.




As you can see, for some reason some of the parts are black, some silver...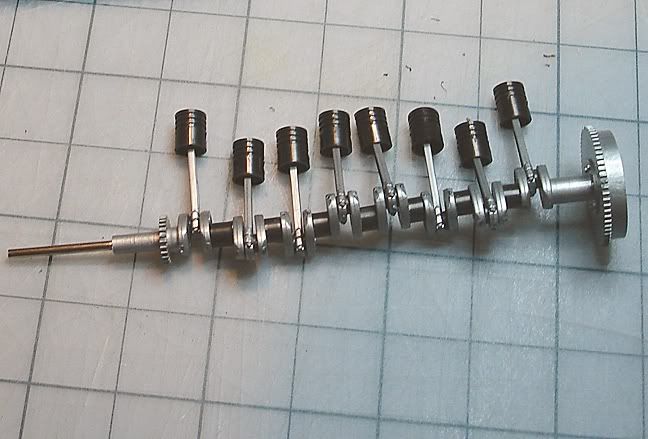 And here is the crank installed in the block:




BTW... just for reference, the lines on the cutting mat are spaced 1" apart.