For several years I've been using Bare Metal Foil on models to simulate sheetmetal that has been stripped of paint.
It's a straight forward process, but there are some techniques I've found that can make the finished product more believable.
First a basic how-to, then in subsequent posts I will add more details.
A fresh Mopar quarter panel will play guinea pig. I primed it so I could see my progress, but you would not have to prime first.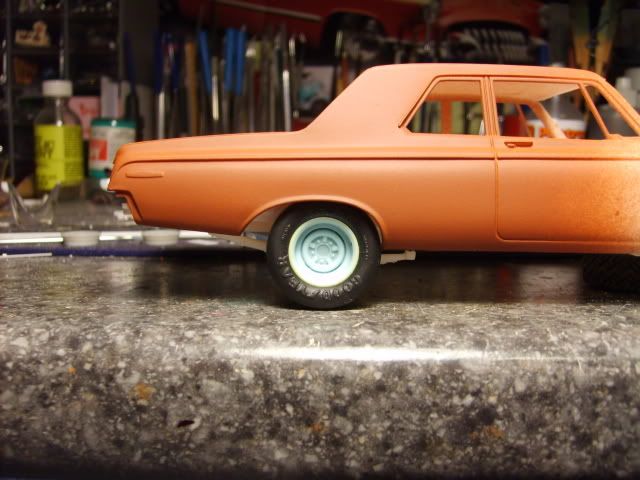 Using a file and 600 grit paper I roughed up the surface. This is subjective depending on the condition of the car you want to replicate.
I also used a ball end cutter in my motor tool to thin the panel to make waves in the panel. The primer really helps me see how thin the plastic is getting as it turns dark just before breakthrough.
Here is the panel after the foil has gone on. Not very convincing. You can see a few blemishes in the surface around the fender.
My 1:25 angle grinder. Some plastic tube with a piece of 1200 grit paper glued on the end that I chuck into the motor tool.
Also shown, when I work with BMF I use a feltpen on the back of my #11 blade so I can better see the tip against the foil.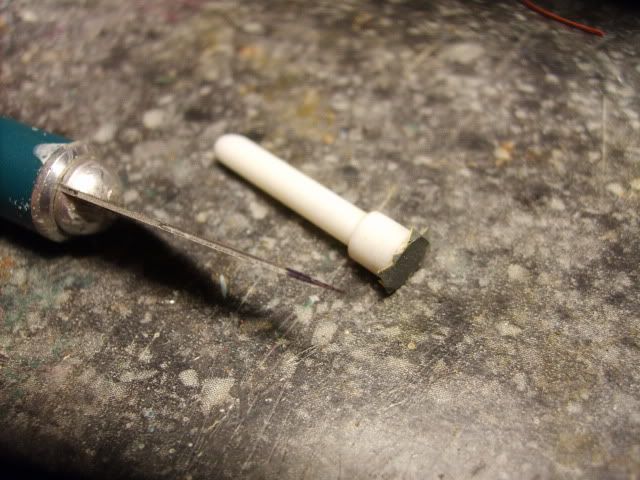 Working at slow to medium speed on the motor tool I try to replicate the same patterns that would be used on a full size project.
You may have to replace the sandpaper frequently as it fills with metal, and be careful not to burn through the foil.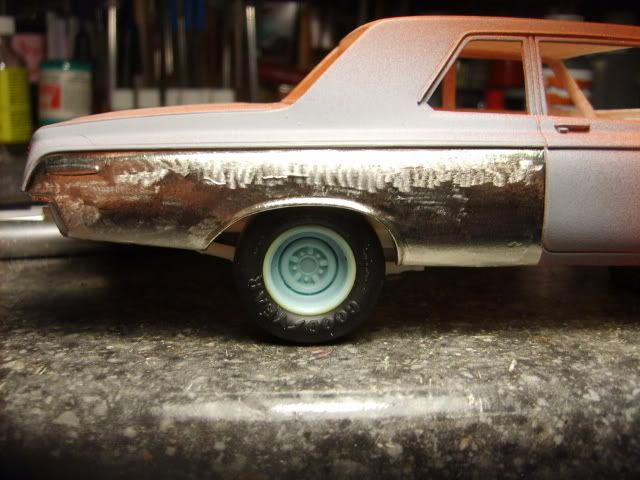 Back to painting, I prime right over the foil to hide the edges.
I used a spray can then removed excess paint with some brake fluid on a Q-tip.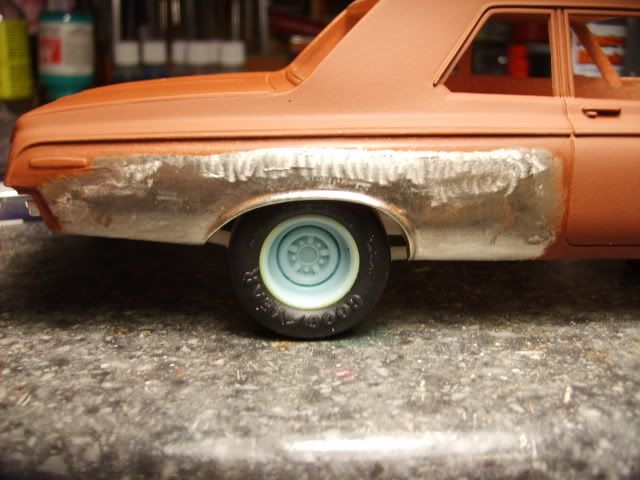 To subtle for my photography skill, I then wash over the foil with black india ink. It dulls the shine and fills in the deep scratches in the foil caused by the file and paper. It also give an uneven tone to the metal.
Please comment and ask if you have any questions. I will be posting part 2 soon to show more advanced techniques.
Edited by James W, 16 January 2010 - 09:16 PM.