This is a little trick that Jairus told me about. I am seeing this question about simulating vinyl tops popping up a lot around here and thought about sharing this with you guys!
I built this '68 Charger several months ago and wanted to replicate a vinyl top. Of course, I also bought some Plastruct styrene pieces to simulate the molding that separates the vinyl roof from the body since this model did not have a molded vinyl top like the Revell '69 Charger has.
I visited a Michael's Craft Store and purchased a can of 3M Spray Mount Artist's Adhesive. It's a product used to mount pictures, posters or prints against any chosen surface by the user.
This is the Plastruct styrene that I purchased, it shows the size I went with, of course, you guys can choose a different size if you so desire, I just thought that this one was the closest to scale after studying some reference photos of a 1/1 car.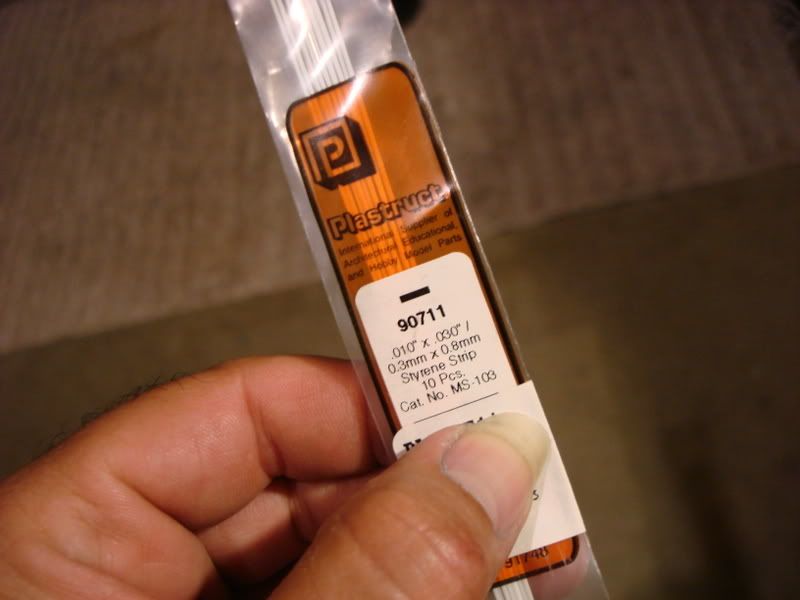 After placing the styrene pieces around the roof and masking the body, I shot the 3M Spray Mount lightly making several passes until getting complete coverage. One thing to remember, this will not dry anytime soon so right after spraying it, cover it up with primer and let it dry. I use a food dehydrator to speed up the drying time on my painted parts so after 2 hours it was dry.
After drying was complete, I used a 3200 grit sandpaper and sanded the roof down a bit more, I thought it was a little too grainy so by sanding it down a little further the vinyl look was more noticeable. In this photo, I painted and cleared the whole car. After everything was dry, I wetsanded and polished the body and ultimately masked and painted the roof with Testor's semi gloss black.