Hi, I am new to this board, I thought I might post some pics of my long term rat fink project. I have posted these at the hobby heaven and scale auto message boards, so if you frequent those, you may have seen these already. The car is a T bucket and is approx. 1/6 scale, it was originally a toy called the Big Red Rod manufactured by Marx in the 60s to early 70s. I bought it on ebay a few years ago....and it sat around until one day when I got the idea to make it a 3D version of one of the old Roth monster car drawings. There is a huge amount of scratch building, including the entire rat and the engine. I have a lot of work to do, but I hope to have it done for the NNL East in march. The engine is now ready for final assembly and detailing, I hope to have it done by the middle of january, I will post pics when it is done. Thanks for looking! -Larman
This pic is of the nearly completed fink with paint.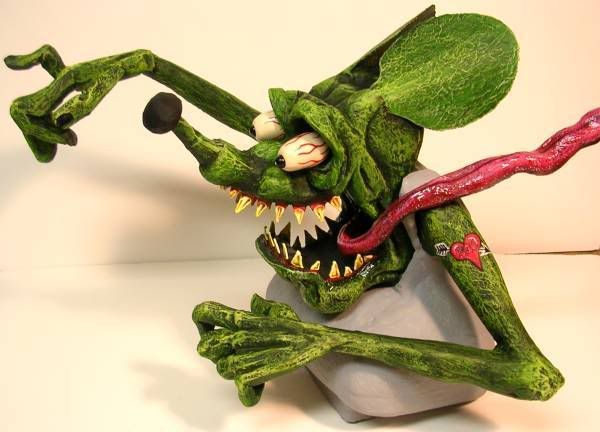 Here is an early mock up with the car before paint.
Here is an album with a bunch of build up shots.
http://s70.photobuck...rman1/finkster/
This one has early shots and some other rat stuff. Also if you check the albums you can see some other models I built including my dios and weathered stuff.
http://public.fotki.com/larman/