Big year- finally started building the shop I'd planned for a few years. The original idea was a two sided diorama (interior and exterior) made from foamboard, with styrene sheet glued on for the surface. BIG MISTAKE.
The exterior made it to almost finished before the problems started shwoing up. It's still presnetable, but I have majoradhesive issues. I was never able to get the interior panels smoothed out, the exterior panels have curled a bit, and they curl BAD out in sunlight. The answer is to redo the whole thing, this time as two separate dioramas. The new interior is under way, and in primer stage, as of today.
I decided to paint a couple of figures up to be Klutzy Katie, the shop girl, apinter, and eyecandy for posing with the finished cars. I dreaded figure painting, but with the help of Ken Hamilton, I found that I not only no longer dreaded it, I loved it. I may have gone a bit overboard with the different Katies, but they're too fun.
And, there are more versions on the bench, too.
We finished four projects at the shop this year.
Note the curling of the styrene visible really well in the photo.
We also have two in progress right now. The surf wagon hasn't seen much work with the holidays and a wife graduating nursing school. The Coupe Devil has recieved mtor work, with the carb linkage and ignition completed just today.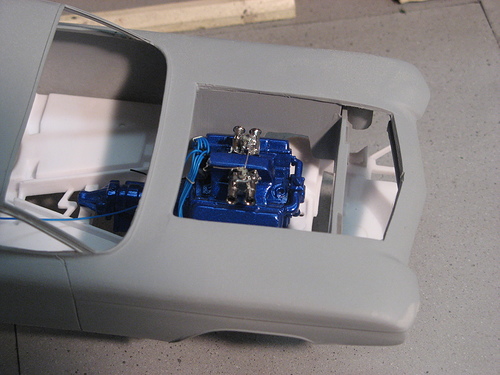 Here's to a productive 2007- Happy New Year, all!