Archer Fine Transfers 6" O-scale (1/48) louvers
(more pics below)

Archer Fine Transfers (http://www.archertransfers.com/) is a company that makes decals catering mainly to railroad and military modelers. However they offer a unique product, resin surface details that are mounted to a decal substrate ( http://www.archertra...aceDetails.html ). Up to now they have made various patterns and sizes of rivets and welds. I have considered using their rivets but haven't had a project that needed them,. A couple of months ago they added louvers to their lineup, something I had always wanted.

I'm currently building a a Lobeck style street Revell Deuce Roadster with dirt track rear tires and 80's-90's details. I wanted to add louvers to the hood and use the smooth hood sides from the coupes with just a small louver detail near the lower rear corner to vent heat from the exhaust manifolds. A perfect project for these louvers if they worked.

Archer doesn't make a 1/24-1/25 scale product but they do make a series of 1/48 O scale products. They offer two sets of louvers in 1/48, 6" and 14", equivalent to just over 3" and 7" in 1/25. Because of the reduced scale the spacing between the louvers is somewhat compressed. Compared to the louvers on the hood sides that come with the Revell Deuce roadster and 5-window one inch of Archer louvers has about 22 louvers in the 1/48 6" pattern compared to about 19 louvers on the Revell hood sides. This is partially because of the spacing but also because the Revell louvers are much more coarse and thick than the Archer louvers.

The Archer louvers also don't sit as high off the surface as the Revell louvers although they aren't that different than the molded in louvers on the recent '49 Merc kit from Revell.

The louvers come molded in black which makes them easier to place against a light surface than a dark surface. Also, if you plan to use a light color you will have to be concerned about the black color showing through the paint if it flows away from the edges of the louver. In my case the final color is a very bright red.

You apply the louvers to the base surface and then paint over them. Archer recommends using a decal setting solution such as Micro Set or Solvaset, applying it to the surface and then applying the surface detail decal. The Archer decal material responded extremely well to the Micro Set I used and I found no need to apply more Micro Set after I placed them. The decal material itself is continuous on the sheet and they recommend cutting them out as close to the edges of the surface detail as possible. I did that and I must say that the decal substrate is totally invisible once you paint over it.

The decals themselves are quite fragile. They really can't be handled once they are separated from the paper underneath. So you absolutely must slide the paper out from underneath the decal only after you have placed the decal on the surface you're applying it to. If you don't the decal will immediately start to fall apart into little bits of louvers (or rivets or welds) that are nearly impossible to handle.

The other thing you will discover is that any misalignment of the decal is very obvious, either in terms of how straight the row of louvers is or how parallel to another row or to reference details such as the edge of a body panel. I did one hood freehand and while it looked ok as I was doing it there were waves in the rows of louvers and they didn't start in exactly the same place, all of which was quite obvious once I was done. So on the second try I laid down some masking tape for reference.

The pictures below show the packaging, the louvers laid down in place and the final result with 3 coats of Duplicolor Torch Red and 3 coats of Krylon Crystal Clear over them, unpolished. As you can see they held up quite well to a fairly thick coat of paint. If you plan on polishing the paint I definitely recommend clear coating the final color to avoid rubbing through to the black louver color.

Overall I think they look finer and more realistic than most louvers that come on models. I wish the decal material wasn't quite so fragile but with practice it's something that you learn to deal with. Finally, I plan on dropping a line to Archer asking for 1/24th scale louvers that are slightly more widely spaced and which stand a bit taller from the surface. Train and military modelers tend to work in flats and while the louvers are extremely visible under flat paint, under gloss they would be a bit more dramatic if they were taller.

I recommend them. They aren't cheap but they are a huge labor saving resource and permit you to apply louvers in situations that would be impossible otherwise.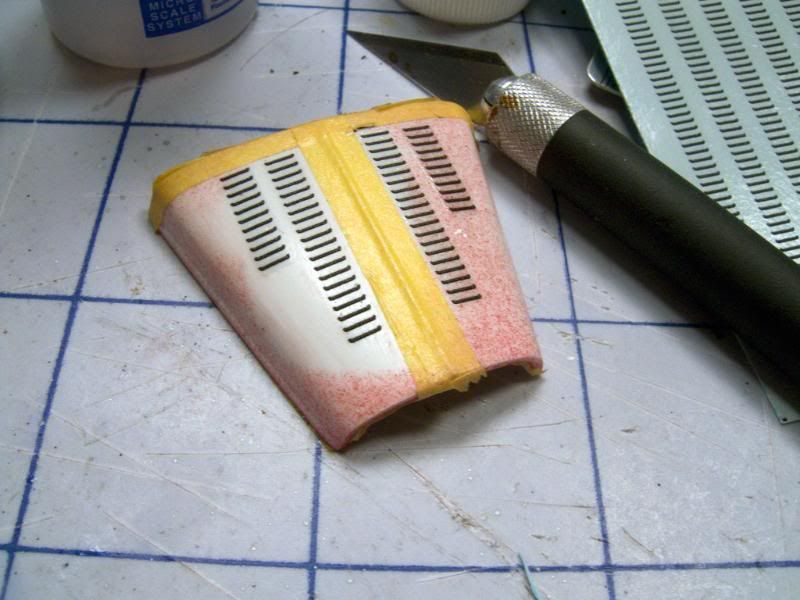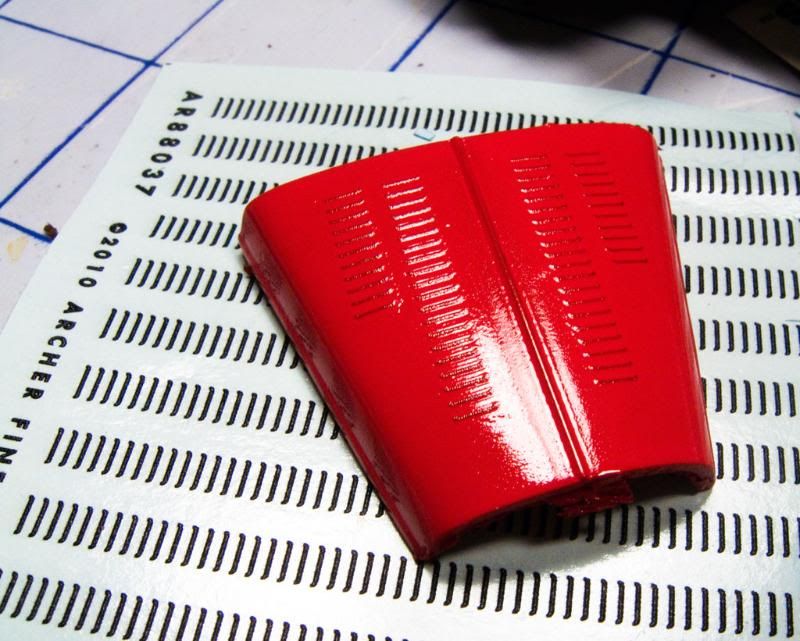 Edited by Bernard Kron, 04 September 2013 - 01:09 PM.