Not finished, you say? Where's the "tins"? Well, look closer!
It's based on the Revell "Torch" hardtail frame. I lengthened the frame ahead of the engine and grafted in a beefier, more graceful backbone. To allow the curves of the new frame to show I decided to eliminate the typical "tins" from standard motorcycles by intigrating them into the frame to keep the overall design clean, hence "Simplicity". The gas tank was relocated to the space between the front downtubes. The oil tank is now located within the backbone. I scratchbuilt shorty exhaust pipes and other details to minimize distractions from the frame and driveline.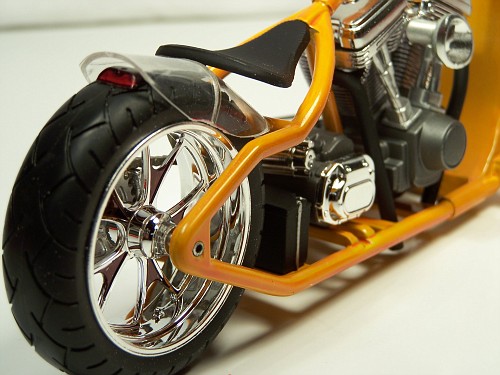 And that's it. It is a pretty basic buildup of the excellent revell kit aside from the frame mods. As always, comments and questions are welcome, and feel free to drop by my Fotki site for more pics.
http://public.fotki....licity-chopper/