Now that I've created my door line, I want to create the highlight that runs along the edge of the door. To do that, I'll take my door line layer that I just created and duplicate that layer... giving me an exact copy. Now with my duplicated door seam layer being the active layer, I'll go to the dropdown menu and select Layer>Layer Style>Color Overlay:
Now that I have selected the color overlay option, I can "overlay" any new color onto my dark green door line copy. I'll change the color to light green, then move my light green door line (on its own layer) slightly to the left of my original dark green door line (also on its own separate layer) to get my door edge highlight. I used the eraser to slightly fade the highlight towards the bottom:
Now I want to add a white highlight at the point where the door curves. I'll draw an ellipse (again, on a new, separate layer) to define the shape I want, and hit it with the brush, using white: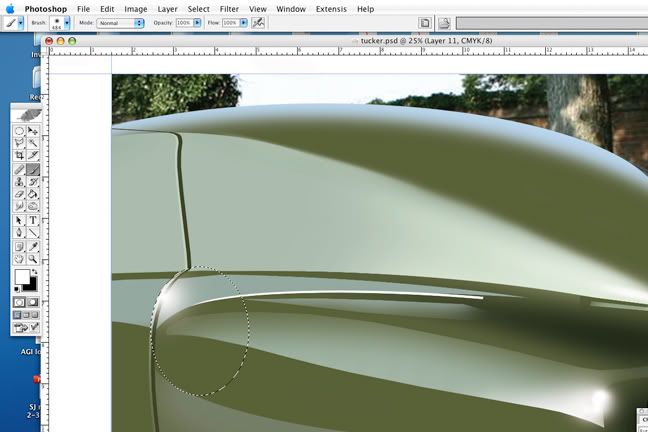 Then, just like for the door seam, I'll move the selected elliptical area slightly to the right, leaving my white shape in place:
and hit "Delete" to remove the unwanted white:
Again, like the white fender highlight created earlier, this highlight isn't exactly the right shape, so once again I'll use the "distort" function to reshape the highlight until it matches the shape of the door seam: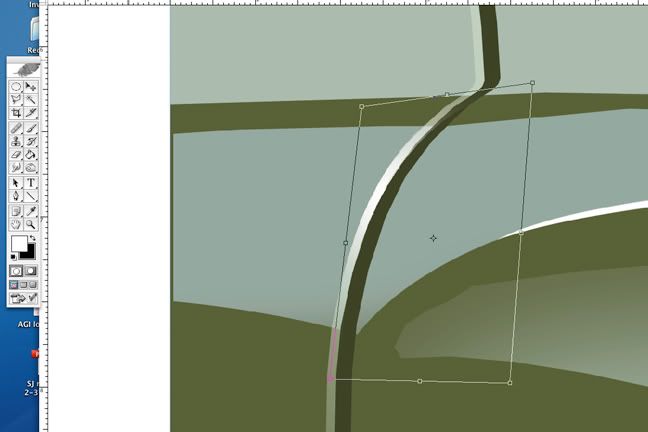 More to come...