We're almost done. Just one more item to do on the car: the rear grille. You don't see much of it, and it's in shadow, but still, it's there and we have to add it to make the illustration look finished. As usual, using the photo as my guide, I create a new layer and draw the shape using the Polygonal Lasso tool:
Then using the Paint Bucket tool, I dump a very dark gray into my shape: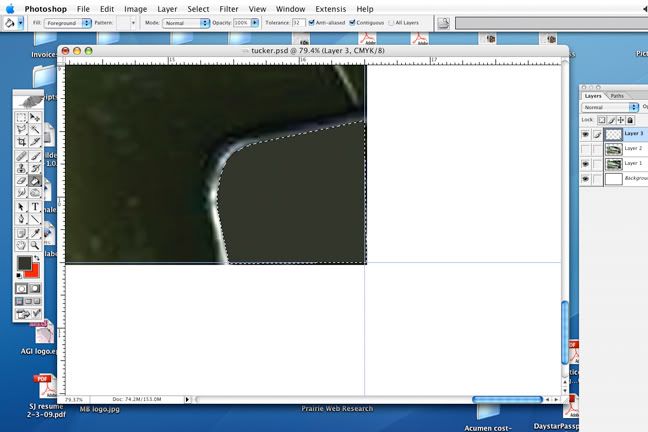 In this next shot I've turned the photo layer "off" and added a blue area on a new layer
below
the grille layer, so you can better see what I'm doing with the grille. I removed the area where the "holes" are in the grille by drawing the shape of each hole and hitting "Delete." Once I had the basic grille done, I duplicated that layer, used the Color Overlay command to change the color of my duplicate grille to a light gray, then moved the light gray grille layer under the dark gray grille layer... then moved the light gray grille a bit towards the upper left, like this:
You can see that because I moved the gray grille over to the left and up, there are now some "missing" areas (circled in red) that I have to add, by drawing the shape with the Lasso tool and filling in the area with light gray:
Then I used the Magic Wand tool to select the light gray grille and used the brush to add a white highlight to the corner:
Next I added some black, on a new layer
below
the grille layers: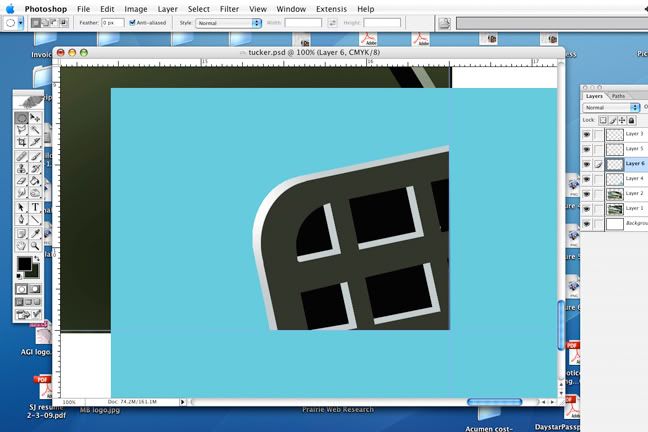 Because the grille bars are slightly rounded, I used the Gaussian Blur tool to slightly blur the grille. I can blur
only
the dark gray grille without affecting the light gray grille because the dark gray grille is still on its own, separate layer.
At this point I merged all the grille layers together, and merged the grille layer into the main illustration layer. I also used the brush and some white to add a small soft highlight to the corner of the grille: