Last week, I was able to get a copy of Missing Link's Resin 1964 Ford Galaxie 500 4-Door Sedan, mastered by my fellow club member Howard Weinstein. Howard did a masterful job modifying the AMT 1964 Galaxie 500XL 2- Door Hardtop into a Galaxie 500 4-door sedan, nailing the 4-Door Sedan roof shape and rear window contours, rescribing the door cuts from 2-Door to 4-Door, removing the "star" from the rear fenders, and adding the "Galaxie 500" emblems in the right places on the body.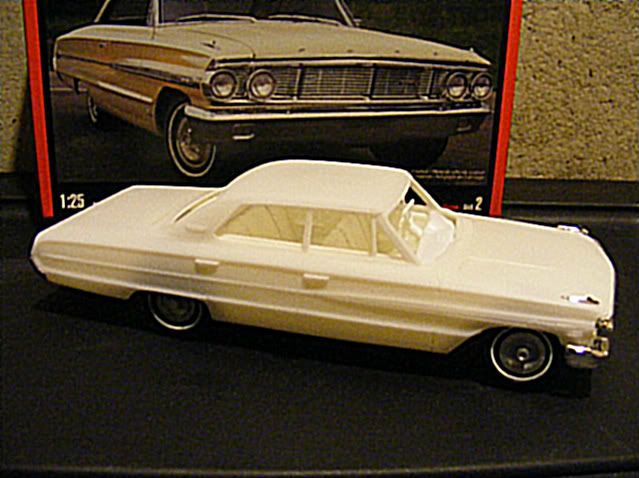 Howard also made a set of separate door panels, a front bench, and rear seat, which are pretty faithful to the '64 Galaxie 500 upholstery pattern, which drop into the AMT "Nascar" interior tub.
The kit consists of the one piece promo-style body, a clean interior tub, separate side panels, and separate front bench and rear seats. The builder must supply one of the AMT '64 Galaxie 500XL curbside model kits, which are pretty easy to find, for the "glass", tail lamps, chassis, chrome grille and bumpers, and tail lamp bezels.
You are pretty much on your own for wheel trim, even though he latest issue of the Revell '64 Fairlane 500 Thunderbolt, as well as Trumpeter's '65 Ford Ranchero kit will yield a set of steelies and accurate '64 Ford "dog-dish" hubcaps. The Trumpeter Falcon kits also have an accurate set of '64 Ford optional wire wheel covers. If you go these routes, you will have to add a set of tires, axles, and wheelbacks.
On my build, I am going with a set of '64 Galaxie 500 full wheel covers mounted on white stripe tires, which I modified from the AMT '64 Galaxie kit, as this is the combination I have seen on most of the '64 Galaxie 500s I saw as a kid.
I applaud Missing Link Resin's marketing of the various Ford 4-Door Sedan resin transkits from the '60's and '70's, as they have a myriad of applications, from family cars, to taxi-cabs, to emergency vehicles, and I appreciate Howard Weinstein's willingness to share his modeling talents with the rest of us by allowing his work to be cast.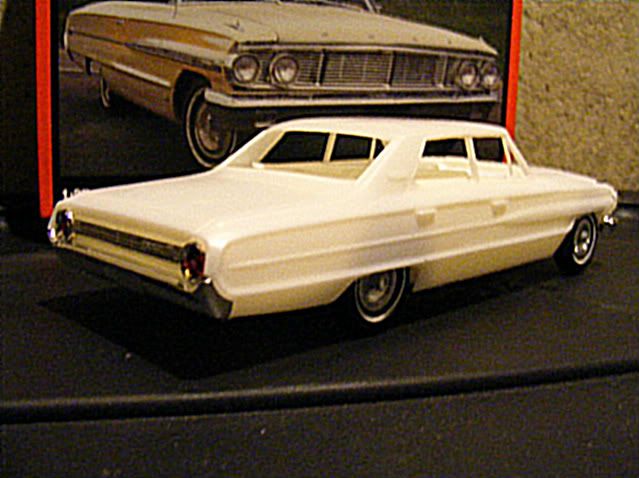 I just had to get this one up on it's wheels to see the direction I am going to take it, which is going to be just your ordinary family sedan from the '60's.