First post, i came across a lot of inspiration on this site, and figured i'd share my first adventure with a bunch of like-minded folks!
I've loved models for as long as i can remember and when Christmas rolled around, not only do i need a project to keep me occupied during the long break from university life , but i figured I would surprise my dad with a little custom job for his shelf. (His birthday gift was a custom standing gun rack for the closet, so I have to keep my own standards!) Life got in the way, so this is more of a "before i head back to college in late January" present vs an xmas gift.
Up until my sophomore year of high school (all of 3 years ago), our family raced Formula Vee race cars with the SCCA. They are small formula cars that are heavily based on..... the VW beetle from the 50's and 60's. haha What a beast! 1200cc flat 4 Engine, "wonderful" suspension, drum brakes... all those tuned up in a rear engine, RWD, 800 pound bullet. They actually are a very competitive car, and emphasize skill over money and bolt on parts, which is a polar opposite to most other amateur racing venues.
dad's car when we got it in 2005, and pics of it with the body off in mid 90's.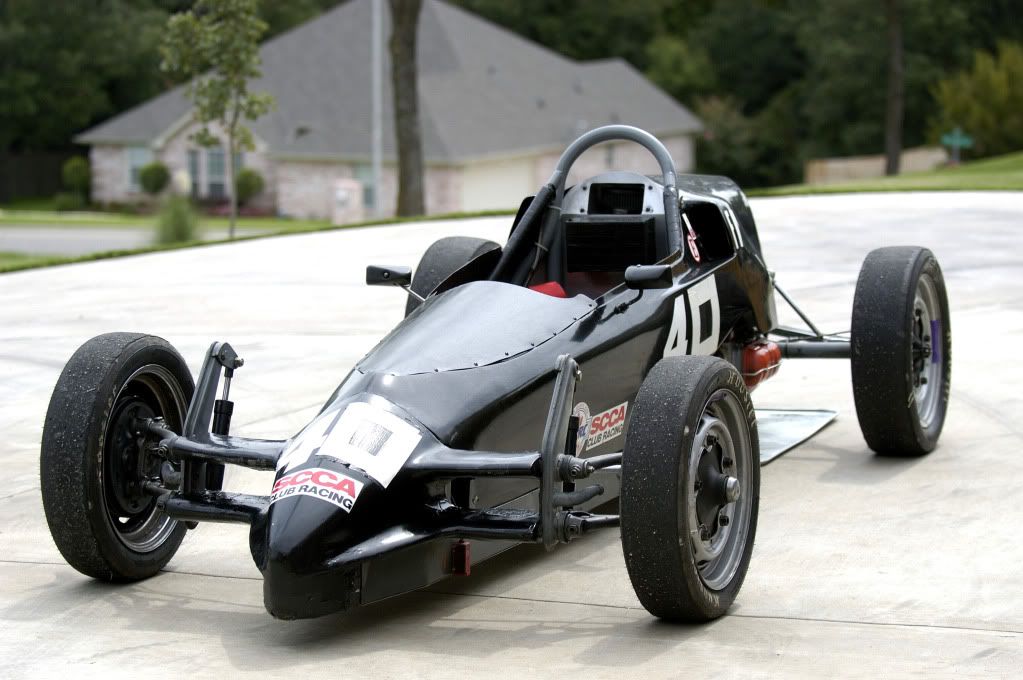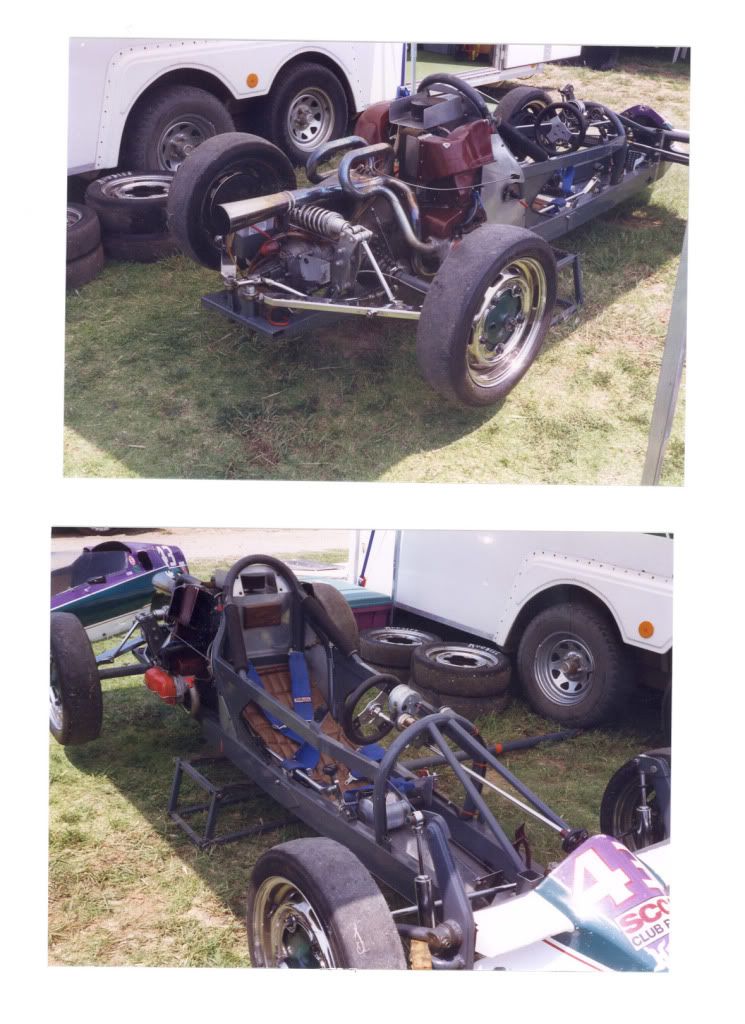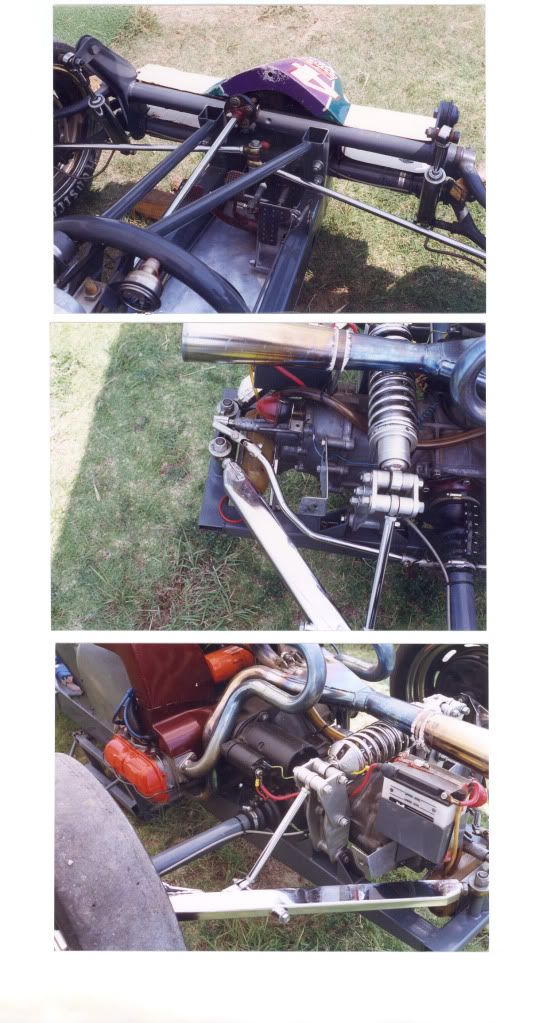 The unique engine configuration made it hard to even get this project started. I needed a flat 4 cylinder and transmission to make the car look right ( the engine is the majority of this car, so it had to be right). I hopelessly searched around for a Beetle model with a good engine package to salvage parts from... THEN i looked at the shelf in my room.
I put together one of Revell's 1/25 Porsche 911 GT1 kits this summer. That car featured a flat six ( can be sanded to look like a 4 easily... or close enough for Dad's eyes!

) and a tranmission mounted in reverse like a Vee. and suddenly the Chop shop opened its doors.
I started with this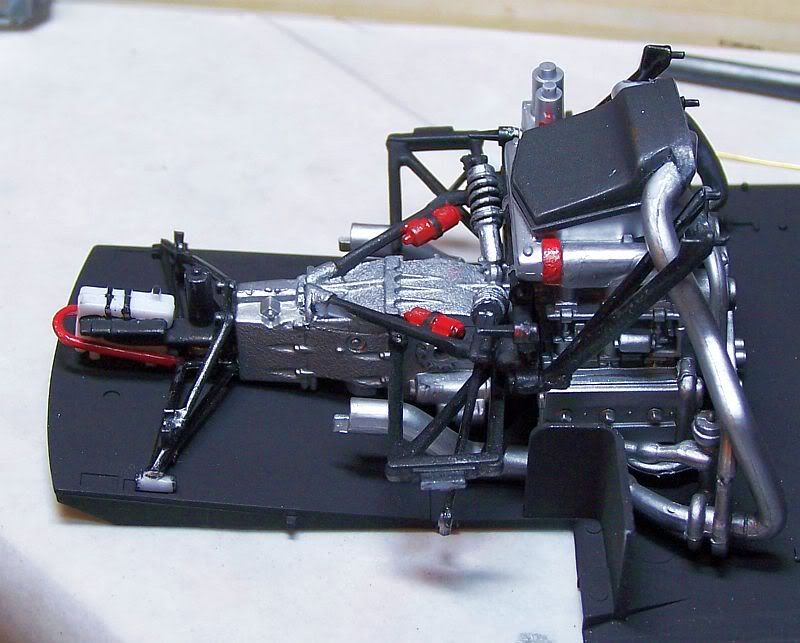 after pulling all the pieces off..... (some serious clean up needed where engine block and tranny meet where i cut off quite a few cross members rather crudely to avoid the halfshafts)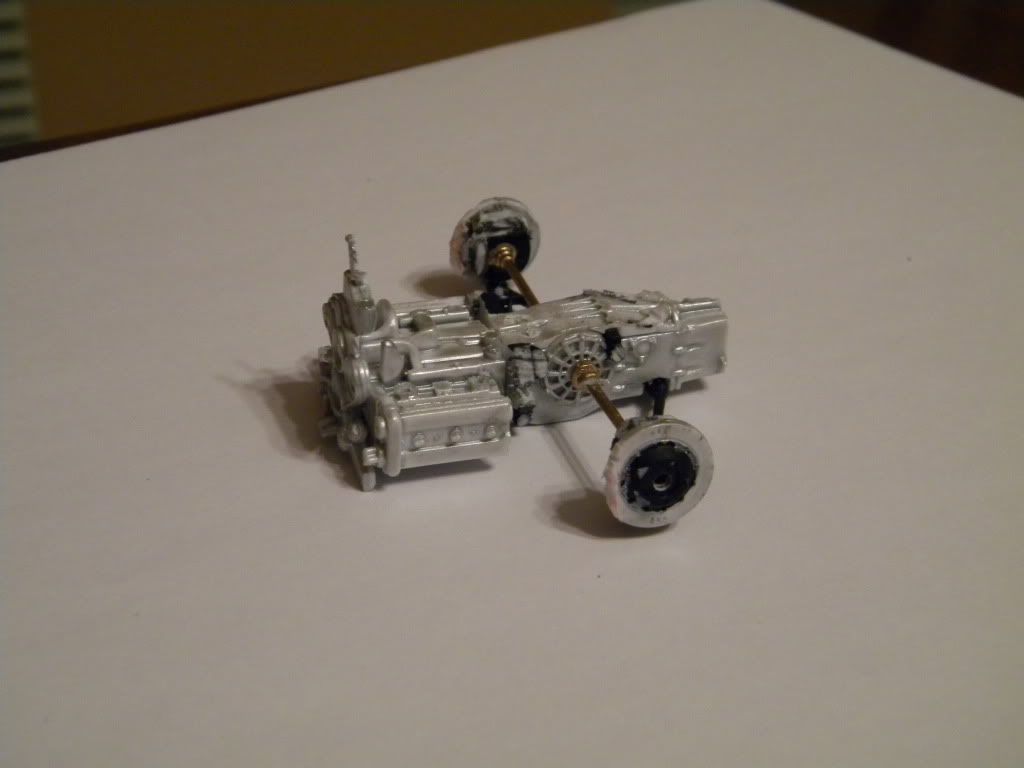 I wanted to build this car to look right. and the more i looked at the Porsche, the more parts compatibility i saw. Let's just say there is no turning back now...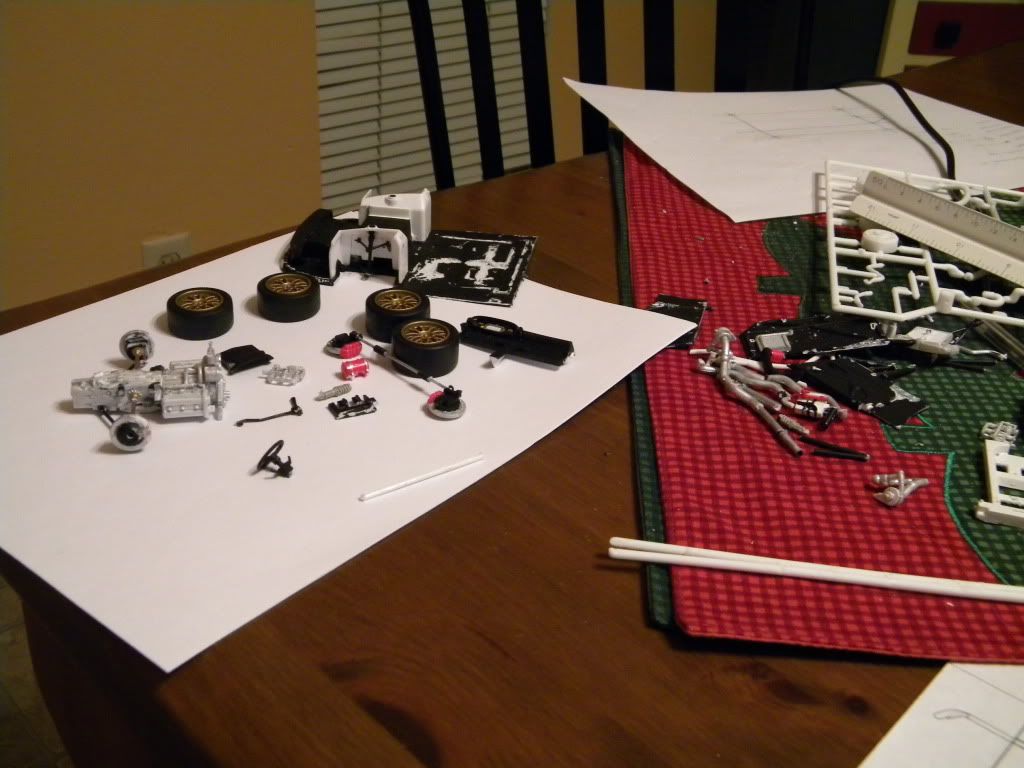 I looked that the competition rules and figured out the 1/25 scale of the Vee dimensions. came out to 5" overall, 2" track F and R, 3.5" Wheelbase (talk about easy math for me!).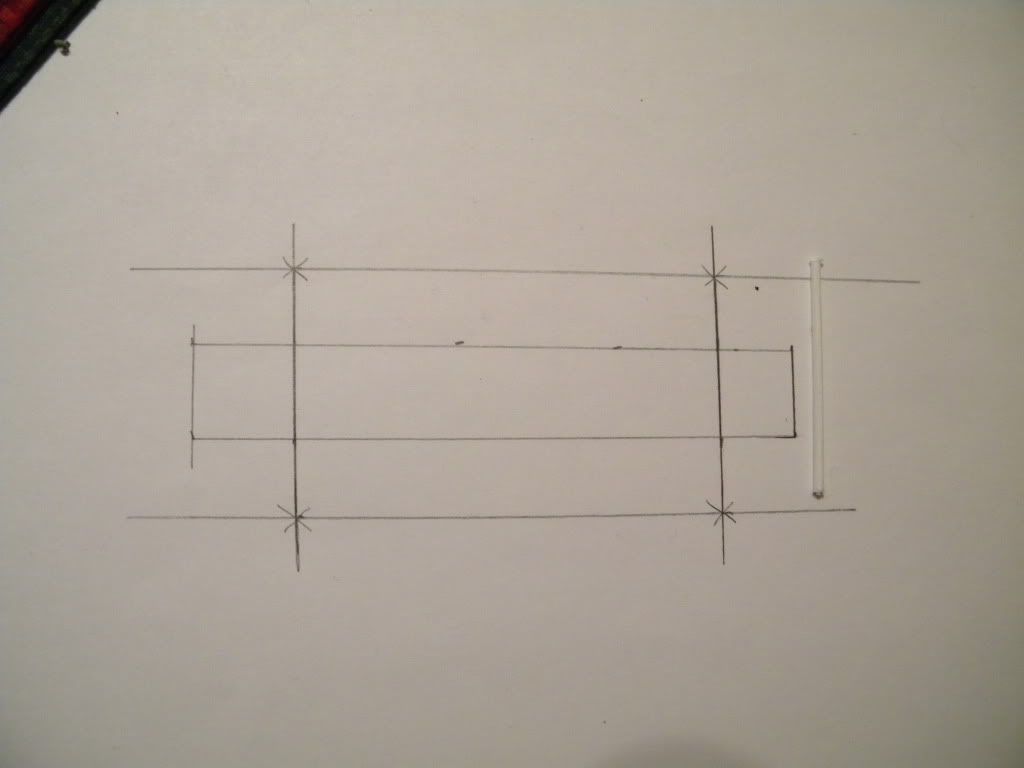 originally thought about using the plastic from the parts trees from another kit in the closet to make the chassis. the more i think though.... i just see this getting messy and not quite professional. Opinions on balsa wood? it's a shelf queen that will get picked up occassionally to show off (hopefully

) so is balsa good for this? i figure if i sand and paint the wood (maybe a bondo type approach???) it can look like "smooth metal" to inspection. Since this is my first scratch build, help me out?!?
where "black betty" sits right now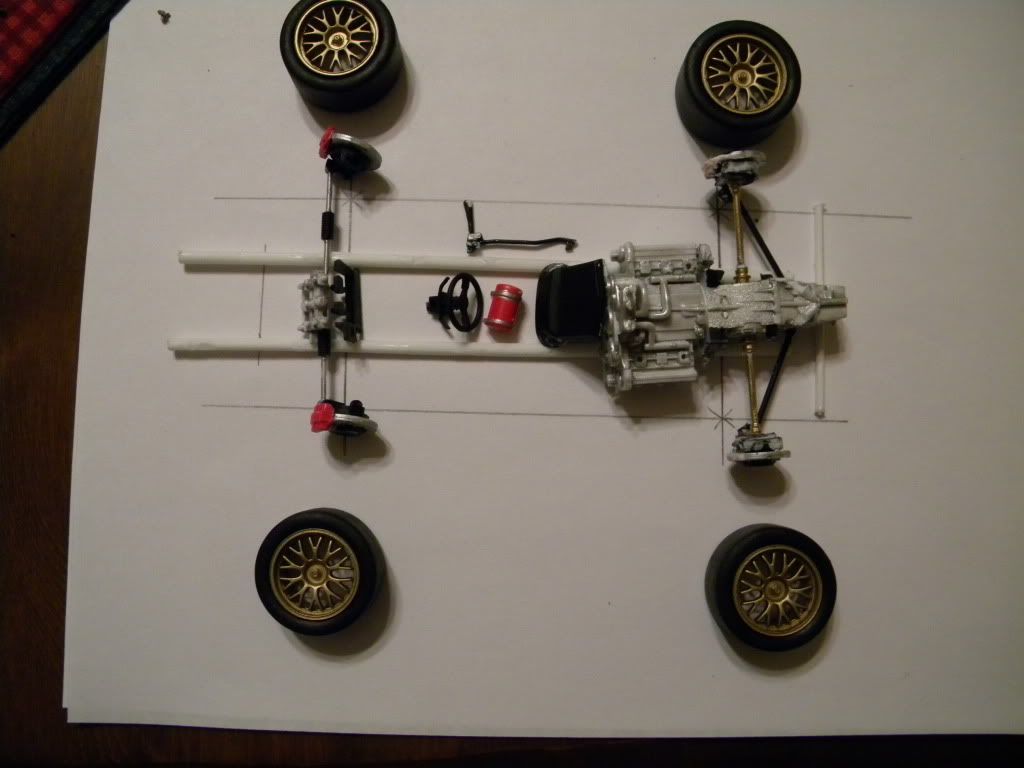 http://s1211.photobu...nt=DSCN2663.jpg
http://s1211.photobu...nt=DSCN2665.jpg
http://s1211.photobu...nt=DSCN2687.jpg
http://s1211.photobu...nt=DSCN2688.jpg
Some notes on things i noticed loading these pics...
the black piece leaning against the engine is actually the remains of the intake on the porsche. i'll use it to fab up the fuel cell, bc in these cars, the fuel cell WAS the seat. you rest against what is basically a bomb waiting to happen. It was nuts in the 60's, and the new (US) models follow the same rules. NUTS. and not comfortable.
the brake and clutch cylinders behind the pedals are actually the old throttle bodies off the porsche 6 cylinder. just so happens i need three cylinders... MONEY!
the wheels are the ones that came with the porsche, i plan to trim the width down significantly until they are the same width as the hub like the race car featured (tires trimmed to match). No HP to handle big tires!

THe red disc brakes have to go. Drums on all 4 corners on this beast. I'm shaving them down, ugly now, but with some epoxy/sanding/paint, they should look like the real deal someday!
That's as far as i am right now, more details later this week as i continue working! suggestions and comments welcome!
Edited by RazorHog512, 26 December 2011 - 09:46 AM.