The Arcade diorama has been on and off the bench for a LONG time, but this time around I'd
really like to get it done, hopefully for NNL East. The diorama will be based around some old
arcade games I got interested in building a while back and has been getting more complicated
ever since.
The story
: A turn-of-the-century brick building was converted into an Art Deco arcade, which is
now being dismantled and torn down as the surrounding neighborhood deteriorates. An
adjoining building has already been demolished and the apartment house next door is trying
to hold on as long as it can.
Fast Forward:
At the stage shown below, the apartment building is just almost done and
the Arcade has been mocked up, as has the base (rigid insulation) and the sidewalk & street.
The truck onto which the arcade games are being loaded has also been detailed.
Faster Forward:
As of now, the street and sidewalk is done.....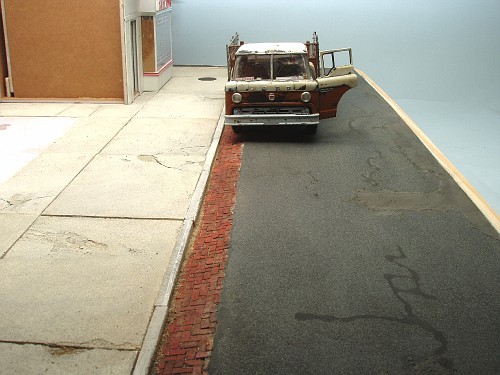 ...the ghost wall on the arcade is finished and the empty lot is being detailed......
...and the facade of the Arcade is shaping up:
If you're interested in all the in-progress pictures, here a link to the Fotki album:
http://public.fotki....d_penny_arcade/
Thanks for looking. More pics will follow as the scene develops.......
Edited by KHamilton, 28 January 2012 - 06:29 PM.