Ok, so this is one of the things I've always hated doing... Fitting 8 wires into a distributor in 1:24... So I had to come up with something...
Before we go any further: I take NO REPONSIBILITY for any kind of damage, injuries or any other bad thing that might occure while trying to do any of the things and actions mentioned in this post!
Ok, safe from the courthouses LOL let us continue...
This method is very simple and, honestly, doesn't look too good, but for my case (1949 Merc rat) it was good enough

Ok, so you're gon' need 8 spark plug wires with a correct diameter, a small piece of metal rod (a stretched paper clip will do just fine) and some heat-shrinking tube.
The lower image pretty much sums it up as in a cross-section drawing or something like that: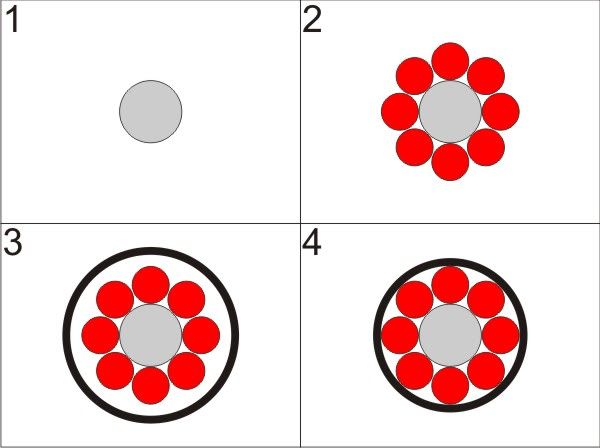 So...
- Step 1: Take a metal rod that suits the positioning hole for the distributor on your model. In my case it was slightly over 1 mm in diameter, but I used a piece of a paper clip with a 1 mm diameter and it turned out just fine.
- Step 2: Glue 8 (long enough) wires around the metal rod using a super-glue-kind-of-glue - anything that seals the wire to the rod in a very short time. Making a rat rod? Use different colors of wires now and here

- Step 3: Get a cup of coffee. Kidding... Take a piece of heat-shrinking tube. In my case it was about 5 mm long. Adjust it to your needs and plans. Put it aroud the wires and heat it up. I use a lighter, but a hot-air-fan or any other similiar kind of tool can be used. BE CAREFUL NOT TO BURN YOURSELF!!!
- Step 4: This is what your distributor should look like in the end. If not, blame the tooth-fairy and start over. I nailed it (not the tooth-fairy, but the distributor) in the first attempt and if I could do so, I see no reason(s) why an of you guys shouldn't/couldn't/wouldn't/whatevern't.
Btw: I droped a small drop of superglue between the wires from the top after the distributor was finished. Why? Just to bond-up all the wires, the heat-shrinking tube, the metal rod...
One pic of how the distributor looks like on the engine in the end: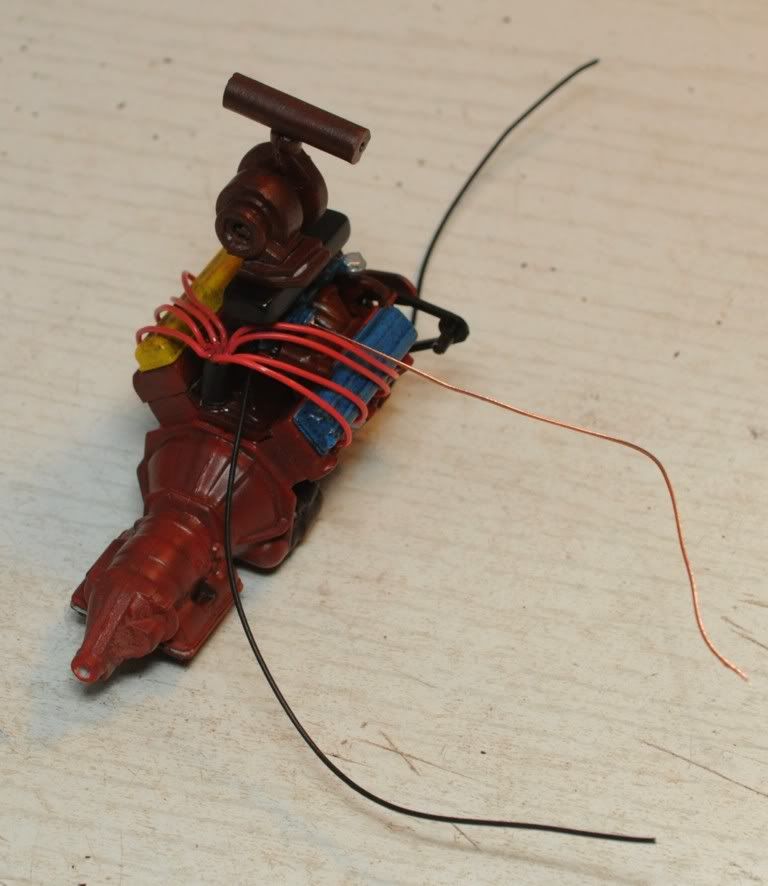 Yeah, I know, ugly as a drunk zombie, but hey - solved my problem with these nasty nerve-curling distributors for good

Have a nice day!
Damir