Onward and upward. Time to introduce my next plastic debotchery. Here's what we will be starting with
This kit is a piece of kaka. Doo doo, monkey feces, donkey doo.... I think you get my drift. Some of you may ask why I feel this way about the fine looking box of plastic. Well.... When I bought this I was looking forward to building a nice replica of
Eleanor
from the 1974 movie "Gone in 60 Seconds." There is nothing in this box that resembles the Mustang printed on the box top other then the body shell. I just blew $16 plus the time and gas to drive to the LHS to purchase it. Dejected I tossed the box under my bench where it sat for a few weeks. Admittedly I would kit the box every chance I got. This was childish I know but it made me feel a little better... I'm lying it didn't make me feel better but I did it anyway.
Now some of you will argue that this is a fine kit and could easily be made into a race car of some kind and you'd be right but that's not what I had planned. As the kit sat under my bench I had found and purchased a Mad Max interceptor kit. While I was waiting for it to arrive I started scouring the internet for information and what have you to get me ready to build that kit. As most of you may already know the all black interceptor that Max drove was a 1973 XB GT Ford Falcon Coupe, a car exclusive to Australia. A car that looks very much like a 73 Mustang. So... Not one to like to waste money I decided that the Mustang could be a nice accompaniment to the Interceptor when done. So the idea was born to turn this 73 turd of a Mustang into a polished Mad Max Interceptor type car. As Will Darnell said in the move Christine, "You can't polish a turd." I'm going to try and prove him wrong.
Now when everyone thinks of the Mad Max cars they always think of the Black Falcon. I decided I'm going to try and make this one into something more like its lesser known and more colorful cousins.
Here are more shots of the kit parts.
Look ma no inner engine compartment walls. AUGH!!!!
Here are the dingle berries. The smaller parts of the big turd. :rofl: I crack me up. Not a single Mustang related part in this photo
I started out by giving everything a cote of black primer. That was before I decided to not do the all black scheme.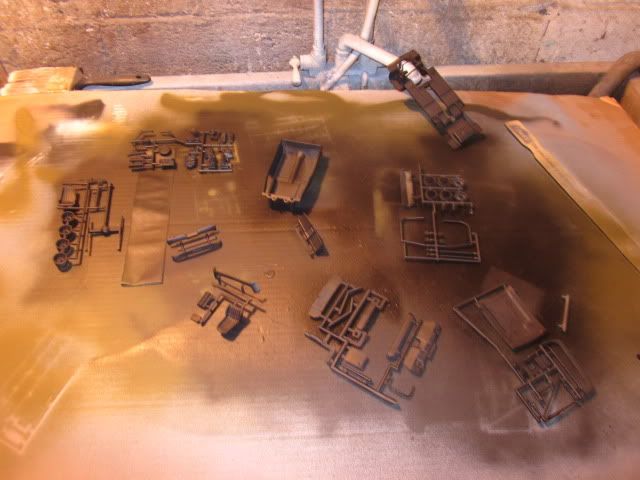 If you like the smell of an old age home or like nurseries and the oder that accompanies those places stay tuned for more.