A friend from a 1:1 car website PM'ed me asking if I'd sell her a model of a '77 Esprit that I'd built several years ago as a birthday present for her father, who had owned one back when he and her mom were dating and first married. He sold his pride and joy when their first child was on the way, but he often talks about "The one that got away". Well, I was pretty attached to that ol' Firebird model but I offered to build another one, in the correct colors (or at least as close as I could get in off-the-rack spray cans!) Of course, nobody ever kitted a 1977 Firebird Esprit. The closest thing available was a Trans Am... with the requisite hole in the hood for the shaker scoop, fender vents, and T-tops! I hoped to find the same AMT model that I'd used for my first Esprit conversion, but couldn't find one. I settled for the Revell version. I should have looked harder. The Revell version has the wheelwell spats and decklid spoiler molded into the body, obstacles that the AMT didn't throw in my way. I detailed everything I went through to fix these problems in an "On The Workbench" thread. The first one I did was meant to be a replica of the car from the old "Rockford Files" TV show, right down to the correct colors (copper with a tan interior) and California license plates. This one is Firethorn Red inside and out. Other changes and additions I had to make besides filling the hood scoop hole and T-tops, reworking the fenderwells, shaving the decklid spoiler, and shaving and filling the fender vents were converting it from a 4-speed to an automatic, hanging pedals from under the dash, adding sun visors and a dome light (and a sheet styrene headliner cut to fit to cover up the remains of the T-top framing), scratchbuilding a correct base Firebird steering wheel, finding correct Rally II wheels (and getting them to work with the kit-supplied wheel backs). Also, the Trans Am-style exhaust outlets were a non-starter for a non Trans Am, so I had to come up with some sort of street exhaust dumps. I decided to go with straight pipes from the muffler out the back beneathg the bumper - it was just a lot easier than routing a bunch of bent-up plastic rod around the rear leaf springs. Besides, it looks cooler. I had no rear photo of the car to work from, so I had to play that aspect of the build by ear. Angle-cut 2 1/2" pipes do the job just fine for me! Anyhow, take a look at what's been filling too much of my free time over the past couple of months...
Posing with the model that inspired this one: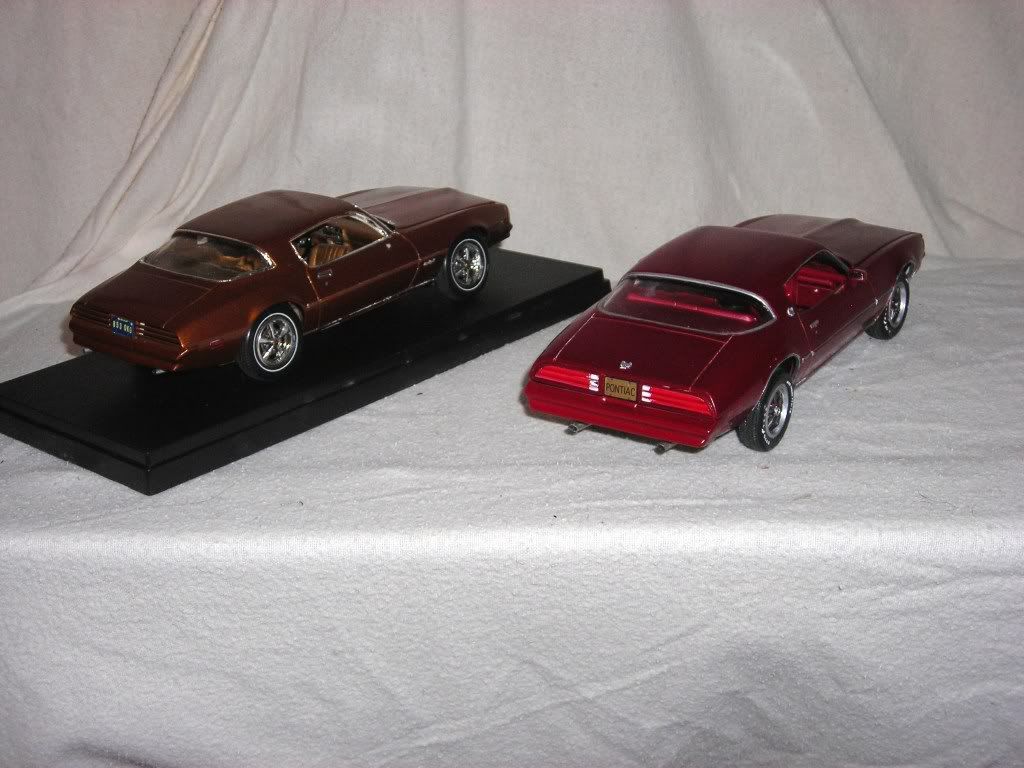 Now for the beauty shots!