" AREA 51 CUSTOMS Divco Cruizer "
AREA 51 CUSTOMS is another of my Custom Brands.
It originated along with my Flight 19 Customs.
The Jada Divco Cruizer Delivery Van is a perfect canvas for Promotional Customs.
The real life Divco came about in 1926 and was produced in different models for 60 years.
This $4 casting as opposed to HotWheels Mainline $1 castings comes with very nice chrome mags and rubber wheels.
The bodies consist of an almost white metal, very smooth, requiring less filing and sanding than cheaper DieCast cars.
Here's a couple of shots of the casting stripped, filed, sanded and rubbed down with #3 Steel Wool.
Before I drill out the existing Headlights and holes in the front Fenders,
And after I drill out the front end for Rhinestone inserts,
Primered, the Fenders are then shot Black,
Fenders are shot with InterCoat Clear, taped and then the rest is shot Shimrin White,
InterCoat Clear over the whole thing,
Sides, Fenders and Upper Panels Windows are taped, leaving Roof, Hood, Upper Rear and Beltline exposed to be shot Neon Green.
The Neon Green got a little Planet Green mixed in to increase its opacity.
A Baggie is used (saves on time and on Tamiya Tape) to cover the casting leaving only the Hood exposed.
A dash of InterCoat Clear and the Hood is taped leaving only the Grill portion exposed to be shot Black.
All tape is removed.
Another Baggie is used to cover everything but the Roof and a section is sprayed Shimrin White just smaller than the size of the Decal.
This White layer is the key to placing Clear InkJet Decals on what appear to be dark colored surfaces.
The narrow Black border running the perimeter of the Decal hides the edge of the White layer.
Decals are all laid down.
Rhinestone Headlights inserted.
Grill pieces reinserted.
Front and Rear Windshield Trim hand painted.
Cleared with HOK Urethane Enamel Clear and a dash of Sparkle Gold Pearl Powder.
All Products Used Are Exclusively House Of Kolor, Of Course!!!!!!!!!!!!
The Decal images are created completely from scratch in PhotoShop.
Decals are all created using Clear InkJet Decal paper from Papilio.com
Bar Codes accent the Number 51 on the sides for a Black Ops nondescript characterization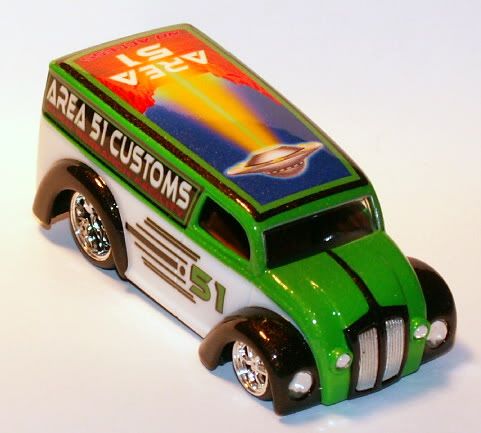 [font="Times New Roman"][size="3"][color="#000000"]
Scroll down for the remainder of this post,
Edited by CadillacPat, 09 April 2012 - 03:48 PM.