" Route 66 WoodGrain TailDragger with BoneShaker Engine and Racing Champions Wheels "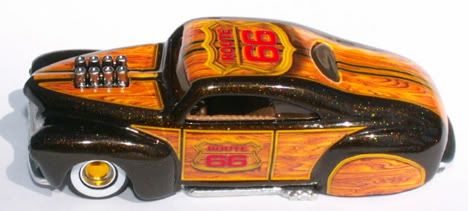 The TailDragger casting comes with a lot of baggage in the form of a rough casting with high ridges and deep casting scars.
Jagged edges form the insides of all the window and wheel well openings.
Some tender care applied with files, 220 sandpaper and a little MilliPut White or Apoxie White Putty to fill the scars will turn this casting into a smooth shaped body ready to represent those all steel bodied years of the 40's and 50's.
Frenching the Headlights by drilling them out and inlaying Rhinetones adds a touch of realism not seen anywhere else.
Two identical slots cut out of the hood (using a Jewelers Saw) parallel with the raised center line allow access for insertion of the BoneShaker engine stacks.
Lastly the body is rubbed down with #3 Steel Wool which knocks down any sanding scratches and leaves a great overall spun texture for good paint adhesion.
Primered and then AirBrushed Shimrin White, then SnowWhite Pearl.
Decals are applied, masked, and then the whole body is AirBrushed Black.
A light sanding all over with some 600 to knock down any slight Decal edges and then the whole thing is ClearCoated with HOK Urethane Clear with a touch of Candy Pagan Gold Intensifier and some Aztec Gold Pearl Powder.
The addition of the Candy Pagan Gold Intensifier deepens the Yellows and Browns of the WoodGrain and changes the Black to a Dark Glossy Mahogany Brown.
All Products Used Are Exclusively House Of Kolor, Of Course!!!!!!!!!!!!!!!!!!!!!!!!!!!!!!!!!!
Notice that the Front Bumper and Grill and the Rear Bumper have been filed, sanded, polished and then buffed to a high lustre setting them apart from the terribly rough factory issue.
Center Caps have been AirBrushed with Adhesion Promoter, Candy Pagan Gold, and then Cleared to set off the rims.
Interior is shot with Adhesion Promoter and then AirBrushed a BuckSkin mix with Brilliant Gold Pearl Powder.
Decals are completely created from scratch and printed on Clear InkJet Decal Paper from Papilio.com
Rivet reassembly for a permanent professional finish.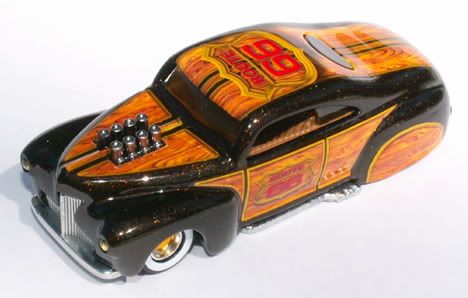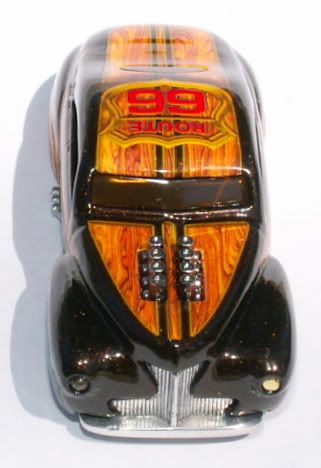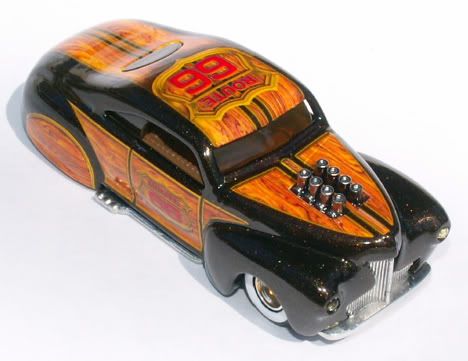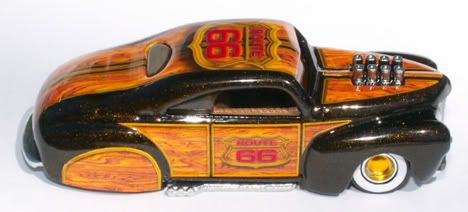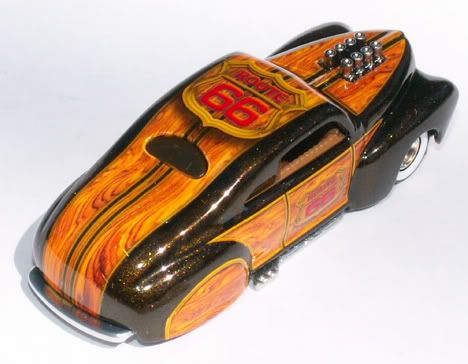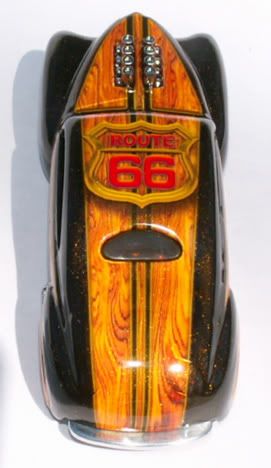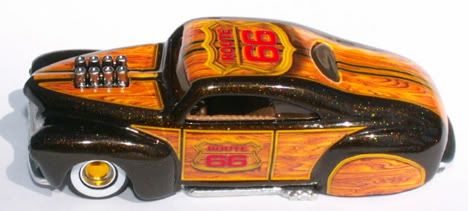 Stay Tuned for the Route 66 WoodGrain Fat Fender 40 with BoneShaker Engine and Racing Champions Wheels!!!!!!!!!!!!!!!!!!!!!!!!!!!
CadillacPat