Here is the first installment of my CadillacPat's DieCast Customizing Tutorials.
This First part deals with Disassembly and Reassembly.
I see a lot of interest on the board here and have received numerous requests for how I modify 1/64 scale DieCast.
So, here we go!!!!!!!!!!!!!!!!!!!!!!!!
"Disassembly and Reassembly"
This is one of several parts of an overall Customizing Tutorial.
These "CadillacPat Customizing Tutorials" deal mainly with HotWheels, MatchBox and Jada Castings.
Jada castings actually screw together.
All these physical steps can also be used with Customizing Johnny Lightnings and other brands, keeping in mind that JL rivet posts are of a smaller diameter size than HW or MBox.
Here's how I Disassemble and Reassemble my Customs with Rivets.
Some guy somewhere mentioned that there are 50 different ways to do a job successfully.
Well, that's completely and exactly wrong.
There may be 50 different ways to screw a job up, that sounds more accurate, but these techniques that I invented and have posted and shared all over the Internet, will always assure you of perfect professional results.
Using a hand drill and simply eyeing things up is faster and even more accurate than setting up a Drill Press.
Necessary Tools:
Variable Speed Hand drill,
3/16" Pilot Point bit,
3/32" Titanium Split Point drill bit,
1/16" Titanium Split Point drill bit
After trying a variety of sizes of bits for removing the mushroom cap on existing factory rivets, I find the 3/16" Split Point Bit to be the perfect size for this task.
Dewalt bits are the best.
Don't think of the first part of this job as "drilling". There's very little pressure involved in the spinning or shaving off of this thin splayed out mushroom cap of factory shaped rivets.
You need to envision this procedure as you would imagine using an Xacto knife.
It's a precise task that needs to be done with care.
You don't want to compromise the base, but instead, surgically remove only the rivet's mushroom cap.
I start with cutting a short portion off of the solid end of the 3/16" Pilot Point bit using a Cutoff Wheel and a Rotary Tool, or a Jewelers Saw, in order to shorten the length of the bit.
Make sure to leave just enough of the solid end of the bit for the chuck to grasp when seated completely into the drill.
Shortening the length of the bit will make it easier to eye up in relation to the rivet cap.
You don't have to shorten the bit, so if you don't have a CutOff Wheel and Rotary Tool, or a Jewelers Saw just skip that step. Shortening the bit will make the job easier but isn't entirely necessary.
Okay, you have the bit tightly seated in the drill.
Grab one end of the casting and rest the opposite end against the edge of your workbench.
You may want to drape a folded towel over the edge of your table so not to mar the windshield of the casting as it rests upside down against the table.
Put the center of your bit in the dimple in the factory rivet and apply just enough pressure to keep the drill bit firmly against the rivet.
Line your bit up perpendicular to the face of the rivet at a 0 degree angle.
Now, drill slowly, using short light squeezes of the trigger and keep an eye on the metal peeling back from the rivet. The soft metal will curl back just like peeling an apple.
When you see the thin edge of the mushroom cap disappear, exposing the underlying base of your casting, you've gone as far as you want to go.
More than likely you will not drill in an exact perpendicular (0 degree) angle every time so you will have to lean your bit a degree or so in the other direction to peel away any remaining portions of the rivet cap.
This is all very easy to see but you must not drill too fast. Hence the necessity of a Variable Speed Hand drill.
You DO NOT WANT to drill further through the splayed out edge of the mushroom cap and into the base of the casting.
You simply want to expose the base by removing only the spread out portion of the mushroom cap.
That's all there is to it. Now you will need a small thin flat screwdriver or pick to slip in between the wheel and fender and pry the base away from the body.
Gently work from one side of the casting to the other so you don't bend axles.
If one end comes loose more easily than the other you can use a medium flathead screwdriver slipped in between the base and interior to pry the other end loose.
I've gone into great detail to explain what are very short steps in real time.
That's why I say there are ways to do things and then there are the Best ways to do things.
What I've described here will do the job of Disassembly without destroying the base.
DRILLING or TAPPING the RIVET POST:
Use a good Titanium 3/32" bit, (Walmart about $2).
Put any kind of oil (I use WD-40), just a few drops, into a small bottle cap and dip the tip of the bit into this beforehand each time you drill. You may even use vegetable oil.
The oil will lubricate the bit and prevent it from loading up with molten metal as it drills into the rivet post.
Some Rivet posts will be so long that you will have no concern about drilling too far and into the body. Other posts will be so short that drilling depth will become of great concern. You may want to check out my upcoming "Drill Bit Collar" post to ensure that you have no problems.
Okay, hold your casting in the same fashion as mentioned above and again drill at a perpendicular angle straight into the center of the end of the Rivet post.
Drill to the desired depth and check fit with one of your replacement Rivets.
I check for fit after every 3/32" hole if I'm doing 1 car or 500.
It's better to make sure now than after you get a nice paintjob on that sucker.
After you've drilled out your Rivet post you will notice how the end of the post has spread out with a sharp edge due to the pressure and heat of the drilling, resembling the large end of a Trumpet.
This increase in diameter of the end of the Rivet post will make it difficult for the base to slip back onto it.
You can take a small file and file away the excess or use a grinding stone or high speed cutter to smooth off the end of the Rivet post.
Here's a picture,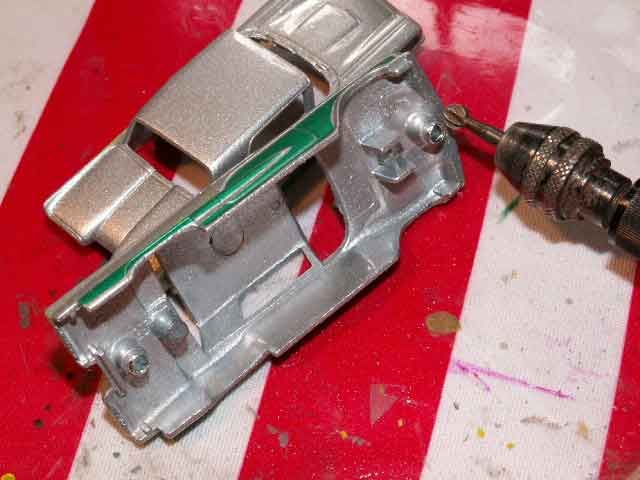 REPLACEMENT RIVETS:
The Rivets you'll be using are All Aluminum 3/32" Pop Rivets with a set end of 3/16" to 1/4".
Fastenal carries them online or your local NAPA dealer will order them for you.
I sold them on the Internet at one time but after going through a box of 20,000 prices increased and I just buy them by the 500 or 1000 box from Fastenal.
You may discover that the Rivet posts in Johnny Lightnings are of a smaller diameter and cannot be drilled out for 3/32" Pop Rivets.
It's been a long time since I've disassembled a JL so let me suggest the use of small screws and washers.
Your drill bit size would be a 1/16" bit and your screws would be 2-56 or 1-56 self tapping sheet metal type.
You can find small screws like these at Ace Electronics stores.
For any of your Customs, HW's, MBox, etc., if you don't want to use Rivets you can just drill the Rivet Post with the same 1/16" bit and use the screws described above. If you choose this method you may need matching tiny washers to go with the screws.
I prefer the factory look of Rivets.
For additional info on Drilling out your Rivet Posts see my upcoming "Drill Bit Collar" post.
Here's an extra procedure I'd like to suggest to improve your Customs.
Body Prep is everything. Body Prep, Body Prep, Body Prep!!!!!!!!!!!!!!!!!!
When you remove the casting from the base, inspect all the inside edges very carefully for flash or metal buildup.
Some castings do not fit well around the bumpers because of excess metal that remains during the molding process.
Use a medium file to remove this excess and your castings will slip back onto their base nice and flush with a well finished and realistic look.
Here's a picture,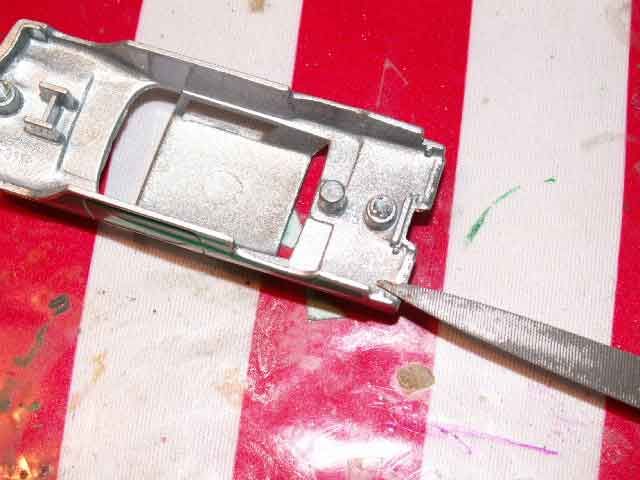 While you're there go ahead and file smooth the wheel well openings and inside window openings for a very professional finish.
Everywhere that you use your file should be sanded with 220 or 320 grit sandpaper.
Go the extra distance, produce a better Custom.
More about removing flash in my upcoming Body Prep Tutorial.
RIVET GUNS:
I purchased an excellent Rivet Gun from Grainger Tools for $38.
It comes with tapered tips.
Big Lots sometimes carries a Rivet Gun for $4.
Your Rivet Gun will need to come with a tip that accepts these 3/32" rivets.
Wherever you buy your Rivet Gun you will need to file the tip into a taper so that it will not be obstructed by any raised portions of the base.
Just file the tip into a point that matches up with the face of the replacement Rivet.
As I said, some Rivet guns will come with this already tapered tip.
Here's the ordering information to obtain your Rivets from Fastenal.
Part#: 41001
Blind Rivet AB3-2A
Fastenal's phone number 816-254-1117
Any questions, just give me a shout,
Stay tuned for Part 2 "Stripping Your Castings"
--CadillacPat the UnCustomizer--