"Farm To Market"
MatchBox 1957 GMC PickUp
" Farm Fresh "
Here's the first of my MBox 1957 GMC PickUps.
The key to this paint scheme is a meticulous job of taping with Tamiya Tape.
Stripped with KleanStrip AirCraft Remover followed with quite a bit of filing and sanding to remove casting seams, then rubbed down with #3 Steel Wool.
The simulated wood bed liner, interior, and rear portion of cab are all a one piece plastic which had to be painted and taped in 8 steps, 3 different colors.
First sprayed with Adhesion Promoter the bed is then taped and the front portion is shot Shimrin White.
Then the front interior is taped and the center rear portion of the cab is shot Lemon Yellow, same as the body, then Urethane cleared.
Tape is all removed and the bed is hand painted with a thinned down Brown Createx wash, then Intercoat Cleared to protect.
Body is Primered, then shot Shimrin White and InterCoat Cleared.
Rear Fender tops are shot Lemon Yellow using one of my finer needle Iwata's.
The Fender Tops are then InterCoat Cleared and taped.
Back to some more Shimrin White to cover any surrounding Yellow overspray.
Hood is taped off as are Roof Pillars and Bed, and the whole body is shot Lemon Yellow.
Factory Headlights are drilled out for a perfect fit for 3mm Rhinestone inserts.
Details and Decals go on.
Custom Wheels from Racing Champion Mint Series around 1997.
For my Farm Fresh decals I chose a small picture of a 50's PickUp, In PhotoShop I filled the bed with veggies, changed the color of the PickUp, added some grass and typed in the words "Farm Fresh", then created mirror images for the left and right doors.
Cleared with HOK Urethane Enamel Clear.
All Products Used Are Exclusively House Of Kolor, Of Course!!!!!!!!!!!!!!!!!!!!!!!!!!!!!!!!!!!!!
The bright Lemon Yellow and bright Shimrin White are representative of the colors, especially on Chevy's, in the mid to late 50's.
I'll be doing a Seafoam Green one of these trucks but I wanted the first one to be starkly in contrast to the factory issued paintjob.
First off here's a pic of Before and After to show how much the casting changed and what it is capable of looking like.
The Rhinestone Headlights knock it out of the park.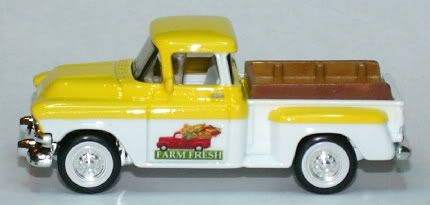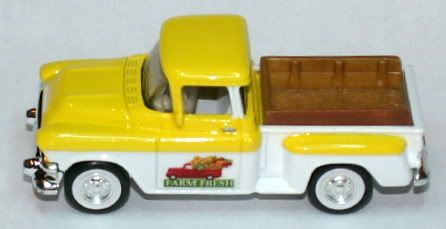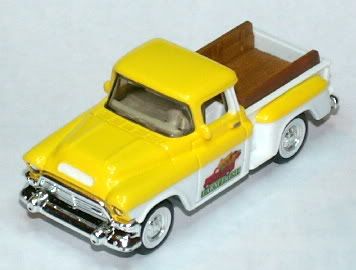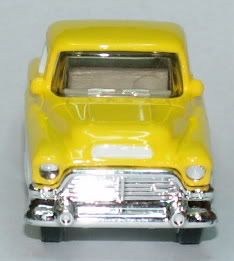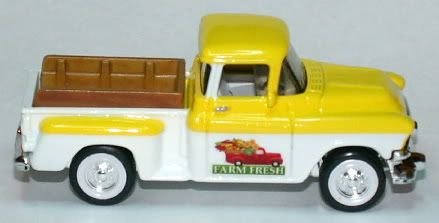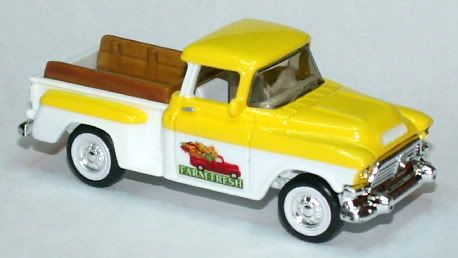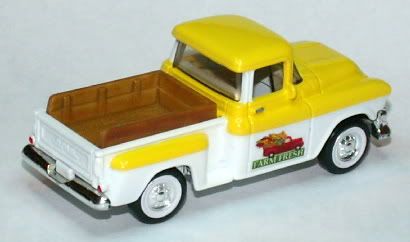 This shot shows how important it is to paint that plastic rear center portion of the cab to match.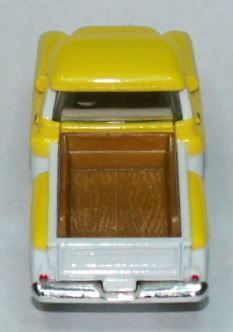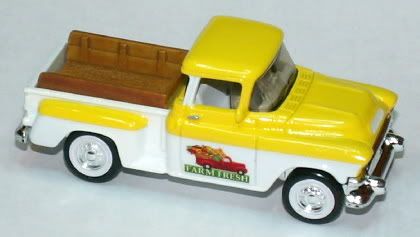 Now if I can just find some 3/16" beads painted like Watermelons to fill the bed.
The factory issued truck is great for a buck, but this casting has huge potential for becoming a thing of beauty.
MBox and HW's both need to produce more trucks like this.
Stay tuned for this casting as my "Louisiana SeaFood" delivery truck in either SeaFoam Green or Molly Orange.
--CadillacPat the UnCustomizer--